Cosmos with Payload
Series 02 #006

Transformers Generations Legends
Item No.: Asst. A1421 No. A5486
Manufacturer: Hasbro
Includes: Payload
Action Feature: Transforms from Robot to UFO
Retail: $9.99
Availability: May 2014 (USA), Late 2013 (Elsewhere)
Other: 02 Series #006

PREVIOUS
RSS
NEXT

WARNING/GUARANTEE
This item is a really cool toy with a significant paint design flaw - if you dock the Space Shuttle on the UFO's guns, the UFO's gun paint scrapes off. If you aren't careful with the head on Cosmos during transformation, your fingernails can easily scrape off the red paint and expose the white plastic underneath. I liked this figure so much I bought a second one after unintentionally damaging the first one - the first one is what you see in the review below. Be careful, kids!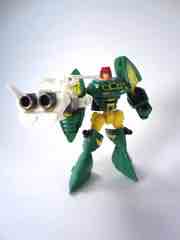 I never had the green UFO as a kid, so toys like Cosmos with Payload are a real treat. I even bought the Legends one a few years ago - Cosmos is great! Payload is also great, but Cosmos does have some paint issues (see above warning) that I feel are more important to share than my actual opinion of toy toy. I love the design, I love the engineering, but for crying out loud does the paint have to scrape so easily? I suggest buying two, or buy one and never transform it. I'm serious.
The 3 3/4-inch robot is about the same size as Swerve and other Legends since the tenure of two-packs started, meaning it's pretty good. While Bumblebee, Starscream, and Optimus Prime felt like they were compromised a bit to work as toys for the price point, Cosmos thrives at this size - everything fits together pretty well and I can't imagine I'd like this toy any more if it were larger or cost more. Comparing this figure to the 2009 Cosmos, it's remarkable - you get 5mm fists, 14 points of articulation, and a largely very sturdy figure for the price. I've bought Deluxe toys that don't look this good in both modes. The figure has some little windows on his chest and a big red Autobot brand on his shoulder, and even though it ruined the figure for me the decision to paint a white head with red, yellow, and blue really pops. Were this a non-transforming action figure it would be a gorgeous, appluse-worthy move. Since you have to shove the head down to transform it - and pry it out with your fingernails to get it back out - it turns out this wasn't such a good move. The white plastic seems to be shared with his sidekick, Payload.
The 5mm fist hole is tight, so some weapons won't go in easily - the gun mode for Payload works perfectly, though, and the joints are tight enough that it won't sag under his Targetmaster buddy's weight. I adore what Hasbro is doing with this line and in a perfect world, we'd continue to see this line flourish with Micromaster/Mini-Con companions until all G1 Minibots are updated. That's how good these are. I love the painted blue visor.
Transformation is unlike any of my other Transformers but here goes - the waist spins around, the head gets shoved down into the body. The legs become the front of the UFO, while the arms fold up to be the back. It's worth noting that the funky little vehicle looks great, and that the robot is mistransformed on the packaging - so I guess if they ever do a repaint, you could do alternate shoulders and name him something else.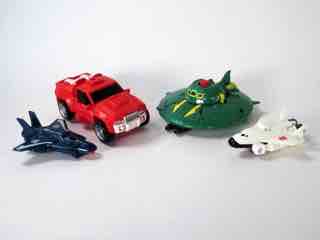 The UFO mode is awesome, but it doesn't do anything other than look cool and doc with the space shuttle. Do not do this - the engines have small holes that were sized to connect to the UFO's cannons, but doing this one or two times scrapes the paint off. You may not notice, but I've noticed it after doing it once and I went out and bought another one. (Yes, at full price. I like this toy.) The green UFO looks like a good update of the original toy, and it does an OK job hiding the scraped paint on the head in this mode.
Payload is an update of a Micromasters toy named Blast Master, which is a pretty awesome name and pretty close to a great name of a game I loved. This is a fantastic accessory - the space shuttle is nice. To transform it, stand him up on his engines, and fold up the wings - and you're done. From there, flip out the handle and flip back the arms, and he's a gun. So easy. I love it - this toy is even less complex than the original Micromasters toys, and I love that to death. Why not make them easy to transform if they still look good? Despite the limited articulation, it's a load of fun and I hope Hasbro makes more of these gun sidekick figures. The sculpt is good, the deco is good, and the only complaint I have about this figure is someone out there may hate fun enough to not love it. If I could buy it in more colors, I would.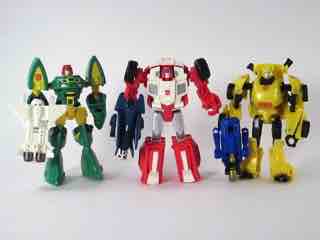 Swerve is good, and so is Cosmos - but the paint! Oh, the paint. It hurts, it burns us. This sort of thing shouldn't happen in 2014, but there you have it - it's possible the return of Chrome could lead to unintended consequences in a few years too, so be careful. Even with the head scraping, I'd still suggest you get this figure - just be prepared to buy a second when you screw up his head after playing with it for ten minutes. (This is not an exaggeration.) Hasbro did a great job engineering it, and I hope/pray they put out another deco of this mold with the head molded in the right color (whatever it is) so I can play with it and not feel worry about ruining it.
PS - Tailgate and Skrapnel are already hitting stores, just weeks after these guys hit. I don't know if it's the same one-two punch as last year where Optimus and Bumblebee were quickly followed by Starscream and Megatron, or if we're looking at a smaller run. Either way - don't dawdle, buy Cosmos.
--Adam Pawlus
Additional Images

Click here to see more Hasbro figures in Figure of the Day.
Click here to see more Transformers figures in Figure of the Day.

Want to buy this figure? Check Transformers availability at our sponsors:
Entertainment Earth