Night Mission Spider-Man
Toys R Us Exclusive

The Amazing Spider-Man Night Force Action Figures
Item No.: Asst. A1131 No. A1134
Manufacturer: Hasbro
Includes: Glowing hook, glowing suction cup
Action Feature: Extend Web Line
Retail: $9.99
Availability: Fall 2012
Other: #1 of a series of 3

PREVIOUS
RSS
NEXT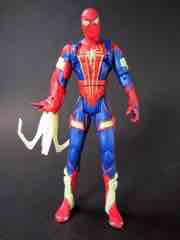 I had a $5 expiring store credit in my pocket, and Night Mission Spider-Man was on clearance for $4.00 - you don't have to be Andrew Wiles to do the math there. Kenner (and later Hasbro) have often struggled to make the most out of what is essentially a one-character movie - maybe two or three, if you have a good villain. Multiple employees at Hasbro have told me how they dislike defaulting to glow-in-the-dark repaints, particularly when I inquired about the aborted Jurassic Park Chaos Effect Night Mission dinosaurs. I miss those - but thankfully the spirit of those terrible lizards and various Deep Dive Batman figures lives on with this nifty exclusive release. Toys R Us and Hasbro put out 3 different glowing 3 3/4-inch figures, and at press time I've just got the one. How could I not?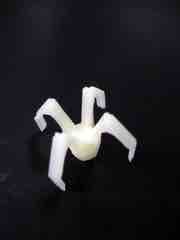 While Kenner and Toy Biz utterly exploited its various licensed heroes in the 1990s, I've come to miss the weird snow-themed, glowing, swimming, or otherwise wildly off-model character costumes. This one isn't too bonkers - the funny thing is it's a repaint of another non-exclusive figure also called Night Mission Spider-Man, which has some green bits but wasn't covered in glow-in-the-dark paint.
While not as authentic as the super-poseable figures or as whimsical as the Ninja or Razor Scooter ones, this is a bizarre and fun release. The blue and red costume is augmented with glowing eyes, a spider symbol, and other elements painted in a way that actually glows fairly well. I just recently got another figure with painted glowing bits and I can tell you it was terrible, so this was a refreshing change of pace. The suction cup and hook also glow quite nicely, and plug in to a little knob in the figure's right hand. That knob is affixed to a rope which recoils back in the figure's body when extended - it's a neat feature but the fact that it's barely 6-inches long makes it pretty worthless. You can't make Spidey really climb anything, it's less functional and more of a "let's pretend!" kind of feature.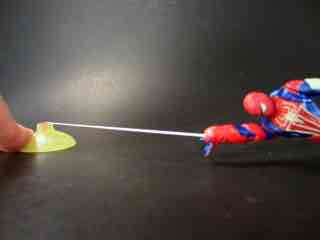 With swivel elbows - in part no doubt due to the string mechanism - the figure doesn't have the full range of motion older fans demand. He can stand and sit, and his knee joints are a nice bonus. Getting the hook and suction cup to plug in to the wrist is a bit tricky, but you don't need to apply too much force to get it working. Since I love ugly Spider-Man toys and glowing toys, this one is not bad - I wish the other gimmick on the toy was more fun, mostly because it can't even climb the couch with this small quantity of string. Still, I got my fake clearance funny money's worth out of it so it wouldn't stun me if I wound up buying the other two if and when I find them. I'm waiting for Arctic Camo Spider-Man next, if Hasbro is up to the challenge.
--Adam Pawlus
Additional Images


Click here to see more Hasbro figures in Figure of the Day.
See more Spider-Man figures in Figure of the Day:
Day 39: Hasbro Spider-Man Super Poseable Spider-Man Action Figure
Day 40: Hasbro Spider-Man Stealth Ninja Spider-Man
Day 50: Hasbro Spider-Man Toxic Blast Venom
Day 65: Hasbro Spider-Man Dive Bomber Green Goblin
Day 91: Hasbro Spider-Man (Kid Series) Monster Claw Carnage Action Figure
Day 108: Hasbro Marvel Universe Spider-Man Action Figure
Day 137: Toy Biz Spider-Man Animated Super Articulated Spider-Man
Day 290: Hasbro Spider-Man Mighty Muggs J. Jonah Jameson
Day 300: Hasbro Spider-Man Mighty Muggs Venom
Day 311: Hasbro Spider-Man Mighty Muggs Spider-Man
Day 336: Hasbro Spider-Man Mighty Muggs Demogoblin
Day 427: Funko Marvel Universe Pop! Vinyl SDCC Exlusive Spider-Man Vinyl Figure Bobble Head
Day 605: Hasbro Ultimate Spider-Man Night Mission Spider-Man Action Figure
Day 717: Hasbro Ultimate Spider-Man Crime Fightin' Spider-Man Action Figure
Day 862: Hasbro Ultimate Spider-Man Web Strike Spider-Man Action Figure
Day 876: Hasbro Spider-Man Marvel Legends Infinite Series The Amazing Spider-Man 2
Day 877: Hasbro Ultimate Spider-Man Iron Spider Armor Spider-Man
Day 916: Hasbro The Amazing Spider-Man Movie Ultra-Poseable Spider-Man
Day 936: Hasbro The Amazing Spider-Man Night Mission Spider-Man
Day 1,484: Hasbro Captain America Civil War Spider-Man, Captain America, and Iron Man Action Figures
Day 1,501: Hasbro Marvel Legends Series Spider-Man
Day 2,109: Hasbro Playskool Heroes Series 2 Marvel Super Hero Adventures Clear Spider-Man
Day 2,201: Hasbro Spider-Man Bend and Flex Spider-Man Action Figure
Day 2,229: Hasbro Spider-Man Marvel Legends Retro Spider-Man Action Figure
Day 2,342: Hasbro Marvel Legends 375 Spider-Man Action Figure
Day 2,453: Hasbro Marvel Spider-Man Action Figure
Day 2,459: Hasbro Marvel Legends 375 Iceman Action Figure
Day 2,476: Hasbro Marvel Legends 375 Firestar Action Figure
Day 2,491: Hasbro Marvel Legends 375 Venom Action Figure
Day 2,544: Hasbro Marvel Spider-Man Epic Hero Series Spider-Man Action Figure
Day 2,548: Hasbro Marvel Legends 375 Symbiote Spider-Man Action Figure
Day 2,560: Hasbro Marvel Legends 375 Green Goblin Action Figure
Day 2,564: Hasbro Marvel Legends 375 Amazing Fantasy Spider-Man Action Figure
Day 2,572: Hasbro Marvel Spider-Man Epic Hero Series Venom Action Figure
Day 2,592: Hasbro Marvel Legends 375 Spider-Woman Action Figure
Day 2,640: Hasbro Marvel Spider-Man Epic Hero Series Miles Morales Action Figure

Want to buy this figure? Check Spider-Man availability at our sponsors:
Entertainment Earth