Spider-Man
Bendy, Flexy

Spider-Man Bend and Flex
Item No.: Asst. E7335 No. E7686
Manufacturer: Hasbro
Includes: Web accessory
Action Feature: Bendy
Retail: $9.99
Availability: January 2020
Other: Gumby skeleton, Xevoz extremities

PREVIOUS
RSS
NEXT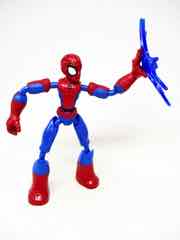 This bend and flex Spider-Man is a a pretty good illustration of how the Disney family of licenses are treated as Hasbro toys now. Back in the 1980s and 1970s, we would get one - maybe two - of a core character and a lot of sidekicks, villains, and hangers-on. In the 1990s with the advent of the Kenner The Dark Knight Collection, Batman became the star and we saw other lines like Teenage Mutant Ninja Turtles also shift their focus to new flavors of the main heroes, but generally these were all in a single scale (with a couple of exceptions with the occasional enlarged figure.) In the early 2000s we saw lines like Star Wars find new ways to do scene-specific Spider-Man and Darth Vader to build out the collection. In the 2010s we saw a gradual shift again, with licenses thinning the secondary (and tertiary) characters in favor of just focusing on a few main figures but in every possible scale. Kids love it. Collectors, well, they've got their Spider-Man figures.
The Bend and Flex figures fill that kind of need - another way to get the main Marvel heroes and Avengers out to kids and young fans at a lower price point. The Titan Hero Series 12-inch figures are still popular (and an excellent value), so these Xevoz-meets-Gumby figures are carving off a slice of - or trying to replace - that business. While not widely stocked, the stores that do have these seem to be turning them over so they're moving at least a little bit. But do you need them?
The 6-inch figure is similar in size - but not proportions - when compared to Marvel Legends or the pretty awesome and cheap 6-inch kid figure lines Hasbro has been churning out for the likes of Black Panther and Infinity War. The bendy blue skeleton seems durable but stiff, allowing you to get some decent poses out of a figure that actually still has traditional plastic joints at the neck and the waist. The figure easily splits at the waist too! It reminded me a lot of Xevoz, and when I see the exaggerated proportions of these figures I was thinking just how much I would love to collect Marvel Xevoz.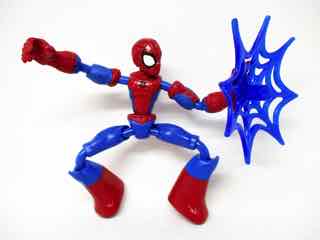 Clearly, I am avoiding the issue at hand. The figure is sturdy and stable, with big feet and hands outfitted with 5mm-ish-hexagonal holes that work with various Transformers C.O.M.B.A.T. fire blasts and other accessories - and that's neat. The stylized sculpting has a charming, big-eyed head with deep web grooves that look fantastic, but it's still clearly a wire skeleton with 11 plastic body parts clamped over it. It's a neat experiment - it works. If you need to give your kids a couple of figures to slam together and fight with, these may be the best figures for that purpose. These are real toys you can play with and they don't seem as likely to crack or break, but they're also not as impressive as those $10 12-inch figures to my old eyes.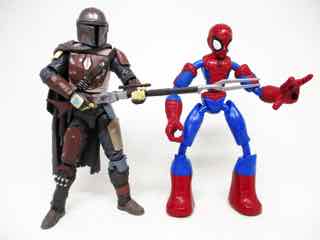 But - and this is key - they seem like they're going to hold up to rough play, to storage in the toy box, and to being flung off the roof. Titan Hero Series are partially hollow and could crack with abuse. The deco of the Bend and Flex Spider-Man is better than those 12-inch figures, and while the sculpted webbing is undecorated everything else looks good. The back of the figure is painted nicely, the head is good, and there's no element where I look at this and say "they could have spent another quarter on paint to make this better." The figure turned out very well, although I will say I wish the torso piece was bigger. The tiny chest and giant underpants region is truly memorable, and this is the kind of thing I kind of wish I had as a kid. I had a couple of the X-Men Bend Ems, and Hasbro's effort is a lot better. And more expensive. But that's what you probably want - the durability of a bendy figure, but with the stability of an action figure. Being able to stand up is a huge plus, and the hands are big enough to grip accessories or other figures. You can really play with this thing, and it's not going to pop apart or flop over like a mega-articulated action figure.
If I was buying a birthday present for a kid, I'd go this route. Those seeking realistic proportions and movie-accurate detailing wouldn't want a bendy figure anyway, and it's not like there's a shortage of Spider-Man toys in other styles. Or Iron Man, or Hulk, or Black Panther, or... I could go on. Kudos for Hasbro's ability to try something new, I hope the figure finds its audience.
--Adam Pawlus
Additional Images

Click here to see more Hasbro figures in Figure of the Day.
See more Spider-Man figures in Figure of the Day:
Day 39: Hasbro Spider-Man Super Poseable Spider-Man Action Figure
Day 40: Hasbro Spider-Man Stealth Ninja Spider-Man
Day 50: Hasbro Spider-Man Toxic Blast Venom
Day 65: Hasbro Spider-Man Dive Bomber Green Goblin
Day 91: Hasbro Spider-Man (Kid Series) Monster Claw Carnage Action Figure
Day 108: Hasbro Marvel Universe Spider-Man Action Figure
Day 137: Toy Biz Spider-Man Animated Super Articulated Spider-Man
Day 290: Hasbro Spider-Man Mighty Muggs J. Jonah Jameson
Day 300: Hasbro Spider-Man Mighty Muggs Venom
Day 311: Hasbro Spider-Man Mighty Muggs Spider-Man
Day 336: Hasbro Spider-Man Mighty Muggs Demogoblin
Day 427: Funko Marvel Universe Pop! Vinyl SDCC Exlusive Spider-Man Vinyl Figure Bobble Head
Day 605: Hasbro Ultimate Spider-Man Night Mission Spider-Man Action Figure
Day 717: Hasbro Ultimate Spider-Man Crime Fightin' Spider-Man Action Figure
Day 862: Hasbro Ultimate Spider-Man Web Strike Spider-Man Action Figure
Day 876: Hasbro Spider-Man Marvel Legends Infinite Series The Amazing Spider-Man 2
Day 877: Hasbro Ultimate Spider-Man Iron Spider Armor Spider-Man
Day 916: Hasbro The Amazing Spider-Man Movie Ultra-Poseable Spider-Man
Day 936: Hasbro The Amazing Spider-Man Night Mission Spider-Man
Day 1,484: Hasbro Captain America Civil War Spider-Man, Captain America, and Iron Man Action Figures
Day 1,501: Hasbro Marvel Legends Series Spider-Man
Day 2,109: Hasbro Playskool Heroes Series 2 Marvel Super Hero Adventures Clear Spider-Man
Day 2,201: Hasbro Spider-Man Bend and Flex Spider-Man Action Figure
Day 2,229: Hasbro Spider-Man Marvel Legends Retro Spider-Man Action Figure
Day 2,342: Hasbro Marvel Legends 375 Spider-Man Action Figure
Day 2,453: Hasbro Marvel Spider-Man Action Figure
Day 2,459: Hasbro Marvel Legends 375 Iceman Action Figure
Day 2,476: Hasbro Marvel Legends 375 Firestar Action Figure
Day 2,491: Hasbro Marvel Legends 375 Venom Action Figure

See more Marvel figures in Figure of the Day:
Day 4: Hasbro Iron Man 2 Iron Man (Blast-Off Figure Stand) Action Figure
Day 7: Hasbro Marvel Universe Ghost Rider Action Figure
Day 15: Hasbro Marvel Universe Iron Patriot Action Figure
Day 24: Hasbro Marvel Universe Dark Wolverine Action Figure
Day 31: Hasbro Marvel Universe Dark Spider-Man Venom Action Figure
Day 34: Hasbro Iron Man 2 Iron Monger (Comic Series) Action Figure
Day 39: Hasbro Spider-Man Super Poseable Spider-Man
Day 40: Hasbro Spider-Man Stealth Ninja Spider-Man
Day 50: Hasbro Spider-Man Toxic Blast Venom
Day 55: Hasbro Iron Man 2 Iron Man (Original) Action Figure
Day 60: Hasbro Iron Man 2 Iron Man Silver Centurion Action Figure
Day 65: Hasbro Spider-Man Dive Bomber Green Goblin
Day 70: Hasbro Iron Man 2 Deep Dive Armor Iron Man
Day 73: Hasbro Marvel Universe Iceman
Day 75: Hasbro Iron Man 2 Hulkbuster Armor Iron Man
Day 84: Hasbro Iron Man 2 Comic Series War Machine
Day 91: Hasbro Spider-Man (Kid Series) Monster Claw Carnage Action Figure
Day 103: Hasbro Marvel Universe Marvel's Firestar
Day 108: Hasbro Marvel Universe Spider-Man Action Figure
Day 115: Hasbro Iron Man 2 Comic Series Guardsman
Day 124: Hasbro Iron Man 2 Movie Series Iron Man Mark V
Day 131: Funko Thor Pop! Vinyl Thor Vinyl Figure Bobble Head
Day 137: Toy Biz Spider-Man Animated Super Articulated Spider-Man
Day 141: Funko Thor Pop! Vinyl Loki Vinyl Figure Bobble Head
Day 154: Hasbro Iron Man 2 Movie Series Iron Monger
Day 209: Hasbro Iron Man 2 Comic Series Iron Man #30 Action Figure
Day 249: Funko Marvel Universe Pop! Vinyl Iron Man Vinyl Figure Bobble Head
Day 290: Hasbro Spider-Man Mighty Muggs J. Jonah Jameson
Day 292: Hasbro Marvel Universe Compound Hulk
Day 300: Hasbro Spider-Man Mighty Muggs Venom
Day 306: Funko Marvel Universe Pop! Vinyl The Hulk Vinyl Figure Bobble Head
Day 311: Hasbro Spider-Man Mighty Muggs Spider-Man
Day 320: Hasbro Marvel Universe Handful of Heroes Mini Figure Pack
Day 336: Hasbro Spider-Man Mighty Muggs Demogoblin
Day 427: Funko Marvel Universe Pop! Vinyl SDCC Exlusive Spider-Man Vinyl Figure Bobble Head
Day 542: Hasbro Avengers Target Exclusive 8-Pack Figure Collection Captain America Action Figure
Day 578: Hasbro Avengers Target Exclusive 8-Pack Figure Collection Hulk Action Figure
Day 584: Hasbro Avengers Target Exclusive 8-Pack Figure Collection Thor Action Figure
Day 603: Hasbro Avengers Target Exclusive 8-Pack Figure Collection Iron Man Action Figure
Day 628: Hasbro Avengers Target Exclusive 8-Pack Figure Collection Nick Fury Action Figure
Day 757: Hasbro Avengers Assemble Captain America
Day 872: Hasbro Iron Man 3 Marvel Legends Iron Man Mark 42
Day 878: Hasbro Iron Man 3 Marvel Legends Iron Monger
Day 916: Hasbro The Amazing Spider-Man Movie Ultra-Poseable Spider-Man
Day 936: Hasbro The Amazing Spider-Man Night Mission Spider-Man
Day 1,007: Hasbro Guardians of the Galaxy Marvel Legends Infinite Series Drax
Day 1,011: Hasbro Guardians of the Galaxy Marvel Legends Infinite Series Iron Man
Day 1,021: Hasbro Iron Man 3 Marvel Legends Heroic Age Iron Man
Day 1,047: Hasbro Guardians of the Galaxy Marvel Legends Infinite Series Star-Lord
Day 1,150: Funko Guardians of the Galaxy Pop! Vinyl Entertainment Earth Exclusive Ravagers Dancing Groot
Day 1,155: Funko Hikari Vinyl Marvel Guardians of the Galaxy Planet X Groot
Day 1,158: Hasbro Guardians of the Galaxy Marvel Legends Infinite Series Gamora
Day 1,235: Hasbro Marvel Legends Infinite Series Guardians of the Galaxy Classic 5-Pack
Day 1,300: Funko Hikari Vinyl Marvel Metallic Hulk Vinyl Figure
Day 1,484: Hasbro Captain America Civil War Spider-Man, Captain America, and Iron Man Action Figures
Day 1,494: Hasbro Marvel Legends X-Men Iceman
Day 1,501: Hasbro Marvel Legends Series Spider-Man
Day 1,514: Hasbro Marvel Legends X-Men Marvel's Phoenix
Day 1,515: Hasbro Marvel Legends X-Men Marvel's Rogue
Day 1,527: Hasbro Marvel Legends X-Men Wolverine
Day 1,664: Hasbro Guardians of the Galaxy Marvel Legends Infinite Series Groot Evolution
Day 1,667: Hasbro Guardians of the Galaxy Marvel Legends Infinite Series Rocket Raccoon
Day 1,729: Hasbro Guardians of the Galaxy Marvel Legends Infinite Series Groot
Day 1,749: Hasbro Marvel Legends Series 12-Inch Deadpool
Day 1,792: Hasbro Marvel Legends X-Men 6-Inch Deadpool
Day 1,820: Hasbro Marvel Mighty Muggs Captain America
Day 1,916: Hasbro Marvel Legends Marvel Knights Man-Thing
Day 1,988: Hasbro Marvel Legends X-Men Cable
Day 2,007: Hasbro Marvel Legends Thor Ragnarok Thor and Marvel's Valkyrie
Day 2,016: Toy Biz X-Men Steel Mutants Wolverine vs. Sabretooth
Day 2,028: Hasbro Gamerverse Marvel vs. Capcom Infinite Black Widow vs. Ryu Action Figures
Day 2,031: Hasbro Marvel Rising Secret Identity Doreen Green Squirrel Girl Doll
Day 2,037: Hasbro Gamerverse Marvel vs. Capcom Infinite Iron Man vs. Mega Man X Action Figures
Day 2,040: Hasbro Marvel Legends Venom Venom Action Figure
Day 2,048: Hasbro Deadpool Chimichanga Surprise Unicorn Deadpool
Day 2,109: Hasbro Playskool Heroes Series 2 Marvel Super Hero Adventures Clear Spider-Man
Day 2,116: Hasbro Marvel Legends 80th Anniversary The Grandmaster and Korg Action Figures
Day 2,201: Hasbro Spider-Man Bend and Flex Spider-Man Action Figure
Day 2,229: Hasbro Spider-Man Marvel Legends Retro Spider-Man Action Figure
Day 2,303: Hasbro Marvel Legends Deadpool Deadpool in Boxers
Day 2,342: Hasbro Marvel Legends 375 Spider-Man Action Figure
Day 2,381: Hasbro Avengers Bend and Flex Captain America Action Figure
Day 2,438: Hasbro Marvel Iron Man Action Figure
Day 2,444: Hasbro Marvel Hulk Action Figure
Day 2,453: Hasbro Marvel Spider-Man Action Figure
Day 2,459: Hasbro Marvel Legends 375 Iceman Action Figure
Day 2,472: Hasbro Marvel Black Panther Action Figure
Day 2,473: Hasbro Marvel Legends 375 Hulk Action Figure
Day 2,476: Hasbro Marvel Legends 375 Firestar Action Figure
Day 2,479: Hasbro Marvel Legends 375 Sentinel Action Figure
Day 2,482: Hasbro Marvel Legends 375 Thor Action Figure
Day 2,485: Hasbro Marvel Legends 375 The Thing Action Figure
Day 2,488: Hasbro Marvel Legends 375 Human Torch Action Figure
Day 2,491: Hasbro Marvel Legends 375 Venom Action Figure
Day 2,494: Hasbro Marvel Legends 375 Loki Action Figure
Day 2,497: Hasbro Marvel Legends 375 Gray Hulk Action Figure
Day 2,500: Hasbro Marvel Legends 375 Storm Action Figure
Day 2,503: Hasbro Marvel Legends 375 Moon Knight Action Figure
Day 2,506: Hasbro Marvel Legends 375 Carol Danvers Action Figure
Day 2,509: Hasbro Marvel Legends 375 Black Panther Action Figure
Day 2,512: Hasbro Marvel Legends 375 Daredevil Action Figure
Day 2,516: Hasbro Marvel Legends 375 Iron Man Action Figure
Day 2,520: Hasbro Marvel Legends 375 Silver Surfer Action Figure
Day 2,524: Hasbro Marvel Legends 375 Wolverine Action Figure
Day 2,528: Hasbro Marvel Legends 375 Ghost Rider with Motorcycle Action Figure
Day 2,528: Hasbro Marvel Legends 375 Black Widow Action Figure