Spider-Man
Capture Web!

Ultimate Spider-Man Basic Figure
Item No.: Asst. A3974 No. A5697
Manufacturer: Hasbro
Includes: Spider, web accessory
Action Feature: n/a
Retail: $5.99
Availability: Summer 2013 (online), January 2014 (stores)
Other: New mold, 3 known repaints so far.

PREVIOUS
RSS
NEXT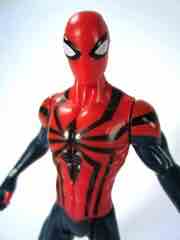 Complaining about figure distribution is old hat. It's common for a figure to show up and you miss it - what's less common is a figure like Web Strikes Spider-Man, which showed up online last summer and didn't show up in stores until January. What's extra surprising is that this is a wave 2 figure, and wave 1 came out in January of 2013 - a full year earlier. Online stores have wave 3 already. I hear people complain in nearly every figure line, but it seems Marvel fans have more stumbling blocks than any other Hasbro property. Amazon doesn't even have it.
The five-joint-figure program seems to be largely successful, if stale. Stores turned over a decent amount of these cheaper figures with Star Wars Saga Legends doing pretty well and Wolverine seemingly selling out almost entirely without markdowns of any kind at most locations - I see this as a success. We'll know for sure when stuff hits closeout stores, but for now we can just enjoy that there are some figures with a low price point to be had.
This Spider-Man is a new sculpt that looks like one of the many redesigns - notice the silver wrist band web shooters. The very simple deco job lacks the webbing of most Spider-Man figures, giving it a very animated feel. The glossy plastic is like many of my 1990s Toy Biz figures, too, and the pose is muscley but not to a ridiculous extent. Close, though. One hand is more or less normally posed while the other is ready to fire some webs. Each shoulder and hip joint swivels easily, while the neck has a ball joint. There are no foot peg holes on the figure's feet.
The paint job is largely clean and the same mold was used for Ultimate Spider-Man and Iron Armor too. There's a bonus spider repaint for some reason - I don't know why, it doesn't add to the toy - and a web accessory that was repurposed from a previously-released Spider-Man. I was genuinely stunned to see this one, and I think I'd be way, way more excited to have it had I not been waiting months for it to show up at a store. I like it, it's probably worth the six bucks, but I don't know how impressive your average toy fan will find it. I'll buy wave 3 if/when it arrives, though.
--Adam Pawlus
Additional Images


Click here to see more Hasbro figures in Figure of the Day.
See more Spider-Man figures in Figure of the Day:
Day 39: Hasbro Spider-Man Super Poseable Spider-Man Action Figure
Day 40: Hasbro Spider-Man Stealth Ninja Spider-Man
Day 50: Hasbro Spider-Man Toxic Blast Venom
Day 65: Hasbro Spider-Man Dive Bomber Green Goblin
Day 91: Hasbro Spider-Man (Kid Series) Monster Claw Carnage Action Figure
Day 108: Hasbro Marvel Universe Spider-Man Action Figure
Day 137: Toy Biz Spider-Man Animated Super Articulated Spider-Man
Day 290: Hasbro Spider-Man Mighty Muggs J. Jonah Jameson
Day 300: Hasbro Spider-Man Mighty Muggs Venom
Day 311: Hasbro Spider-Man Mighty Muggs Spider-Man
Day 336: Hasbro Spider-Man Mighty Muggs Demogoblin
Day 427: Funko Marvel Universe Pop! Vinyl SDCC Exlusive Spider-Man Vinyl Figure Bobble Head
Day 605: Hasbro Ultimate Spider-Man Night Mission Spider-Man Action Figure
Day 717: Hasbro Ultimate Spider-Man Crime Fightin' Spider-Man Action Figure
Day 862: Hasbro Ultimate Spider-Man Web Strike Spider-Man Action Figure
Day 876: Hasbro Spider-Man Marvel Legends Infinite Series The Amazing Spider-Man 2
Day 877: Hasbro Ultimate Spider-Man Iron Spider Armor Spider-Man
Day 916: Hasbro The Amazing Spider-Man Movie Ultra-Poseable Spider-Man
Day 936: Hasbro The Amazing Spider-Man Night Mission Spider-Man
Day 1,484: Hasbro Captain America Civil War Spider-Man, Captain America, and Iron Man Action Figures
Day 1,501: Hasbro Marvel Legends Series Spider-Man
Day 2,109: Hasbro Playskool Heroes Series 2 Marvel Super Hero Adventures Clear Spider-Man
Day 2,201: Hasbro Spider-Man Bend and Flex Spider-Man Action Figure
Day 2,229: Hasbro Spider-Man Marvel Legends Retro Spider-Man Action Figure
Day 2,342: Hasbro Marvel Legends 375 Spider-Man Action Figure
Day 2,453: Hasbro Marvel Spider-Man Action Figure
Day 2,459: Hasbro Marvel Legends 375 Iceman Action Figure
Day 2,476: Hasbro Marvel Legends 375 Firestar Action Figure
Day 2,491: Hasbro Marvel Legends 375 Venom Action Figure
Day 2,544: Hasbro Marvel Spider-Man Epic Hero Series Spider-Man Action Figure
Day 2,548: Hasbro Marvel Legends 375 Symbiote Spider-Man Action Figure
Day 2,560: Hasbro Marvel Legends 375 Green Goblin Action Figure
Day 2,564: Hasbro Marvel Legends 375 Amazing Fantasy Spider-Man Action Figure
Day 2,572: Hasbro Marvel Spider-Man Epic Hero Series Venom Action Figure
Day 2,592: Hasbro Marvel Legends 375 Spider-Woman Action Figure
Day 2,640: Hasbro Marvel Spider-Man Epic Hero Series Miles Morales Action Figure

Want to buy this figure? Check Spider-Man availability at our sponsors:
Entertainment Earth