Crayboth Eaglet
Metallic brown plastic with pearlescent white and yellow highlights

Glyos Action Figures
Item No.: n/a
Manufacturer: Spy Monkey Creations
Includes: n/a
Action Feature: n/a
Retail: $4.00
Availability: January 24, 2014
Other: A scarce, painted Crayboth

PREVIOUS
RSS
NEXT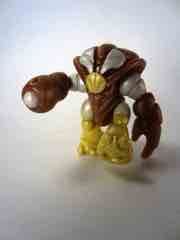 I've been itching to see a new painted style of Crayboth and Spy Monkey Creations surprised me by delivering a Crayboth Eaglet. Generally speaking the Onell Design figures are unpainted or have a couple of painted parts - shoulders, thigh, cannon - and a few panel lines. This one tosses that out entirely and gives the little guy painted "eyebrows," shoulders, a "beak," painted thighs, and yellow "talons" in "air quotes."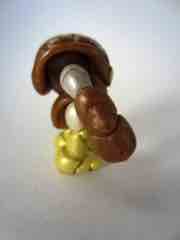 Since I have dozens of these in different colors, it really was a thrill to see Onell Design let Spy Monkey Creations give us a new spin on the mold. This is more Battle Beasts-like and I hope we see lots more repaints just like it. Perhaps in Orca colors, or even as a Flamingo. You can do a lot with paint, and a new paint mask can probably give this mold a couple of easy more years of life to collectors.
I love the Crayboth but I could certainly stand to see some variety like this one provides - there is certainly life worth squeezing out of this design, if only some more people would paint it out of it.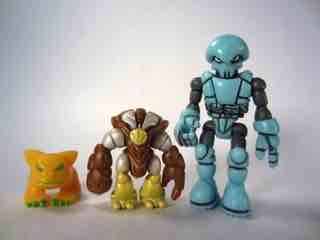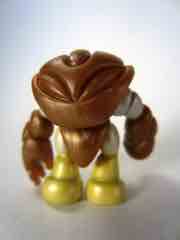 You get the same tiny figure as always, standing under 2-inches tall with 4 points of articulation. You can swap out the limbs with other figures, but why would you want to? He's pretty perfect as it is.
This is the first time we've seen a Crayboth with legs completely covered by paint, and it looks wonderful. I really hope Onell Design cranks out a few more just like it - well, with different colors, I mean. It's a nice change of pace!
--Adam Pawlus
Additional Images


See more Spy Monkey Creations figures in Figure of the Day:
Day 325: Spy Monkey Creations Doppelganger Armory Series 1 Accessory Pack
Day 510: Spy Monkey Creations Weaponeers of Monkaa Empyreus Action Figure
Day 613: Spy Monkey Creations Weaponeers of Monkaa Palidar Action Figure
Day 682: Spy Monkey Creations Weaponeers of Monkaa Close Combat Armory Accessories
Day 712: Spy Monkey Creations Weaponeers of Monkaa OMFG Gohlem Action Figure
Day 879: Spy Monkey Creations Glyos Crayboth Eaglet Action Figure
Day 1,571: Spy Monkey Creations Battle Tribes DX Crimson Spikesaurian 2.0

Click here to see more Glyos Compatible figures in Figure of the Day.