Glyan Glyaxia Standard
Blue core, Yellow shell, no panel lines

Glyos Action Figures
Item No.: n/a
Manufacturer: Onell Design
Includes: 2 heads, 3-piece weapon, lots of articulation
Action Feature: Take apart, swap parts and pieces
Retail: $8.00
Availability: May 11, 2014
Other: Deja Vu

PREVIOUS
RSS
NEXT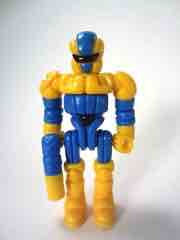 The Glyan Glyaxia Standard is similar to the Glyaxia Command Elite version from 2011, but different enough so that the untrained eye can easily tell the difference. The yellow seems a tiny bit oranger, while the blue seems quite similar but just a smidgen brighter.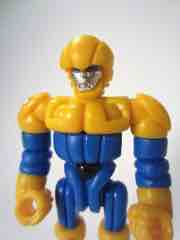 In the last three years, a lot has changed in the Glyos world overall - new lines brought in a few more players, and actual licensed properties now exist within its galaxies. Edition sizes haven't climbed much, but a few newcomers give Onell Design a reason to go back to the well on some styles. This one in particular was one of my favorites during the first go-round, so having another shot at it was certainly nice. One of the most obvious changes over the last few years was the increase of pricing on most toys manufactured in China, leading to companies changing how they do business. In 2011, some Onell figures had header cards, bags, and a backing card. By 2012, that was pretty much done for good. Since then we've also seen paint jobs change a bit, as these things cost money and labor. While that may not sound like much, many companies are finding they have to increase prices on new runs of the same old toys from a few years ago with no changes or increase in complexity, thanks in part to things like China realizing their factory workers probably deserve a better wage. Naturally, this changes how our toys look and what they cost.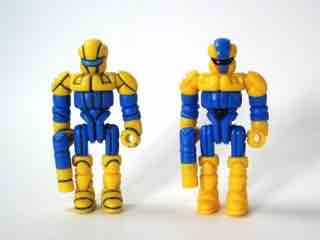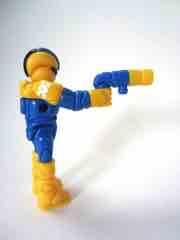 The big changes in deco are pretty obvious - the panel lines of the 2011 version were completely dropped, with a black application on the belly and a black visor taking their place. The head now has a bleu stripe running down the front, and the alternate visor on the back is now black. The white tampo for Glyaxia remains, thankfully, and in many respects the new one feels more like a toy while the 2011 one feels like it fell out of some awesome Japanese toy and model magazine from the early 1990s. It's really something, but the new one is fun too.
As is the case with many of these, neither is obviously superior and it may prove that it's increasingly impossible for any manufacturer to avoid the curse of "just different enough to make you mad" if a toy brand sticks around enough. It's bound to happen - you have to bring back old stuff for the newcomers, and the Neo-Sincroid head is here too - no panel lines but otherwise pretty much the same with a humanoid, silver face and blue eyes. I honestly cannot pick a favorite - if you forced me it'd probably be the 2011 version, but I'd have been just as happy with the 2011 version too. This new 2014 version feels like a child of the 1990s while the previous model has a slightly paler, less bold feel that seems like some of the 1980s space toys - but hey, they're both pretty cool. The figure did not sell out quickly, so check the Onell Design store for availability - failing that, eBay and the October Toys forums are you next best chances.
--Adam Pawlus
Additional Images


Click here to see more Onell Design figures in Figure of the Day.
Click here to see more Glyos Compatible figures in Figure of the Day.