Predator (Masked)
One of four helmeted Predators in this line

Predator ReAction Figure
Item No.: No. 3920
Manufacturer: Super7 x Funko
Includes: n/a
Action Feature: n/a
Retail: est. $9.99
Availability: October 2014
Other: Masked for your pleasure

PREVIOUS
RSS
NEXT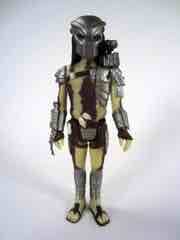 Toys have a funny way of coloring our perceptions - the old Kenner Star Wars Cantina aliens were wildly off model, but correct to anyone alive in the late 1970s or early 1980s. Similarly, this Predator (Masked) is a little weird to those of us who grew up with Kenner toys, because my 2-pack Predator had a brown mask. Silver is, of course, more correct - which leads you to the big question on if doing a ReAction figure correctly is, in and of itself, inauthentic. To be right, must you be wrong?
The masked Predator has been used 3 times so far. The first was July's awesome bloodied clear Predator. The second and third are this figure and the clear, non-bloodied version of this figure. They're all fundamentally the same except for paint - so if you have some unreasonable love for Predator, you should probably get all of them. And the two unmasked ones. I have them harassing my one lone Alien right now. I don't even know why but this makes me weirdly happy to have a little clan of classic but different Predators hanging out on my desk. I was thinking "gee, I don't need all these Predators" but dammit - they're great.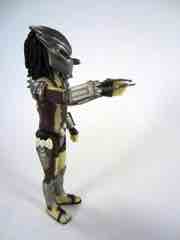 I don't see Predator as a troop builder, or at least, I didn't until I started writing this review. It's not exactly true to the movies, but the multiple head sculpts and colorways lend themselves to keeping a gaggle of them around. It's the same sculpt you've seen before, with the nifty quasi-mesh shirt sculpted but not painted and some brown stripes on a yellowish green body. Sandals, skulls, and armor make this figure feel like the barbarian Boba Fett figure you've always wanted. The gunmetal silvery helmet has dark brown matte eyes, which is pretty cool. It'd also be cool if they gave it something weird like yellow or glow-in-the-dark or blue eyes, but I'm not terribly picky when it comes to colors on these guys. Go ahead and paint one orange or blue. I'd still be excited to buy it, I love the Kennery stuff. Arctic Camo Predator, please!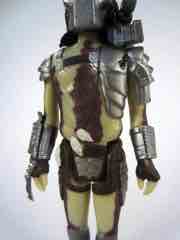 The only real weak parts of the sculpt are the legs - which are a little skinny - and the wrist blades. I know they have to be soft for safety reason, but in the 1980s they'd have been sculpted flush with the arm and not stick out one bit. Here they're a little thin and bent, but that can be fixed with patience and/or boiling water.
With 5 joints - the head is restricted, the arms and legs move great - this is one of the better ReAction figures in terms of functionality. The spirit is there, but he looks a little scrawny relative to his nemesis, the Alien warrior. I'd still suggest getting a Predator, but my enjoyment of them increases exponentially as the group grows on my desk. At this point I can almost fill an Imperial Troop Transport with them, which I assumed would be something that would've happened with the Alien first. Well, if he could fit. He's pretty wide.
--Adam Pawlus
Additional Images
Additional Predator 2014 ReAction Figures Images

See more Super 7 and Funko x Super 7 figures in Figure of the Day:
Day 792: Super 7 ALIEN SDCC Exclusive Sales Samples
Day 821: Super7 x Funko Alien ReAction Ripley
Day 844: Super7 x Funko Alien ReAction Dallas
Day 852: Super7 x Funko Alien ReAction Alien
Day 857: Super7 x Funko Alien ReAction Kane in Space Suit
Day 861: Super7 x Funko Alien ReAction Ash
Day 945: Super7 x Funko The Rocketeer ReAction Rocketeer Action Figure
Day 945: Super7 x Funko Predator (Invisible, Bloody) Action Figure
Day 985: Funko Back to the Future Marty McFly ReAction Figure
Day 1001: Funko Nightmare Before Christmas Jack Skellington (Early Bird Figure) ReAction Figure
Day 1,005: Funko Universal Monsters The Mummy ReAction Figure
Day 1,008: Funko Back to the Future George McFly ReAction Figure
Day 1,008: Funko Back to the Future Doc Brown ReAction Figure
Day 1,029: Super7 x Funko Predator (Attack Mode) ReAction Figure
Day 1,037: Funko Nightmare Before Christmas Saly ReAction Figure
Day 1,038: Funko Universal Monsters Creature from the Black Lagoon ReAction Figure
Day 1,039: Funko Universal Monsters The Invisible Man ReAction Figure
Day 1,040: Funko Universal Monsters The Phantom of the Opera ReAction Figure
Day 1,041: Funko Universal Monsters The Wolf Man ReAction Figure
Day 1,042: Funko Universal Monsters The Bride of Frankenstein ReAction Figure
Day 1,059: Funko Predator (Masked) ReAction Figure
Day 1,068: Funko Universal Monsters Frankenstein's Monster ReAction Figure
Day 1,078: Funko Back to the Future Biff Tannen ReAction Figure
Day 1,082: Funko T800 Endoskeleton (Chrome) ReAction Figure
Day 1,094: Funko Universal Monsters Dracula ReAction Figure
Day 1,059: Funko Predator (Masked) ReAction Figure
Day 1,102: Funko Predator (Unmasked) ReAction Figure
Day 1,108: Funko Universal Monsters The Invisible Man
Day 1,108: Funko Universal Monsters The Invisible Man Clear Entertainment Earth Exclusive
Day 1,111: Funko Predator (Glow Version) ReAction Figure
Day 1,117: Funko The Terminator Sarah Connor ReAction Figure
Day 1,133: Funko The Terminator (Tech Noir Jacket) ReAction Figure
Day 1,138: Funko Pulp Fiction Mia Wallace ReAction Figure
Day 1,149: Super7 x Funko Alien Egg Chamber Action Playset
Day 1,183: Super7 x Funko Alien ReAction Alien (with Metallic Flesh)
Day 1,187: Funko Predator (Invisible) ReAction Figure
Day 1,199: Super7 x Funko Alien ReAction Ripley (Spacesuit)
Day 1,208: Funko Predator (Thermal Vision) ReAction Figure
Day 1,211: Funko The Fifth Element Leeloo ReAction Figure
Day 1,217: Funko The Fifth Element Diva Plavalaguna ReAction Figure
Day 1,222: Funko The Fifth Element Korben Dallas ReAction Figure
Day 1,227: Funko The Fifth Element Mangalore ReAction Figure
Day 1,236: Funko Gremlins Mogwai Stripe ReAction Figure
Day 1,244: Funko The Fifth Element Ruby Rhod ReAction Figure
Day 1,250: Super7 M.O.T.U.S.C.L.E. Set B
Day 1,252: Funko The Fifth Element Zorg ReAction Figure
Day 1,263: Super7 M.O.T.U.S.C.L.E. Set A
Day 1,267: Funko The Fifth Element Leeloo (Straps Costume) ReAction Figure
Day 1,272: Super7 x Funko Alien ReAction Kane (Chestburster)
Day 1,275: Funko Gremlins Billy Peltzer ReAction Figure
Day 1,277: Super7 x Funko Alien ReAction Kane (Facehugger)
Day 1,286: Funko Nightmare Before Christmas Behemoth
Day 1,288: Super7 M.O.T.U.S.C.L.E. Set C
Day 1,295: Funko Nightmare Before Christmas Mayor
Day 1,302: Super7 M.O.T.U.S.C.L.E. SDCC Promo Skeletor
Day 1,327: Super7 x Funko Alien ReAction Nostromo Crew (Dallas, Kane, Lambert)
Day 1,333: Funko Gremlins Cinema Gremlin ReAction Figure
Day 1,342: Funko Gremlins Gremlin Stripe ReAction Figure
Day 1,358: Funko Gremlins Bandit Gremlin ReAction Figure
Day 1,628: Super7 Masters of the Universe M.U.S.C.L.E. Series 2 Set C
Day 1,633: Super7 Masters of the Universe M.U.S.C.L.E. Series 2 Set B
Day 1,637: Funko E.T. The Extra-Terrestrial Elliot, E.T., and Gertie ReAction Figures
Day 1,639: Super7 Masters of the Universe M.U.S.C.L.E. Series 2 Set D
Day 1,639: Super7 Masters of the Universe M.U.S.C.L.E. Series 2 Set A
Day 1,656: Super7 Alien M.U.S.C.L.E. Set A
Day 1,676: Super7 Alien M.U.S.C.L.E. Set C
Day 1,686: Super7 Alien M.U.S.C.L.E. Set B
Day 1,693: Super7 Alien M.U.S.C.L.E. Set D
Day 1,801: Super7 Street Fighter II M.U.S.C.L.E. Set A
Day 1,817: Super7 Street Fighter II M.U.S.C.L.E. Set B
Day 1,834: Super7 Street Fighter II M.U.S.C.L.E. Set D
Day 1,840: Super7 Masters of the Universe M.U.S.C.L.E. Series 3 Set D
Day 1,846: Super7 Aliens M.U.S.C.L.E. Set E
Day 1,843: Super7 Masters of the Universe M.U.S.C.L.E. Series 3 Set E
Day 1,857: Super7 Street Fighter II M.U.S.C.L.E. Set C
Day 1,862: Super7 Masters of the Universe M.U.S.C.L.E. Series 3 Set C
Day 1,864: Super7 Aliens M.U.S.C.L.E. Set A
Day 1,877: Super7 Masters of the Universe M.U.S.C.L.E. Series 3 Set F
Day 1,881: Super7 Mega Man M.U.S.C.L.E. Series 1 Set B
Day 1,884: Super7 Aliens M.U.S.C.L.E. Set D
Day 1,894: Super7 Mega Man M.U.S.C.L.E. Series 1 Set D
Day 1,904: Super7 Mega Man M.U.S.C.L.E. Series 1 Set A
Day 1,914: Super7 Mega Man M.U.S.C.L.E. Series 1 Set C
Day 1,920: Super7 Halloween Series Nosferatu Glow in the Dark
Day 1,922: Super7 Masters of the Universe M.U.S.C.L.E. Series 3 Set B
Day 1,937: Super7 Masters of the Universe M.U.S.C.L.E. Series 3 Set A
Day 2,161: Super7 Masters of the Universe Transforming He-Man Action Figure
Day 2,211: Super7 Toxic Crusaders Glow in the Dark Toxie Action Figure
Day 2,235: Super7 Ultimates Voltron Action Figure
Day 2,237: Super7 Teenage Mutant Ninja Turtles Ultimates Raphael Action Figure
Day 2,253: Super7 Teenage Mutant Ninja Turtles Ultimates Foot Soldier Action Figure
Day 2,358: Super7 Killer Bootlegs Rhamnusia's Revenge Action Playset with Draco Knuckleduster and Phantom Starkiller Action Figures
Day 2,388: Super7 Teenage Mutant Ninja Turtles Ultimates Glow-in-the-Dark Mutagen Man Action Figure
Day 2,454: Super7 Metropolis Silver Maria ReAction Figure
Day 2,458: Super7 G.I. Joe Red Ninja ReAction Figure
Day 2,465: Super7 Godzilla Godzilla '54 (Glow-in-the-Dark) ReAction Figure
Day 2,480: Super7 Transformers Grimlock G2 ReAction Figure
Day 2,526: Super7 Vincent Price Master of Mayhem ReAction Figure
Day 2,530: Super7 Godzilla Mechagodzilla (Glow-in-the-Dark) ReAction Figure
Day 2,534: Super7 Planet of the Apes Mendez XXVI ReAction Figure
Day 2,546: Super7 Planet of the Apes Cornelius ReAction Figure
Day 2,554: Super7 Alien UCCSS Nostromo Action Figure Set 1 with Kane with Facehugger, Ripley with Jonesy, Ash with Removable Head
Day 2,562: Super7 Universal Monsters The Mummy ReAction Figure
Day 2,570: Super7 Universal Monsters The Metaluna Mutant ReAction Figure
Day 2,577: Super7 Transformers Hot Rod ReAction Figure
Day 2,590: Super7 Planet of the Apes General Aldo ReAction Figure
Day 2,594: Super7 Mars Attacks Destroying A Dog ReAction Figure
Day 2,598: Super7 Planet of the Apes Dr. Zaius ReAction Figure
Day 2,606: Super7 Universal Monsters Official World Famous Super7 Monsters! Creature from the Black Lagoon (Super She Creature) Glow-in-the-Dark
Day 2,610: Super7 Planet of the Apes Taylor ReAction Figure
Day 2,626: Super7 Planet of the Apes Zira ReAction Figure
Day 2,630: Super7 Universal Monsters The Metaluna Mutant ReAction Figure
Day 2,634: Super7 Planet of the Apes General Ursus ReAction Figure
Day 2,638: Super7 Universal Monsters Dracula ReAction Figure
Day 2,642: Super7 Star Trek: The Next Generation Armus ReAction Figures
Day 2,647: Super7 Devo Whip It Mark Mothersbaugh ReAction Figure
Day 2,649: Super7 Universal Monsters Bride of Frankenstein ReAction Figure
Day 2,652: Super7 Universal Monsters The Mummy (Costume Colors) ReAction Figure
Day 2,655: Super7 Planet of the Apes Nova ReAction Figure
Day 2,657: Super7 Universal Monsters The Wolf Man ReAction Figure
Day 2,659: Super7 Devo Satisfaction Bob Casale ReAction Figure
Day 2,661: Super7 Svengoolie Horror Host Icon ReAction Figure

See more Predator figures in Figure of the Day:
Day 211: Kenner Predator Cracked Tusk Predator Action Figure
Day 285: Kenner ALIENS Hive Wars Warrior Predator
Day 356: Kenner Action Masters Predator
Day 945: Super7 x Funko Predator (Invisible, Bloody) Action Figure
Day 1,029: Super7 x Funko Predator (Attack Mode) ReAction Figure
Day 1,059: Funko Predator (Masked) ReAction Figure
Day 1,102: Funko Predator (Unmasked) ReAction Figure
Day 1,111: Funko Predator (Glow Version) ReAction Figure
Day 1,187: Funko Predator (Invisible) ReAction Figure
Day 1,208: Funko Predator (Thermal Vision) ReAction Figure
Day 1,350: Funko Hikari Vinyl Predator Original Predator Unmasked
Day 1,929: Titan Merchandise Alien vs. Predator The Whoever Wins Collection Scar
Day 2,162: NECA Predator Classics Series Berserker Predator Action Figure
Day 2,278: Lanard Toy Predator 7-Inch Jungle Hunter Predator Action Figure
Day 2,286: Lanard Toy Predator 7-Inch City Hunter Predator Action Figure