Bandit Gremlin
Not Bad, Joints Bad

Gremlins ReAction Figure
Item No.: No. 5511
Manufacturer: Super7 x Funko
Includes: Chainsaw
Action Feature: n/a
Retail: est. $9.99
Availability: June 2015
Other: This one had good joints! I am pleased.

PREVIOUS
RSS
NEXT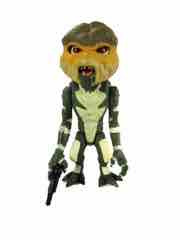 Sharing the same body as the green creatures from the rest of this Gremlins line, the Bandit Gremlin brings you a different figure - by most modern standards, anyway. My sample had joints that moved without too much fussing, which means at least mine was pretty great. The body is the same as the Cinema Gremlin and Stripe, but the head and gun are unique to this release.
The tiny terror has a special sack on his head which makes it different - a new head is, by definition, enough for a few figure. The ski mask has exquisite sculpting - which is arguably not ideal for a retro 1980s-style action figure. The texture is spot-on for a modern figure, and it's fully painted - unlike the typically glossy plastic noggins of the 1970s and 1980s. The red mouth and white teeth pop nicely, and his green chin pokes out of the hole. The creature's red eyes pop out of the holes in the orange section of the mask too, probably meaning that this head has more paint applications than many entire waves of the toys from the 1980s.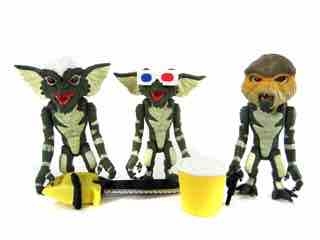 His body is striped, and his chest has the same green splotch as his fellow mutant monsters. With arms and legs that more or less move without a hassle, this figure is a decent desk toy - especially if you hand him the small gun. Again, this is wildly un-1980sy - his clawed finger actually fits in this trigger guard, which is awesome. This is also a thing you probably wouldn't see until the 1990s in most toy lines, and even then only in higher-end "collector" lines - companies like Hasbro didn't embrace individual fingers until after the first prequel.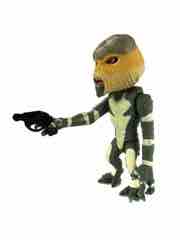 If you look at this figure as a cool monster toy that's really just a modern take on the monsters that's kind of expensive and pretty tiny, I think you'll quickly come to appreciate its goofiness. Sure, the head has a big ugly seam along the middle of it, but a) at most angles you won't notice, and b) some variation of that is authentically 1980s. I sincerely doubt anyone will hold this up as a shining piece of plastic greatness, but as part of the Gremlins ReAction line it's pretty solid. It's amazing we got 3 Mogwai, 3 Gremlins, and Billy so far - I'm sitting here kind of hoping we get figures like Daniel Clamp along with the monsters from the sequel. However, at ten bucks a pop, I don't know that the figure selection is necessarily worth $70 due to their small, simple stature. If you only get one, get Stripe or the wacky Cinema Gremlin. Otherwise, just get something bigger - there are plenty of awesome Gremlins at pretty decent prices, especially Funko's own Pop! figures.
--Adam Pawlus
Additional Images

See more Super 7 and Funko x Super 7 figures in Figure of the Day:
Day 792: Super 7 ALIEN SDCC Exclusive Sales Samples
Day 821: Super7 x Funko Alien ReAction Ripley
Day 844: Super7 x Funko Alien ReAction Dallas
Day 852: Super7 x Funko Alien ReAction Alien
Day 857: Super7 x Funko Alien ReAction Kane in Space Suit
Day 861: Super7 x Funko Alien ReAction Ash
Day 945: Super7 x Funko The Rocketeer ReAction Rocketeer Action Figure
Day 945: Super7 x Funko Predator (Invisible, Bloody) Action Figure
Day 985: Funko Back to the Future Marty McFly ReAction Figure
Day 1001: Funko Nightmare Before Christmas Jack Skellington (Early Bird Figure) ReAction Figure
Day 1,005: Funko Universal Monsters The Mummy ReAction Figure
Day 1,008: Funko Back to the Future George McFly ReAction Figure
Day 1,008: Funko Back to the Future Doc Brown ReAction Figure
Day 1,029: Super7 x Funko Predator (Attack Mode) ReAction Figure
Day 1,037: Funko Nightmare Before Christmas Saly ReAction Figure
Day 1,038: Funko Universal Monsters Creature from the Black Lagoon ReAction Figure
Day 1,039: Funko Universal Monsters The Invisible Man ReAction Figure
Day 1,040: Funko Universal Monsters The Phantom of the Opera ReAction Figure
Day 1,041: Funko Universal Monsters The Wolf Man ReAction Figure
Day 1,042: Funko Universal Monsters The Bride of Frankenstein ReAction Figure
Day 1,059: Funko Predator (Masked) ReAction Figure
Day 1,068: Funko Universal Monsters Frankenstein's Monster ReAction Figure
Day 1,078: Funko Back to the Future Biff Tannen ReAction Figure
Day 1,082: Funko T800 Endoskeleton (Chrome) ReAction Figure
Day 1,094: Funko Universal Monsters Dracula ReAction Figure
Day 1,059: Funko Predator (Masked) ReAction Figure
Day 1,102: Funko Predator (Unmasked) ReAction Figure
Day 1,108: Funko Universal Monsters The Invisible Man
Day 1,108: Funko Universal Monsters The Invisible Man Clear Entertainment Earth Exclusive
Day 1,111: Funko Predator (Glow Version) ReAction Figure
Day 1,117: Funko The Terminator Sarah Connor ReAction Figure
Day 1,133: Funko The Terminator (Tech Noir Jacket) ReAction Figure
Day 1,138: Funko Pulp Fiction Mia Wallace ReAction Figure
Day 1,149: Super7 x Funko Alien Egg Chamber Action Playset
Day 1,183: Super7 x Funko Alien ReAction Alien (with Metallic Flesh)
Day 1,187: Funko Predator (Invisible) ReAction Figure
Day 1,199: Super7 x Funko Alien ReAction Ripley (Spacesuit)
Day 1,208: Funko Predator (Thermal Vision) ReAction Figure
Day 1,211: Funko The Fifth Element Leeloo ReAction Figure
Day 1,217: Funko The Fifth Element Diva Plavalaguna ReAction Figure
Day 1,222: Funko The Fifth Element Korben Dallas ReAction Figure
Day 1,227: Funko The Fifth Element Mangalore ReAction Figure
Day 1,236: Funko Gremlins Mogwai Stripe ReAction Figure
Day 1,244: Funko The Fifth Element Ruby Rhod ReAction Figure
Day 1,250: Super7 M.O.T.U.S.C.L.E. Set B
Day 1,252: Funko The Fifth Element Zorg ReAction Figure
Day 1,263: Super7 M.O.T.U.S.C.L.E. Set A
Day 1,267: Funko The Fifth Element Leeloo (Straps Costume) ReAction Figure
Day 1,272: Super7 x Funko Alien ReAction Kane (Chestburster)
Day 1,275: Funko Gremlins Billy Peltzer ReAction Figure
Day 1,277: Super7 x Funko Alien ReAction Kane (Facehugger)
Day 1,286: Funko Nightmare Before Christmas Behemoth
Day 1,288: Super7 M.O.T.U.S.C.L.E. Set C
Day 1,295: Funko Nightmare Before Christmas Mayor
Day 1,302: Super7 M.O.T.U.S.C.L.E. SDCC Promo Skeletor
Day 1,327: Super7 x Funko Alien ReAction Nostromo Crew (Dallas, Kane, Lambert)
Day 1,333: Funko Gremlins Cinema Gremlin ReAction Figure
Day 1,342: Funko Gremlins Gremlin Stripe ReAction Figure
Day 1,358: Funko Gremlins Bandit Gremlin ReAction Figure
Day 1,628: Super7 Masters of the Universe M.U.S.C.L.E. Series 2 Set C
Day 1,633: Super7 Masters of the Universe M.U.S.C.L.E. Series 2 Set B
Day 1,637: Funko E.T. The Extra-Terrestrial Elliot, E.T., and Gertie ReAction Figures
Day 1,639: Super7 Masters of the Universe M.U.S.C.L.E. Series 2 Set D
Day 1,639: Super7 Masters of the Universe M.U.S.C.L.E. Series 2 Set A
Day 1,656: Super7 Alien M.U.S.C.L.E. Set A
Day 1,676: Super7 Alien M.U.S.C.L.E. Set C
Day 1,686: Super7 Alien M.U.S.C.L.E. Set B
Day 1,693: Super7 Alien M.U.S.C.L.E. Set D
Day 1,801: Super7 Street Fighter II M.U.S.C.L.E. Set A
Day 1,817: Super7 Street Fighter II M.U.S.C.L.E. Set B
Day 1,834: Super7 Street Fighter II M.U.S.C.L.E. Set D
Day 1,840: Super7 Masters of the Universe M.U.S.C.L.E. Series 3 Set D
Day 1,846: Super7 Aliens M.U.S.C.L.E. Set E
Day 1,843: Super7 Masters of the Universe M.U.S.C.L.E. Series 3 Set E
Day 1,857: Super7 Street Fighter II M.U.S.C.L.E. Set C
Day 1,862: Super7 Masters of the Universe M.U.S.C.L.E. Series 3 Set C
Day 1,864: Super7 Aliens M.U.S.C.L.E. Set A
Day 1,877: Super7 Masters of the Universe M.U.S.C.L.E. Series 3 Set F
Day 1,881: Super7 Mega Man M.U.S.C.L.E. Series 1 Set B
Day 1,884: Super7 Aliens M.U.S.C.L.E. Set D
Day 1,894: Super7 Mega Man M.U.S.C.L.E. Series 1 Set D
Day 1,904: Super7 Mega Man M.U.S.C.L.E. Series 1 Set A
Day 1,914: Super7 Mega Man M.U.S.C.L.E. Series 1 Set C
Day 1,920: Super7 Halloween Series Nosferatu Glow in the Dark
Day 1,922: Super7 Masters of the Universe M.U.S.C.L.E. Series 3 Set B
Day 1,937: Super7 Masters of the Universe M.U.S.C.L.E. Series 3 Set A
Day 2,161: Super7 Masters of the Universe Transforming He-Man Action Figure
Day 2,211: Super7 Toxic Crusaders Glow in the Dark Toxie Action Figure
Day 2,235: Super7 Ultimates Voltron Action Figure
Day 2,237: Super7 Teenage Mutant Ninja Turtles Ultimates Raphael Action Figure
Day 2,253: Super7 Teenage Mutant Ninja Turtles Ultimates Foot Soldier Action Figure
Day 2,358: Super7 Killer Bootlegs Rhamnusia's Revenge Action Playset with Draco Knuckleduster and Phantom Starkiller Action Figures
Day 2,388: Super7 Teenage Mutant Ninja Turtles Ultimates Glow-in-the-Dark Mutagen Man Action Figure
Day 2,454: Super7 Metropolis Silver Maria ReAction Figure
Day 2,458: Super7 G.I. Joe Red Ninja ReAction Figure
Day 2,465: Super7 Godzilla Godzilla '54 (Glow-in-the-Dark) ReAction Figure
Day 2,480: Super7 Transformers Grimlock G2 ReAction Figure
Day 2,526: Super7 Vincent Price Master of Mayhem ReAction Figure
Day 2,530: Super7 Godzilla Mechagodzilla (Glow-in-the-Dark) ReAction Figure
Day 2,534: Super7 Planet of the Apes Mendez XXVI ReAction Figure
Day 2,546: Super7 Planet of the Apes Cornelius ReAction Figure
Day 2,554: Super7 Alien UCCSS Nostromo Action Figure Set 1 with Kane with Facehugger, Ripley with Jonesy, Ash with Removable Head
Day 2,562: Super7 Universal Monsters The Mummy ReAction Figure
Day 2,570: Super7 Universal Monsters The Metaluna Mutant ReAction Figure
Day 2,577: Super7 Transformers Hot Rod ReAction Figure
Day 2,590: Super7 Planet of the Apes General Aldo ReAction Figure
Day 2,594: Super7 Mars Attacks Destroying A Dog ReAction Figure
Day 2,598: Super7 Planet of the Apes Dr. Zaius ReAction Figure
Day 2,606: Super7 Universal Monsters Official World Famous Super7 Monsters! Creature from the Black Lagoon (Super She Creature) Glow-in-the-Dark
Day 2,610: Super7 Planet of the Apes Taylor ReAction Figure
Day 2,626: Super7 Planet of the Apes Zira ReAction Figure
Day 2,630: Super7 Universal Monsters The Metaluna Mutant ReAction Figure
Day 2,634: Super7 Planet of the Apes General Ursus ReAction Figure
Day 2,638: Super7 Universal Monsters Dracula ReAction Figure

See more Gremlins figures in Figure of the Day:
Day 120: Funko Gremlins Pop! Vinyl Stripe Vinyl Figure
Day 456: Applause Gremlins 2 Gizmo PVC Figure
Day 1,236: Funko Gremlins Mogwai Stripe ReAction Figure
Day 1,275: Funko Gremlins Billy Peltzer ReAction Figure
Day 1,329: Funko Gremlins Christmas Gizmo ReAction Figure
Day 1,333: Funko Gremlins Cinema Gremlin ReAction Figure
Day 1,342: Funko Gremlins Gremlin Stripe ReAction Figure
Day 1,358: Funko Gremlins Bandit Gremlin ReAction Figure