OSM Gemini Ulstriax - Fugitive from Algol
The Man from the Twin Star Algol - Special Edition

Outer Space Men Onell Design Special Edition Crossover with the Outer Space Men
Item No.: No. n/a
Manufacturer: Onell Design
Includes: 2 ray guns, star weapon, staff with head and helmet, 2 helmets, alternate bent/straight arms
Action Feature: Pops apart
Retail: $16.00
Availability: December 8, 2016
Other: Not bad at all

PREVIOUS
RSS
NEXT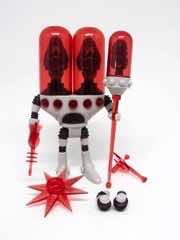 As far as bang for the buck goes, the amount of parts in the Onell Design crossover OSM Gemini Ulstriax - Fugitive from Algol is pretty solid - and if you buy the matching companion Quallerran figure, it's even better. Not only is this a nicely decorated figure molded in light grey plastic, but Onell Design tossed in some bonus parts - dark red clear weapons of Orbitron are thrown in the bag at no extra charge. This is only the second heavily decorated version of Gemini out of a grand total of seven releases. The main, classic yellow one should be your first purchase and this Onell Design special edition should be your next stop.
If you've been collecting Glyos-compatible figures, you know that a lot of them share paint masks. This particular one shares one with the Cosmic Radiation Edition Gemini, as the black parts on this figure are the silver parts on the glow figure. The Ultriax Gemini also has added blue faces on the three heads, but is otherwise bare plastic. Picking the right colors so that the bare plastic looks good can be tough, but Matt Doughty and Onell Design are geniuses at this so even if you might have rolled your eyes at more grey, it's still good.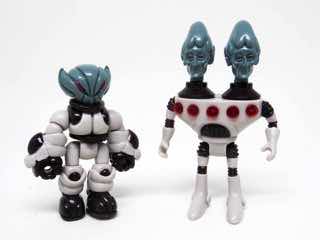 While not an exact match, this Gemini is very similar to the original Metamporpho [FOTD #144] in color. It's grey, there's some clear red parts, and there are black joints. The heads are a distinctive blue color, and behind the red domes he looks dark grey. Such is the fun of the clear plastic helmets as a filter for color. The weapons match nicely, and there are extra weapons in this Gemini you won't find in the other releases. This time around, he's got the star and ray gun from Orbitron - accessories from this wave of The Outer Space Men are run on the same sprue, so extra parts are run even if they're not needed. They have to go somewhere, and I'm glad they went here rather than a cast-off bin in China.
As far as articulation goes, it's good - but not spectacular, as the Glyos System has limitations. There are more moving parts here than a comparably sized figure from Hasbro these days, and at each joint you can pop him apart and swap elements between figures as you're so inclined. Included in this very set are alternate arms - you can switch them out from "bent" or "straight" varieties as an interesting workaround to the lacking elbow joints. You can also swap around the feet or heads or whatever else you feel like - you can make a one-headed Gemini if you really want. The figure has 11 meaningful points of articulation, plus added moving parts that can be removed with chest pins, a disc around the neck, and a few parts in his staff. It won't do you a lick of good to move some of these parts, but the disc under the neck actually serves a useful purpose. The helmet seals around it tightly, so by turning the exterior helmet you can move the head inside.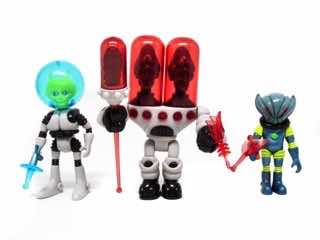 Mr. Doughty made me aware of one of his favorite builds, and I gave it a shot. Fans of The Outer Space Men don't always love Alpha 7's tiny body with unusual hip joints, so you can make a bigger little guy mixing up the torso from the Quallerran/Noboto figure with the arms and legs of Gemini. It works! It's great! This is one of the nicer.shtmlects of the Glyos System - but fewer and fewer figures are being made in the same colors to allow for as much in the way of building, swapping, and otherwise customizing without the use of paint. I wish I got extras of these figures to keep this build around all the time, but my obsessive tendencies require that I revert Gemini to his normal two-headed build at almost all times.
Onell Design has so far had four crossover figures from The Outer Space Men, all of which are pretty distinctive - this one is very similar to the original Metamorpho but looks distinct from the "normal" release a few years ago. When launched this figure was sold as a mystery release - "Fugitive from ALGOL" - and that was enough for some of us toy fans to know exactly which character was being sold for $16.00. It sold out before the figure was revealed, meaning fans are either hopeful, trusting, or both. The resulting figure is good, nowhere near as delightfully strange as this year's earlier crossovers but still delightful in its own right and a lovely alternative to those who missed the original Gemini a few years ago. If your budget allows, go ahead and get this one. What else would I say? I love the design, I love the cone head with big ears and pointy nose, and the blue head really brings out some personality I never saw on the other releases. I hope to see another, hopefully much wilder, recolor down the road.
--Adam Pawlus
Additional Images


Click here to see more Onell Design figures in Figure of the Day.
Click here to see more Outer Space Men figures in Figure of the Day.

Click here to see more Glyos Compatible figures in Figure of the Day.