Shockwave
Targetmaster, Mostly

Transformers Generations Combiner Wars Legends
Item No.: Asst. B0971 No. B4666
Manufacturer: Hasbro
Includes: Trading Card
Action Feature: Transforms from gun to robot
Retail: $9.99
Availability: December 2015
Other: Before he was Reflector, and Shockwave again

PREVIOUS
RSS
NEXT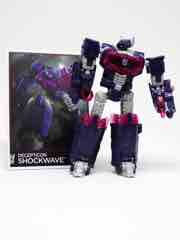 Neat or not, it's hard to argue that the sixth member of Combiner Wars Bruticus is completely essential. Shockwave can be his gun, or backpack. If he's a backpack, you'll never see him. If he's a gun, he's cool enough - for whatever reason Hasbro opted to only give Onslaught two guns, so you have to pick if they need to be mounted on his back or on his fists. It's kind of annoying, but Shockwave provides some extra piece count to plus him up a bit, or whatever jargon people use these days.
The 4-inch robot looks like a little Shockwave, which is cool - along with Soundwave, he's one of the lesser-referenced original season one 1984 Decepticons in the classic toy range. Soundwave and Shockwave both got War for Cybertron/Fall of Cybertron toys, but have been pretty deficient in their updates of the original generation. Heck, as of 2016 pretty much all non-cassette Decepticon from Season One got an update and the bulk of them (save for Shockwave) are leader class toys. Shockwave is tiny, though. I assume just for now - because how far off could a $50 leader update be? But I digress - Shockwave is a cute little robot here, about 4-inches tall and he'll be released in Japan with a different shade of purple, and as a bonus Takara-Tomy gave him Cancer.
The coloring is OK, but there's more grey than I would like in robot mode - it pops up around his neck, on his shoulders, and on his biceps. It's not awful, and the other versions of this character mold don't fare much better. You can have silver, or you can have orange. The pink chest is nifty, the gold eye is nice, and the silver ears are lovely. His pink clear fist and gun hands are unusual, but unusual is good at times. He's fun, and very simple to transform.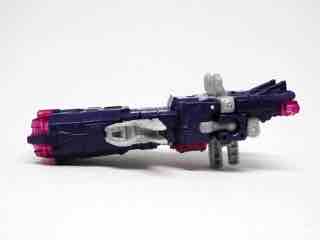 The weapon mode is a cross between his original gun mode and some sort of space satellite thing. It's neat unto itself, but it's not a proper update for the original toy largely because of it not being large. It has a unique grip which can fold up for "ship mode," and a special design created specifically to fit in the Combiner Wars hands. The vehicle/weapon mode itself is acceptable, but unremarkable. It has an opaque targeting sight on top, which I like, and they made clever use of his knees as the barrel of the cannon - or vice-versa. Either way. I quite like the clear pink bits, but the feet hanging off the sides of the ship just look goofy. Compared to Powerglide [FOTD #1,153] it's a more convincing weapon.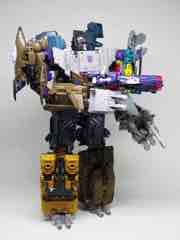 You can also mount the weapon on Bruticus as a backpack, in case you enjoy owning things and not seeing them. It fits nicely for storage, but if you slap it back there you're really just wasting ten dollars and have proven that you do not deserve nice things.
This figure seems to be selling out quickly in his waves, and commands a tiny premium on the secondary market for some reason or another. I like it, but before you overpay for the US release I'd consider holding out for the Japanese one. Yes, it costs more, but it has a bonus (as my pal Seth calls them) Titanbuddy for your Titans Return figures. Once you hit the $15+shipping threshold, you're probably better off going that way.
--Adam Pawlus
Additional Images

Click here to see more Hasbro figures in Figure of the Day.
Click here to see more Transformers figures in Figure of the Day.

Want to buy this figure? Check Transformers availability at our sponsors:
Entertainment Earth