Anatosaurus
One of Many - Store Versions Exist, Too

Definitely Dinosaurs Vinyl Figure
Item No.: No. n/a
Manufacturer: Playskool
Includes: A full dadgum meal, if you can believe it
Action Feature: n/a
Retail: $2.99
Availability: 1988
Other: Available in blue/green and also grey/brown

PREVIOUS
RSS
NEXT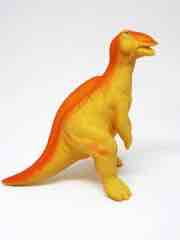 I was always pretty keen on the Definitely Dinosaurs toys despite not having any other than these Wendy's toys. The billde Anatosaurus was, I'm guessing, my least favorite of the three I owned because it's in pretty much perfect condition. (Similarly, my R2-D2 had some sticker wear while R5-D4 was danged near perfect.) The yellowish orange hollow vinyl figure was the very definition of a cheap toy in the late 1980s, but today it would be a designer figure. If someone cranked this out for $40 and made it in different colors in a gallery store, it'd sell. It's not as creative as B.C. Blasters and Stegoforest, but it's an impressive beast unto itself for those looking for "realistic" dinosaurs. (Finger quotes for scientific factiness.)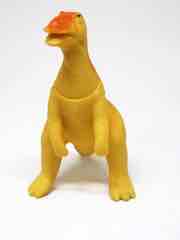 At about 4-inches long, this dinosaur is tall enough to see eye-to-eye to your Star Wars and G.I. Joe action figures. With only an articulated neck, he doesn't do much other than stand around and look neat - the benefit of which is that it's really not much worse than your average dinosaur toy of the era. The full-fledged non-Wendy's Playskool Dinosaurs had more articulation, and Tyco's marvelous Dino-Riders were not only jointed but were loaded with armor, guns, and some even had alien buddies. What I'm saying is that it was a good time to be a fan of dinosaur toys.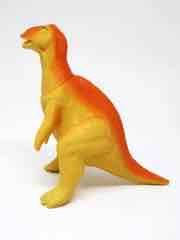 Like most kids worth not grinding up as meat and fed to dogs at the pound, I enjoyed reading about dinosaurs as a kid. I don't think I ever saw much about this particular species, as numerous other "duck-billed dinosaurs" were much more frequently name checked. I've got a Marx Trachodon [FOTD #990] on my desk, and I was always pretty keen on the parsaurolophus with its giant crest. The Anatosaurus is pretty plain, but pretty good - check out the wrinkly skin, the open mouth with unpainted teeth and tonuge, and of course sculpted claws. A Definitely Dinosaurs "stamp" is sculpted in his belly, not unlike the JP logo popularized by Jurassic Park. Clearly, there's value in branding your dinosaur toys to set them apart. This strategy worked pretty well for Transformers with its faction markings.
The secondary market says this figure is $7-$10, which isn't at all terrible. Were this a retail toy at a store today, $4-$5 would probably a bargain. For a toy that, now at about 29 years old, makes me feel like an old geezer it's held up remarkably well. The figure is still nice and dry, there's no oily residues or signs of molting. Nothing feels brittle or squeaky, nothing feels like it's decaying or aging beyond the usual play wear. I'd assume this was a new release based solely on how nicely it has aged, so it's a decent little toy. It's probably also the least interesting dinosaur in this series, but that's just evolution's fault.
--Adam Pawlus
Additional Images

See more Playskool toys in Figure of the Day:
Day 273: Playskool Transformers Rescue Bots Optimus Prime Action Figure
Day 1,405: Playskool Transformers Rescue Bots Roar and Rescue Heatwave
Day 1,419: Wendy's Playskool Definitely Dinosaurs Triceratops
Day 1,434: Wendy's Playskool Definitely Dinosaurs Anatosaurus
Day 1,446: Wendy's Playskool Definitely Dinosaurs Apatosaurus
Day 1,473: Playskool Transformers Rescue Bots Deep Water Rescue High Tide
Day 1,473: Playskool Transformers Rescue Bots T-Rex Optimus Prime
Day 1,513: Playskool Transformers Rescue Bots Quickshadow
Day 1,523: Playskool Transformers Rescue Bots Salvage
Day 2,109: Hasbro Playskool Heroes Series 2 Marvel Super Hero Adventures Clear Spider-Man

See more Wendy's figures in Figure of the Day:
Day 1,091: Wendy's Scooby-Doo Monster Mystery Figure
Day 1,146: Wendy's Night at the Museum 3 Jedediah in the Wild West
Day 1,419: Wendy's Playskool Definitely Dinosaurs Triceratops
Day 1,434: Wendy's Playskool Definitely Dinosaurs Anatosaurus
Day 1,446: Wendy's Playskool Definitely Dinosaurs Apatosaurus

See more Dinosaurs figures in Figure of the Day:
Day 990: Louis Marx Toys Dinosaurs Trachodon Figure
Day 1,019: Louis Marx Toys Dinosaurs Brontosaurus Figure
Day 1,023: Schleich Dinosaurs Kragensaurier (Triceratops) Figure
Day 1,034: Schleich Dinosaurs Mammut (Mammoth) Figure
Day 1,062: Tim Mee Toys Green and Yellow Prehistoric Dinosaurs Figure Set
Day 1,073: Louis Marx Toys Dinosaurs Stegosaurus Figure
Day 1,126: Schleich Dinosaurs Ursaurier (Dinosaur) Figure
Day 1,418: Jesse Narens Stegoforest Brown Stegoforest with Acorn Warrior
Day 1,419: Wendy's Playskool Definitely Dinosaurs Triceratops
Day 1,420: Tootsietoy Dinosaurs Stegosaurus Action Figure
Day 1,421: Imperial Dinosaurs Styracosaurus
Day 1,434: Wendy's Playskool Definitely Dinosaurs Anatosaurus
Day 1,446: Wendy's Playskool Definitely Dinosaurs Apatosaurus
Day 1,726: Unknown Wind-Up Brown Tyrannosaurus Rex
Day 1,990: Playmobil 2013 Toy Fair Dinos Explorer Figure
Day 2,023: Boley Nature World Edaphosaurus, Allosaurus, Styracosaurus Action Figures
Day 2,026: Unknown Diplodocus Figure
Day 2,051: Hasbro Dinosaurs Baby Sinclair Action Figure
Day 2,057: Half Toys Dino Series T-Rex
Day 2,065: Lanard Primal Clash Mammoth with Shrapnel Action Figure
Day 2,120: Creative Beast Beast of the Mesozoic Dromaeosaurus Action Figure
Day 2,126: Boley Nature World Mosasaurus Action Figure
Day 2,167: Boley Nature World Apatosaurus Action Figure
Day 2,305: Creative Beast Beast of the Mesozoic Glow-in-the-dark Dinosaurs Zuniceratops Action Figure
Day 2,394: Glow-in-the-dark Dinosaurs Dimetrodon Action Figure
Day 2,398: Playmobil 2013 Toy Fair Dinosaur Explorer Figure
Day 2,550: Blip Toys Animal Planet Electronic Battling Dinos Set