Junkheap
Claw Crush!

Transformers Age of Extinction Power Battler
Item No.: Asst. A6147 No. B0804
Manufacturer: Hasbro
Includes: n/a
Action Feature: Transforms from WMS Truck to robot
Retail: $12.99
Availability: Early 2015
Other: Not bad at all

PREVIOUS
RSS
NEXT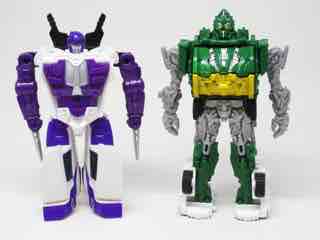 In Age of Extinction, Junkheap is a team of three robots which merge to make a single WMS garbage truck. The toy is one robot. It's a nice toy, but it's also a symbol of the many challenges which the Age of Extinction line (and most movie lines) face - namely, most of the early toys are multiple versions of the main characters with a large emphasis on Autobots. Junkheap was part of the last wave, never making it out to big box stores in the USA - a de facto online/closeout shared exclusive. He jumped up to pretty high double digits prices on the secondary market briefly, which isn't to say he's worth that - it's a nice toy, but with so many similar price points and little indication on the packaging of why one was any better than the other, its fate was practically sealed before the second wave of toys shipped. The same problem had caused problems for numerous other lines over the years, because once everything looks alike there's really no reason to assume that one Crosshairs toy isn't the same as the one on the next peg - they're the same size, same price, and same colors. And this is why Junkheap was a little tougher to get, I never saw one until tripping over a couple of them in October 2015 at Ross on markdown.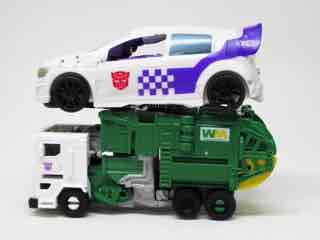 It's a great $6 toy. Standing 5 1/4-inches tall, the robot mode is basically a no-frills deluxe. Were this a Generation One toy, and you had it in 1985, you'd probably remember it quite fondly. It's basically a statue with a cool action feature. The green, yellow, white, and grey robot's arms move and for some reason I don't understand, his knees bend. It's not really bad, and the fun relies on the jaws that leap out from his gut to act as sort of a deadly garbage compactor. It's neat - you hit a white button and they spring out. I assume this will break in a few years and I will cry. Neither arm has 5mm peg compatibility like some of the one-step toys, so basically what you see is what you get - a robot with fake facial hair that looks like he's got a pointy head. It fits in with the movie aesthetic fairly well, but doesn't offer much more play value than the one-steps beyond the jaws of death.
Transformation is a cakewalk - everything basically folds back into a truck shape.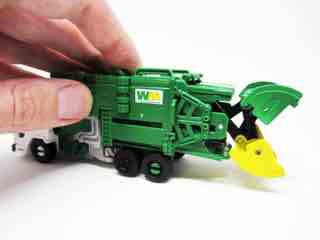 The truck itself has "WM Waste Management" tampos on the side and is free of dirt or grime deco. At about 4 3/4-inches long, it doesn't feel very substantial compared to the one-steps either. Sure, it's a little more meaty but it's fundamentally the same length as those other simpler toys. Four of Junkheap's six wheels really roll, and the jaws of death still work at the back of his vehicle mode. It's a fairly decent little garbage truck if you can find it.
This is the kind of thing we need more of in the Transformers movie lines - unique characters with fun features and unique modes. Sure, Optimus Prime sells, but it's not like parents will buy their kids all of the Optimus toys - eventually they're going to say "now go buy someone else, you have him" even if there's a new feature. Junkheap is one of those one-toy-only characters that really do make lines like this exciting. It's not impressive as such, but it's fun and different - which are worthwhile reasons to buy a toy. Of course, having a toy above $10 with minimal articulation tends to not gather a lot of collector interest unless an item is scarce - which this is, so problem solved. Get a cheap Junkheap if you can, and if you can't, just remember the Japanese release is in different colors and isn't very expensive right now.
--Adam Pawlus
Additional Images


Click here to see more Hasbro figures in Figure of the Day.

Click here to see more Transformers figures in Figure of the Day.

Want to buy this figure? Check Transformers availability at our sponsors:
Entertainment Earth