Optimus Prime
Robot to Tyrannosaurus Rex

Transformers Rescue Bots Roar and Rescue Megabot
Item No.: Asst. A7024 No. A8238
Manufacturer: Playskool
Includes: n/a
Action Feature: Transforms from Dinosaur to Robot
Retail: $9.99
Availability: 2014 (this is the June 2016 rerelease)
Other: Jurassic Redux

PREVIOUS
RSS
NEXT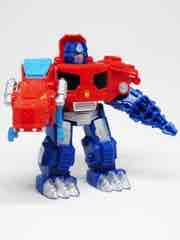 If you want a successful line of Transformers, you're going to have at least one Optimus Prime in it. That's just good science. Rescue Bots have had several in their number, including a semi, and a monster truck, and upsized big ones with giant trailers. Hasbro and Playskool developed this line in the tone of the modern figure line world. In the 1980s, if you wanted a dinosaur, you got a new character - like Grimlock. For the kids, they get Optimus Prime as a T-Rex. It's a first, it's cool, and it's available in an XL size. You also may be interested in knowing that the figure commanded premium pricing until the recent reissue. Collectors aren't paying it, but parents are - kids really do make a difference for this stuff.
The 4 1/2-inch robot is, for all intents and purposes, a one-step toy. If you twist his legs, the robot arms fall in place and you get a dinosaur. The blue switch on the head moves the jaw to open and close... and that's all the robot does. Sculpting is good, with some decent silver deco and nifty true-to-G1's original Optimus Prime yellow eyes. Sadly the arms really don't move, the fist doesn't hold anything, and the legs are a statue. But it's fun. It really is.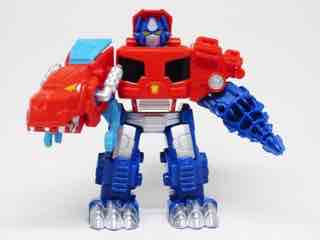 Transformation is easy - one step and you've got yourself a groovy dinosaur. If they redecorated it, you'd probably want one. I'm not saying you'd pay $50 for this cast in purple and made up as Beast Wars Megatron, but give it a new head and you probably would. I might. And I'm cheap.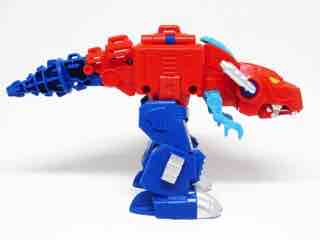 The dinosaur looks a little awkward, mostly because of the whole one-step thing. The little dinosaur arms are cute, but don't move. The robot legs make for wacky dinosaur legs, but they're sturdy. The hunched-over, sloping head is a little more sinister looking than one might expect out of good ol' Optimus Prime, but the toy is pretty much the textbook definition of dumb fun. I doubt many of you will seek it out (even though you have a new chance to do so), but as a thing on your desk? It's great. You'll futz with it for days.
This toy is simple - you kids might dig it, and you might too. It is by no means incredible or impressive, but it's sturdy and colorful. The fact that Optimus Prime's smokestacks effectively have been changed into wiggling ears - and the fact that there are vestigial elements of truck kibble here - make this a goofy, fun toy. It's a weird evolution of Optimus Prime as a character, rather than an attempt to really make a T-Rex in to the Autobot leader. Kudos to Hasbro for trying something truly weird, and I hope we see more of this sort of thing.
--Adam Pawlus
Additional Images

See more Playskool toys in Figure of the Day:
Day 273: Playskool Transformers Rescue Bots Optimus Prime Action Figure
Day 1,405: Playskool Transformers Rescue Bots Roar and Rescue Heatwave
Day 1,419: Wendy's Playskool Definitely Dinosaurs Triceratops
Day 1,434: Wendy's Playskool Definitely Dinosaurs Anatosaurus
Day 1,446: Wendy's Playskool Definitely Dinosaurs Apatosaurus
Day 1,473: Playskool Transformers Rescue Bots Deep Water Rescue High Tide
Day 1,473: Playskool Transformers Rescue Bots T-Rex Optimus Prime
Day 1,513: Playskool Transformers Rescue Bots Quickshadow
Day 1,523: Playskool Transformers Rescue Bots Salvage
Day 2,109: Hasbro Playskool Heroes Series 2 Marvel Super Hero Adventures Clear Spider-Man

Click here to see more Transformers figures in Figure of the Day.

Want to buy this figure? Check Transformers availability at our sponsors:
Entertainment Earth