Starscream
Toys R Us Exclusive

Transformers Robots in Disguise Clash of the Transformers Warrior Class
Item No.: Asst. B7935 No. B7958
Manufacturer: Hasbro
Includes: 2 blasters
Action Feature: Transforms from Jet to Robot
Retail: $14.99
Availability: August 2016
Other: A Smaller Jet

PREVIOUS
RSS
NEXT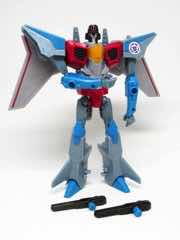 Hasbro gave some new molds to Toys R Us for their exclusive "Clash of the Transformers" line, including two sizes for Starscream. This is the smaller one - he ships with a new Optimus Prime and Paralon, but a jumbo Starscream and a multi-pack with Bumblebee, Steeljaw, and some weapons shipped at the same time. This is a character with no bio on the package, so fans assume (probably correctly) he'll show up on the cartoon in this post-Prime form that's more G1 than he's been in a while.
Basically the same size as a deluxe, Starscream stands about 5 1/2-inches tall with about as much articulation as you might expect. I'm counting 15 points of articulation in robot mode, thanks to a few well-placed ball joints giving Starscream a decent range of mobility. Screamer's arm joints are nice and tight, but the hips are a little on the loose side. His coloring is very similar to most animated takes on Starscream, with the blue and the orange and the red and the grey. f you squint, it looks a little bit like the Robot Masters one from 13 years ago. If you just want a decent, deluxe Starscreamey robot this one should do the trick - he even has the cannons for his wrists. You can pop 'em out and make them guns, too. It's not exactly like any Starscream you've seen before, but it pulls from so many distinct styles that you'll undoubtedly find a piece of your favorite in there somewhere.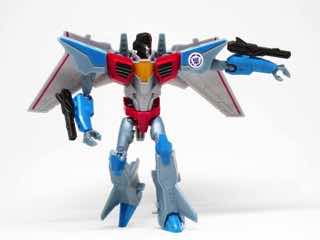 The head is a mix of Prime chic - no nose - with a stylized helmet and color resembling the original animation model from 1984. He's silver, he has some black, it's Starscream. Most of the detail on the figure is here, as the vehicle and robot are pretty simple. There are a few panels and stripes, but it's mostly flat.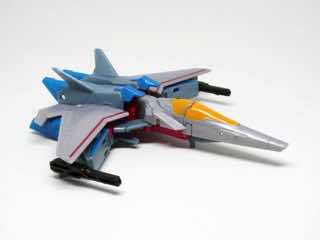 I'd go as far as to say the jet is bland - it reminds me of the tiny Animated Legends toy from a while back, mostly unpainted wings don't offer a lot of excitement. There are no big Decepticon symbols or white stripes, it's just a lot of grey. You can mount the cannons under the wings after an interesting - but somewhat complicated - transformation. The wings may pop off, and the nosecone gets in the way, but it's sure as heck a jet. There are no landing skids or anything like that either, so this is basically a bigger, simplified Legends/Cyberverse-style toy. If the joints were a little tighter, and the form fits were a little less frustrating - getting the shoulders tabbed in place for the vehicle is rough - but doable. You might need some tools to hold certain pieces in place while cramming other ones into it, which sounds dirty, but it shouldn't. It's just a little frustrating.
If you get this toy, you're buying it for the robot mode. The jet doesn't do much or look like much, and transforming it is sort of annoying. The deco of the jet is bland, so your best bet is to get it, transform it once or twice, and then enjoy a decent robot form. You might not need another Starscream, but if you do it's decent to look at. I just like other ones better.
--Adam Pawlus
Additional Images

Click here to see more Hasbro figures in Figure of the Day.
Click here to see more Transformers figures in Figure of the Day.

Want to buy this figure? Check Transformers availability at our sponsors:
Entertainment Earth