Autobot Breakaway
Autobot Throttle & Autobot Breakaway

Transformers Generations Titans Return Deluxe
Item No.: Asst. B7762 No. C0274
Manufacturer: Hasbro
Includes: Tiny head robot, big robot/car, two guns
Action Feature: Transforms from car to robot, head to robot
Retail: $17.99
Availability: November 2016
Other: Pretty great

PREVIOUS
RSS
NEXT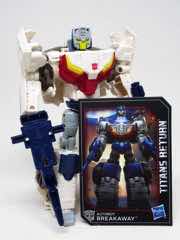 Retooling and repainting figures is common practice in Transformers now, so Autobot Breakaway may look familiar. It's Chromedome [FOTD #1,521] with a new dome. I liked Chromedome, but I find Breakaway - an update of Getaway - kind of middling. It hugs the rail of toy deco, and in my case it's a little sloppy. Some things are uneven, and I'd say it's a good take on what this toy could be under these limitations. I don't like it, and it has some quality issues, but it's a good attempt at what it.shtmlires to be. (And I would have been more excited had this mold been the classic legendary Headmasters Arcee instead, but such is life.)
This 1.5-inch Autobot Throttle is a robot-to-head rather than a robot-to-engine. The colors don't match up at all, and the sculpting doesn't really either - after all, the entire axis of Throttle/Breakaway recycle parts of the previous Blurr and Chromedome toys. The coloring of a blue-armed white robot doesn't at all match the grey-bodied red-limbed original, but it performs its tasks well and has little deco other than the face plate. It fits in the car nicely, because it had previously.
The head mode is a good update of the G1 toy with a bland face surrounded by a grey helmet. Comic appearances added some more color - a darker helmet, differently colored eyes - so it's a good update of the original concept. You may not want the original concept, but it's a good update of it. If you want an IDW version of him where he has probably evolved into one of the most hated characters in the book, you'd be better off either waiting or getting the redeco of Cybertron Hot Shot from the Walmart exclusive waves which followed in the wake of the first live-action movie. It's also not perfect.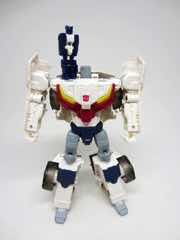 Since I never had the original as a kid, I don't feel a great loss for the Powermaster gimmick or a general change of the look of the robot. The door shoulder wings are gone, the various rally markings are modified to drop the words - probably smart for alien robots sold in multiple Earthly toy markets - with colors that do a good job matching the original toy. That is, when he has color - the original toy had bright reds and dark blues, plus grey toes. The new one keeps the grey toes, but the blue arms are now white. The blue and red lower legs? Also white. They even added more white to the torso. Were it a new character, you'd probably dig it for being a new thing - but as an update for a character with personality that people now recognize and potentially even want to own? You're probably going to need to do some customizing to be happy.
The twin blasters merge to a single weapon, able to sit on the roof of the car, in the car doors, or even in the robot's fists. What more could you ask for? Well, one of them has a seat for Titan Masters figures, even Throttle. It's nice.
Transformation is a snap - you've probably done a figure like this before, as it's similar to roughly a half dozen cars from over the last two years. Things tuck, fold, twist, and otherwise move into a nice, compact little car.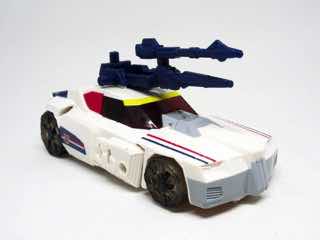 I'll just come right out and say it - I don't like the car deco. The grey is too light, the windows are too inconsistent, the blue on the back of the car isn't even painted on straight. It's just a couple of millimeters, but it's uneven and visible. The front doors lack Autobot symbols and stripes, as those elements were moved to the back doors. It's similar, but different, to the original in ways that make this seem like someone was assigned this redeco and did a pretty good job cramming as many of the original elements in as possible. The wheels don't roll particularly well and it's almost colorful enough to be interesting. But it's not.
It would be foolish of me to suggest you not buy this figure solely because I'd rather it be something else - I'd rather the Getaway update be based on another mold, and I'd rather the Chromedome mold be made as Arcee. But I can also say that the former Powermasters Autobot could have benefitted from a little more paint, a straighter paint mask (at least on my sample), and more consistent windows - the clear red next to the opaque red just looks ugly. I'm also not any fonder of the clear grey wheels, as they don't seem to spin particularly well. Ten years ago I'd have told you "You may as well get it, because it's not like Hasbro will do another one." I no longer believe this - we've seen multiple takes on Bruticus, Optimus Prime, and even Warpath. I don't hate this figure, but Hasbro can and potentially will do better. If you can't find it - it's one per case versus Hot Rod's three - don't sweat it. I assume you wouldn't buy this if it were a BotCon exclusive either - you;'d fold your arms and wait. Since Hasbro has kept Generations in circulation consistently and with a prolific output, there's really no reason to not skip a toy that doesn't meet your expectations. I appreciate the roof-mounted guns and the attempts to bring back the 1988 toy deco on a new model, but it left me cold and I can understand and appreciate Hasbro's decision to shortpack it against Hot Rod.
--Adam Pawlus
Additional Images

Click here to see more Hasbro figures in Figure of the Day.
Click here to see more Transformers figures in Figure of the Day.

Want to buy this figure? Check Transformers availability at our sponsors:
Entertainment Earth