World of Nintendo Jakks Giants Mario Action Figure
The First Giant for Nintendo

World of Nintendo 20-inch Scale Action Figures
Item No.: No. 78254
Manufacturer: Jakks Pacific
Includes: n/a
Action Feature: n/a
Retail: $29.99
Availability: ???? 2014
Other: From... take your pick

PREVIOUS
RSS
NEXT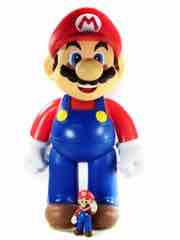 With their oversized figure format and Nintendo license, the Jakks Giants Mario was a given as where that license started - we've also seen Link in circulation. A Fire Mario repaint is also available (I've not seen it in person yet) and I'm hoping we see more of the big guys. The giants like this trade articulation (as seem on the smaller figures) for size at a pretty decent price trade-off. $10 for a 4-inch, super-articulated figure or $30 for a 20-inch, somewhat articulated figure... obviously you don't need both but there's something to be said for a cheap monument.
Mario is pretty bulky thanks to his considerable heft and portly proportions. His packaging comes in taking much more shelf space than other similarly tall Jakks toys, which is maybe why I don't seem to see as many around these days - it seemed to come and go rather quickly. Once removed from the tray he stands rather easily thanks to big feet and a mostly hollow build. You'll notice screws on the back of the fairly underdetailed arms, but it's worth the shoulders rotate and move laterally - so you can have him "wave" if you like. His wrists swivel, too, which is pretty decent for a big, cheap figure.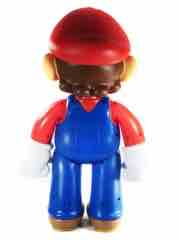 There aren't many other moving parts - the hips rotate a tiny bit, but mostly just enough to keep him standing upright. He won't be doing much sitting. The neck also rotates, but that's sort of normal on any decent action figure. He's unable to look up, but I assume stability and cost were more important than bringing you Figma-style joints on something that would probably have been a priceless store fixture were this still the 1980s. Now they cost a few bucks and you can get a ton of them - heck, I'm still chasing a giant LEGO Minifigure as I keep getting thwarted every time a store goes out of business and they sell they'll let me have it, but I digress.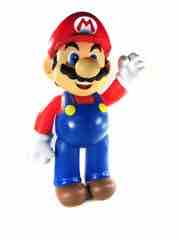 The actual sculpting of the figure, as well as the deco, are quite similar to the smaller figure I looked at last year. The colors, proportions, pose, and everything are pretty much the same - it's just size and articulation. As you can see, the smaller figure is just knee-high to his larger counterpart - it's pretty ridiculous that the little Mario isn't even as massive as part of the big figure's lower leg.
This format is something of an oddity - it's succeeding because it's big, cheap, and driven to kids while I can't imagine it's a ton of fun for them. As a collector, this figure - and indeed this line - is utterly fantastic. I don't have everything, but that's OK - what's out there is pretty awesome and a semi-complete set is better than the nothing we've had for the past 30ish years. This jumbo figure does make me want a few more, but not too many - space is a concern, and my main concern with toys tends to be space. Hopefully they'll turn to Metroid or a StarFox Arwing vehicle would be pretty fantastic. If you need a fixture in your home or office, this Mario is a can't-miss addition for the price - it looks better than those giant off-model statues we've seen in the malls for years, and it's cheaper. As an action figure, it's not a ton of fun unless you just want something big to carry around and smash into other figures.
Unless there's another version you'd prefer, if you want a giant Mario, go ahead and get this one. And then cross your fingers that they might do a jumbo Luigi's Mansion version of his brother next.
--Adam Pawlus
Additional Images

See more Jakks Pacific figures in Figure of the Day:
Day 471: Jakks Pacific S.L.U.G. Zombies Macho Mangler, Flesh-Eatin' Phil, Buck Wilde Minifigures 3-Pack
Day 503: Jakks Pacific S.L.U.G. Zombies Extra Crispy, Zero Hero, Riled-Up Riley Minifigures
Day 545: Jakks Pacific S.L.U.G. Zombies Hungry Humbug, Nutty Nate, Captain Payback Minifigures
Day 818: Jakks Pacific S.L.U.G. Zombies Ralph Reindead, Surprise Demise, Blazin' Basel Minifigures 3-Pack
Day 1,032: Jakks Pacific World of Nintendo Skyward Sword Link Action Figure
Day 1,125: Jakks Pacific World of Nintendo Metroid Action Figure
Day 1,162: Jakks Pacific World of Nintendo Metroid Samus Action Figure
Day 1,182: Jakks Pacific World of Nintendo Mario Action Figure
Day 1,186: Jakks Pacific World of Nintendo Luigi Action Figure
Day 1,320: Jakks Pacific World of Nintendo 8-Bit Link Action Figure
Day 1,336: Jakks Pacific World of Nintendo 8-Bit Luigi Action Figure
Day 1,341: Jakks Pacific World of Nintendo 8-Bit Donkey Kong Action Figure
Day 1,347: Jakks Pacific World of Nintendo ComicConBox.com Metallic Metroid Samus Action Figure
Day 1,349: Jakks Pacific World of Nintendo 8-Bit Mario Action Figure
Day 1,363: Jakks Pacific World of Nintendo Shy Guy Action Figure
Day 1,367: Jakks Pacific World of Nintendo Convention Exclusive Jakks Giants Link Action Figure
Day 1,369: Jakks Pacific World of Nintendo Jakks Giants Mario Action Figure
Day 1,380: Jakks Pacific World of Nintendo Tanooki Mario Action Figure
Day 1,398: Jakks Pacific World of Nintendo Boo Action Figure
Day 1,438: Jakks Pacific World of Nintendo Metroid Gravity Suit Samus Action Figure
Day 1,444: Jakks Pacific World of Nintendo 8-Bit Red Link Action Figure
Day 1,447: Jakks Pacific World of Nintendo 8-Bit Star Power Mario Action Figure
Day 1,454: Jakks Pacific World of Nintendo 8-Bit White Link Action Figure
Day 1,475: Jakks Pacific World of Nintendo Samus Mini Action Figure
Day 1,490: Jakks Pacific World of Nintendo 8-Bit Classic Mario Action Figure
Day 1,512: Jakks Pacific Batman v. Superman: Dawn of Justice Jokers Wild Batman
Day 1,537: Jakks Pacific World of Nintendo Metroid Action Figure
Day 1,624: Jakks Pacific World of Nintendo Blooper Action Figure
Day 1,647: Jakks Pacific World of Nintendo Metroid Phazon Suit Samus Action Figure
Day 1,652: Jakks Pacific World of Nintendo Goomba Action Figure
Day 1,668: Jakks Pacific World of Nintendo 8-Bit Toad Action Figure
Day 1,672: Jakks Pacific World of Nintendo Boo Glow Action Figure
Day 1,677: Jakks Pacific World of Nintendo 8-Bit Star Luigi Action Figure
Day 1,751: Jakks Pacific World of Nintendo 8-Bit Toad Variant Action Figure
Day 1,824: Jakks Pacific S.L.U.G. Zombies Gangrene Gene, Ferpcious Frankie, Johnson Minifigures 3-Pack
Day 1,863: Jakks Pacific S.L.U.G. Zombies Santa Claws, Eli the Expired Elf, Gator Jones Minifigures 3-Pack
Day 1,991: Jakks Pacific World of Nintendo 8-Bit Princess Peach Action Figure
Day 2,490: Jakks Pacific S.L.U.G. Zombies Frozen Fright, Johnny Hammer-stix, Buck Wilde Minifigures 3-Pack
Day 2,614: Jakks Pacific Metroid Samus

See more Nintendo figures in Figure of the Day:
Day 134: Applause Super Mario Bros. Super Mario with Koopa Troopa Action Figure
Day 369: Applause Zelda II: The Adventure of Link Link PVC Figure
Day 833: K'Nex Super Mario Blind-Bagged Series #2 Boo Action Figure
Day 926: Hasbro Pokemon Ash & Pikachu
Day 1,032: Jakks Pacific World of Nintendo Skyward Sword Link Action Figure
Day 1,083: Nintendo Super Smash Bros. Amiibo Samus Aran
Day 1,107: Nintendo Super Smash Bros. Amiibo Link
Day 1,125: Jakks Pacific World of Nintendo Metroid Action Figure
Day 1,162: Jakks Pacific World of Nintendo Metroid Samus Action Figure
Day 1,182: Jakks Pacific World of Nintendo Mario Action Figure
Day 1,186: Jakks Pacific World of Nintendo Luigi Action Figure
Day 1,280: Nintendo Super Mario Maker Classic Color Mario
Day 1,296: Nintendo Super Smash Bros. Amiibo Mega Man
Day 1,299: Nintendo Super Smash Bros. Zero Suit Samus
Day 1,320: Jakks Pacific World of Nintendo 8-Bit Link Action Figure
Day 1,335: Mattel Hot Wheels Nintendo Cool-One (Super Mario)
Day 1,336: Jakks Pacific World of Nintendo 8-Bit Luigi Action Figure
Day 1,341: Jakks Pacific World of Nintendo 8-Bit Donkey Kong Action Figure
Day 1,345: Nintendo Super Smash Bros. R.O.B., Mr. Game & Watch, and Duck Hunt
Day 1,347: Jakks Pacific World of Nintendo ComicConBox.com Metallic Metroid Samus Action Figure
Day 1,349: Jakks Pacific World of Nintendo 8-Bit Mario Action Figure
Day 1,363: Jakks Pacific World of Nintendo Shy Guy Action Figure
Day 1,367: Jakks Pacific World of Nintendo Convention Exclusive Jakks Giants Link Action Figure
Day 1,369: Jakks Pacific World of Nintendo Jakks Giants Mario Action Figure
Day 1,380: Jakks Pacific World of Nintendo Tanooki Mario Action Figure
Day 1,392: Toy Biz Video Game Super Stars Mario Kart 64 Mario Action Figure
Day 1,398: Jakks Pacific World of Nintendo Boo Action Figure
Day 1,404: Medicom Nintendo Series Legend of Zelda Link Ultra Detail Figure
Day 1,430: Sonic Drive-In Mario & Luigi Paper Jam Mario Figure
Day 1,433: Nintendo Shovel Knight Amiibo
Day 1,438: Jakks Pacific World of Nintendo Metroid Gravity Suit Samus Action Figure
Day 1,444: Jakks Pacific World of Nintendo 8-Bit Red Link Action Figure
Day 1,447: Jakks Pacific World of Nintendo 8-Bit Star Power Mario Action Figure
Day 1,454: Jakks Pacific World of Nintendo 8-Bit White Link Action Figure
Day 1,475: Jakks Pacific World of Nintendo Samus Mini Action Figure
Day 1,490: Jakks Pacific World of Nintendo 8-Bit Classic Mario Action Figure
Day 1,537: Jakks Pacific World of Nintendo Metroid Action Figure
Day 1,568: Good Smile Company The Legend of Zelda: A Link Between Worlds Link Deluxe Action Figure
Day 1,599: Nintendo Toad Amiibo
Day 1,601: The Octavirate Forge Shapeways NES Inspired Zapper Gun 5mm Grip
Day 1,605: Nintendo The Legend of Zelda Link Amiibo
Day 1,624: Jakks Pacific World of Nintendo Blooper Action Figure
Day 1,647: Jakks Pacific World of Nintendo Metroid Phazon Suit Samus Action Figure
Day 1,649: Nintendo Super Smash Bros. Little Mac Amiibo
Day 1,652: Jakks Pacific World of Nintendo Goomba Action Figure
Day 1,668: Jakks Pacific World of Nintendo 8-Bit Toad Action Figure
Day 1,672: Jakks Pacific World of Nintendo Boo Glow Action Figure
Day 1,677: Jakks Pacific World of Nintendo 8-Bit Star Luigi Action Figure
Day 1,691: Nintendo Super Smash Bros. Zelda Amiibo
Day 1,733: Nintendo Super Smash Bros. Wii Fitness Trainer Amiibo
Day 1,751: Jakks Pacific World of Nintendo 8-Bit Toad Variant Action Figure
Day 1,795: Nintendo Super Mario Boo Amiibo
Day 1,811: Hasbro Nintendo Diddy Kong Monopoly Gamer Power Pack
Day 1,812: Nintendo Metroid Samus Aran and Metroid Amiibo
Day 1,823: Hasbro Nintendo Boo Monopoly Gamer Power Pack
Day 1,843: Hasbro Nintendo Luigi Monopoly Gamer Power Pack
Day 1,858: Hasbro Nintendo Wario Monopoly Gamer Power Pack
Day 1,896: Good Smile Company Metroid Prime 3: Corruption Samus Aran Action Figure
Day 1,897: Hasbro Nintendo Fire Mario Monopoly Gamer Power Pack
Day 1,991: Jakks Pacific World of Nintendo 8-Bit Princess Peach Action Figure
Day 2,068: Nintendo Super Smash Bros. Ridley Amiibo
Day 2,159: The Legend of Zelda: Link's Awakening Amiibo Link
Day 2,170: Nintendo Super Smash Bros. Simon Amiibo
Day 2,340: Mattel Hot Wheels HW Screen Time Standard Kart
Day 2,361: Nintendo Metroid Dread Samus Aran and E.M.M.I. Amiibo
Day 2,614: Jakks Pacific Metroid Samus