Shadow Panther
Japanese toy sold in the USA via HasbroCollector.com

Beast Wars Transformers D-7
Item No.: No. ???
Manufacturer: Takara
Includes: Gut gun, tail gun, specs card
Action Feature: Changes from panther to robot
Retail: ??? yen ($?.?? at HasbroCollector.com)
Availability: 1996
Other: Black Cheetor repaint also known as Tripredacus Agent

PREVIOUS
RSS
NEXT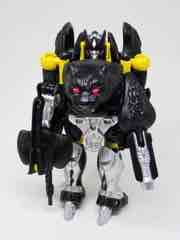 Back in the 1990s, Transformers had collectors but it was not known for being a collector property. People were kicking up clouds of dirt arguing over the importance of trucks versus monkeys, and those loyal to the new regime noticed Takara had alternate paint jobs on its toys as well as its first exclusive beast character in Shadow Panther. This black Cheetor redeco eventually made it to US shores via both importers and the now-defunct HasbroCollector.com - a site which sold a few exclusives and, if the reports are true, was shut down due to objections of certain very large American retailers. (For those keeping track, the far more competitive HasbroToyShop.com has been up for years and remains in business.) Why Hasbro didn't just bring this out as a toy in the American line remains unknown, because in the mid to late 1990s Hasbro gave many a new mold got at least one alternate paint job as a new character.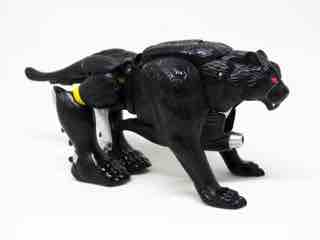 It's like Ravage, but not - the toy exists solely as a toy, not appearing in any cartoon, comic, or prose story that I'm aware of. (But Hasbro did try to make him Ravage-esque if not actually Ravage.) Despite this toy being a 20-year-old deluxe mold, it's pretty much exactly the same size as a Combiner Wars deluxe limb - about 5-inches tall. The deluxe (and Supercon) price points have been larger and smaller over the years, and the same can be said about the articulation. This one has 12 joints, and that's roughly where we've been at since Thrilling 30. The toy is largely black plastic with some silver, grey, and red paint. Shadow Panther's face and mutant head have a lot of silver, with red robot and kitty eyes and some silver on the shins and strange toothy codpiece. The head sculpt is quite good, looking like a standard-issue Takara noggin with the same head, nose, and chin you've seen on other figures over the years. His pointy helmet has a nice silver crest and he has no problems standing or being posed - this is a nice mold.
While 5mm fists are more or less standard today (and since Armada), the Beast Wars range wasn't so consistent. This figure's fists are closer to 4mm, meaning he's not compatible with most other toy weapons.
Changing it into a cat is pretty easy - flip around the lower legs, and then the waist, move around the head and fold in the arms. Fold up the kitty legs and you've pretty much got a cat after you plug in the gut gun and tail cannon.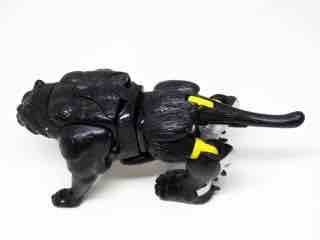 The cat is pretty static and not particularly painted. Takara's paint crew did a fine job giving him some grey outlines on his face and nose, plus creepy red eyes. The front legs can move, but really shouldn't - the back legs have a little more of a range of movement thanks to also being the robot legs. The proportions aren't particularly great, but it's worth noting that the original Cheetor mold on which this is based is still a lot of fun and it's not like many Transformers come with functioning squirt guns with or even without guts on them. Despite being a virtual brick, it's cute, chunky, and nifty enough to buy at a close-to-retail price.
Since most Predacons were bugs or reptiles, this mammal was a bit of a rarity in those early days of Beast Wars. Its availability online was the first hint that Japan would have some neat things before the rest of the world, or in some cases, exclusively. LioConvoy, Galvatron, Big Convoy, Magmatron, Guiledart, and countless others would follow - heck, rarely does a year go by where Japan doesn't get a notably different paint job (or a new head) that would grab the eye of an American fan. There were plenty in the later days of G1 and G2, too - but Shadow Panther got a lot of fame in the early Internet era. He's fun.
--Adam Pawlus
Additional Images
Additional Transformers Legends October 2015 Wave Images

See more Takara figures in Figure of the Day:
Day 13: Takara Smallest Transforming Transformers Bumblebee
Day 158: Takara Smallest Transforming Transformers Rodimus (Hot Rod)
Day 265: Takara Smallest Transforming Transformers Meister (Jazz)
Day 838: Takara Transformers Beast Wars Neo Heinrad
Day 1,431: Takara Beast Wars Transformers Shadow Panther
Day 1,453: Takara Transformers Beast Wars Neo Break
Day 1,907: Takara Transformers Beast Wars Neo Dead End

Click here to see more Transformers figures in Figure of the Day.

Want to buy this figure? Check Transformers availability at our sponsors:
Entertainment Earth