Mega Bit Pheyden
Pheyden, in Gold, in Small and Large

Bit Figs Mega Bit
Item No.: No. n/a
Manufacturer: Bit Figs
Includes: n/a
Action Feature: Pops apart
Retail: $10.00
Availability: September 2016
Other: Mold Debut

PREVIOUS
RSS
NEXT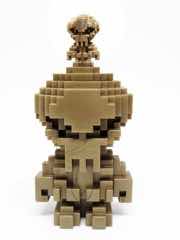 When I saw the first Bit Figs showing up on social media, I thought "Those are neat, but I'm sticking to this whole 'don't buy made-on-demand' kick." I already live in sort of a black hole of toy purchases. When I saw a plastic made-in-a-factory Mega Bit Pheyden Trophy Set was on sale - $10 for 2 figures, no less - I pounced. I love weird pixel things, and I love Glyos, so it's a good mix. (So far I've skipped Minecraft because boy howdy those things are pricey.) With a 2 3/4-inch and a 1-inch figure, made of 4 total chunks of plastic, I figured I should give these a whirl.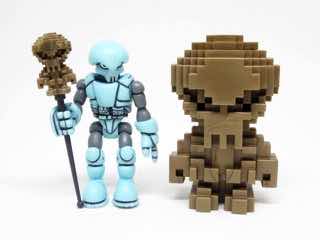 The larger figure is actually the size of a normal Onell Design Pheyden - they're roughly the same height, and you can swap arms between them if you like. It looks weird, but you can do it - each arm pops off on a Glyos peg, allowing you to cram tentacles or heads or whatever else you may have that fits in each socket. The figure's detail is all pixels, so there aren't any fancy details - but you will see the key elements of Pheyden replicated quite nicely. The skull face, the belt pouches, the glove-like hands, they're all here - just not rendered in as fancy of a matter. Even the soles of his shoes are replicated, giving the figure more great detail that you'll probably never notice.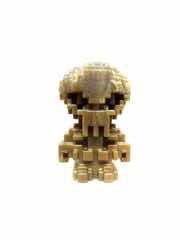 Big Pheyden and small Pheyden were cut from the same cloth, but not the same exact models. The tiny 1-inch figure has slightly different pixel counts in the hand area, plus the legs aren't visibly separated by a groove like on the larger figure. This is, no doubt, to make room for the Glyos socket on the bottom of the feet. Bit Figs Pheyden is notable in how he differs from the normal Bit Figs underneath, as he lacks any Glyos markings or a year - the farm animals and ninjas are all labeled "GLYOS 2016." Tiny Pheyden looks just like the icons you've seen on the Onell Design site for years, but he's in 3D and has physical form. Each pixel is blocky without being incredibly sharp, and he has a feel not unlike vintage M.U.S.C.L.E. figures. He's vaguely rubbery, but not too rubbery.
I got a spare Gemini staff from a Protoclone Marezioc Guard [FOTD #1,497] not too long ago, and after getting Bit Figs I realized it makes a nice cane - with Bit Figs as a topper. Sure enough, li'l Pheyden makes a great topper as well, and you can plug him on to pretty much anything that sports a Glyos peg on it. It's cute, it's fun, I like it - plus the smaller figures should allow vehicle builders some wiggle room when it comes to developing small-scale Glyos vehicles.
This set shipped weeks after the first wave became available at SSM Vending, and the Pheydens were sold alongside a gold 10-pack of farm animals and ninjas for ten bucks. It's not cheap, but it's arguably more worthwhile than searching for and than battling the random number generator that is a gumball machine. If you just want one or two figures, you're better off waiting to get whatever you can out of one of the machines. If you want something fancy, get this set. Pixel figures have been on my drawing board for years, and I still hope to get to a few of them before someone else gets to the ideas - but hey, that's life. For now, I'm loving the Pheydens and I hope you get a later release if gold doesn't work for you. You won't necessarily feel like you got a bargain, but compared to the recent increasing prices of Glyos figures $10 for a big guy and a little guy seems to be a decent deal.
--Adam Pawlus
Additional Images

Additional Bit Figs Drop 1 Images

See more Bit Figs figures in Figure of the Day:
Day 1,510: Bit Figs Ninja Series 1 Ku Mini Figure
Day 1,531: Bit Figs Mega Bit Pheyden Trophy Set
Day 1,551: Bit Figs Animal Series 1 Pup Mini Figure
Day 1,555: Bit Figs Mega Bit Pheyden Standard Set
Day 1,689: Bit Figs Mega Bit Pheyden Flesh Set
Day 1,779: Bit Figs Trophy Set
Day 1,800: Bit Figs Matryx Pheyden
Day 1,805: Bit Figs Mega Bit Spectre Pheyden

Click here to see more Glyos Compatible figures in Figure of the Day.