Shield Liger
Lion Type

Zoids Masterpiece Masterpiece Zoids MPZ-01
Item No.: Asst. A6147 No. B0804
Manufacturer: Takara-Tomy
Includes: n/a
Action Feature: Buildable, roars, lights up, walks, breathes
Retail: 12,000 yen (or about $95-$130)
Availability: March 2016
Other: Debut 1:72 Masterpiece Kit

PREVIOUS
RSS
NEXT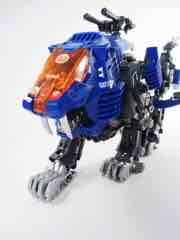 Somehow in Zoids, the many awesome dinosaur robots have been replaced by the Shield Liger as top dog - not to mention this war machine's numerous variants. While Iron Kong, Gojulas, and the like make for amazing, legendary, and memorable toys there are Liger Zero, Liger Zero X, Energy Liger, Liger Zero Jaeger, Liger Zero Schneider, and many many many other flavors you can buy. Odds are we'll see a few more as Masterpiece toys if this line continues, because since their announcement nearly a year ago we've seen but one release and one other upcoming kit. This other upcoming kit seems to use many of the same parts, too. It's not unlike what happened with Transformers.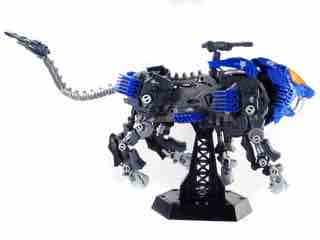 Costing nearly five times as much money as the regular edition of the Shield Liger (but on par or cheaper than the many collector versions from Threezero or Kotobukiya), this kit aims to bring back the play pattern of the original toys while offering the adult fan something more - exactly like the Masterpiece Edition Transformers. The basic premise of Zoids through most of their classic incarnations was to offer a model kit build with a wind-up or battery-powered motor to move at across a table. There may be retractable weapons, there are little pilot figures, and it was a lot of good fun. This figure has a hidden cannon in his mane - on a ball joint, no less! He's got two metallic gold drivers, too.
What you may not know - and what came as a surprise to me - is that this isn't a masterpiece edition of the original Zoids Shield Liger. This is kind of weird - it's based on the anime, rather than the original 1980s toy. When I got a look at the sticker sheet, my heart sank a bit because it turned out that this was meant to be an update of the 1999 "NJR" (New Japanese Release) Shield Liger, complete with the more obnoxious new-school Helic Republic logo rather than the original, simpler Helic Combat Team insignia. I'm not saying I might buy a recolor of this in the original kit's 1983 colors with matching stickers... but I'm not saying I wouldn't either. It's still neat... but it's a little less neat since it seems to be modeled more after the 1999 toy than the 1983 toy or the 1999 anime (which had could make a case for anime-specific pilot figures).
ASSEMBLY NOTE!
If you are trying to make this kit to walk around, be careful during the "roar" animation. The mane must be fluffed out, otherwise the head will catch on the front shoulders when he moves his head around. The tabs on the sides should be fully extended forward, otherwise you're going to hear some horrifying clicks. There is a warning about this on the instructions, but we're Americans and we can't read this.
Assembly is decidedly old-school, with a few changes. Each part is basically now several sprues' worth of bits and pieces. The tail is multiple hard plastic pieces encasing rubbery connective tissue. Paws have individual toes - and joints on the other ones - plus springs in the front heels to keep the figure moving along. There are silver teeth. The driver's seat lights up and fits two figures. The vehicle's mane is articulated. You even get a display stand so you can enjoy its considerably impressive walk, wag, and roar cycle without wobbling on the floor of your apartment. They thought of almost everything here, with one major exception. The rubbery caps that were the hallmark of nearly every single motorized Zoids kit from day one have been replaced by a hard plastic trio of cap sizes. It still looks cool, but it was one of those tactile things in a build that were unlike other toy kits I've had. It changed, now it's different. If you've never had an original, you won't miss it.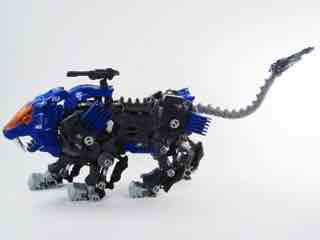 Strangely, Takara-Tomy didn't take the opportunity to upsize the kit. The 1:72 scale lion war machine is pretty much exactly the same size as the original toy from 34 years ago. The piece density is what you're paying for - individually jointed toes, spring-loaded heels, silver fangs, light-up eyes, and other ridiculousness to give you an Experience rather than just another toy. Putting together a normal Zoids kit is something you could probably do between dinner and bedtime, with time to spare.
Not counting the stickers, I spent hours putting this Masterpiece kit together. Seeing as that the upcoming MPZ-02 Saber Tiger - which I am going to guess will be on clearance within 18 months of release - shares tooling, I'm preemptively wincing at assembling another Masterpiece toy that's going to be about 90% the same as this one. If you get a lot of toys, or write a lot, this kit is a real time-sink. The identically sized regular Shield Liger can be assembled in a fraction of the time, but lacks the crazy electronics and lights and display stand. It still walks and it's cool, but this is really, truly an insane Executive Edition Zoids for the fan with money and a lack of desire to collect. If you do Transformers Masterpiece toys, I would say this one is proportionally a little more advanced because of the intense assembly process. Transforming some of those things is a pain - and assembling this is also a pain.
I've been fond of saying that assembling a wind-up or battery-powered Zoids kit is a rite of passage every toy fan should go through at least once. Seeing how a robot toy can fit together is a fascinating journey, and also seeing how one or two little moving parts on a motor can power multiple limbs and a head to come to life is a real treat. This figure does so much that some of those elements remain hidden in a central power block, but you still get to see how all the tabs align to bring it to life - and that's a worthwhile experience. I'd still strongly suggest a toy fan to build a kit like this one, but given the time involvement and overall complexity I'd probably nudge you to getting a mid-range wind-up kit first. And then get this one. If you've ever wondered what it's like to work in a toy factory (to some extent) - putting together the little pieces and springs and everything - you will no doubt walk away from this toy's assembly with a newfound respect for the time those people save you by selling prepackaged, preassembled robots and plastic men instead of kits.
--Adam Pawlus
Additional Images


See more Takara-Tomy figures in Figure of the Day:
Day 180: Takara-Tomy Transformers Animated Ironhide (Bulkhead) Key Chain
Day 435: Takara-Tomy Transformers Prime Gacha Arms Micron Optimus Prime Blaster
Day 476: Takara-Tomy Transformers Prime Bumblebee Sword Action Figure
Day 495: Takara-Tomy Beast Saga Raioga Action Figure
Day 529: Takara-Tomy Beast Saga Kingdom of Sea Death Action Figure Set
Day 534: Takara-Tomy Beast Saga Dolphin Burst Action Figure
Day 540: Takara-Tomy Beast Saga Kingdom of Gloria Action Figure Set
Day 544: Takara-Tomy Beast Saga Aldyle Action Figure
Day 549: Takara-Tomy Beast Saga Dorfan Action Figure
Day 551: Takara-Tomy Beast Saga Eledram Elephant Action Figure
Day 564: Takara-Tomy Beast Saga DX Starter Set Action Figure Set
Day 568: Takara-Tomy Beast Saga Tarlock Action Figure
Day 573: Takara-Tomy Beast Saga Long Giraf Action Figure
Day 579: Takara-Tomy Beast Saga Garrison G Action Figure
Day 580: Takara-Tomy Beast Saga GachaBooster General Hawk Knight Action Figure
Day 585: Takara-Tomy Beast Saga Beast Machines Sky Darling Vehicle
Day 586: Takara-Tomy Beast Saga Killer Shark Burst Action Figure
Day 593: Takara-Tomy Beast Saga Rynas Action Figure
Day 595: Takara-Tomy Beast Saga Seylas Action Figure
Day 597: Takara-Tomy Transformers Prime Zad Action Figure
Day 601: Takara-Tomy Beast Saga Bamet Burst Action Figure
Day 616: Takara-Tomy Beast Saga Long Giraf Burst Action Figure
Day 622: Takara-Tomy Beast Saga Bamet Action Figure
Day 626: Takara-Tomy Beast Saga Killer Shark Action Figure
Day 637: Takara-Tomy Beast Saga Liorga Action Figure
Day 642: Takara-Tomy Beast Saga Aldyle Burst Action Figure
Day 663: Takara-Tomy Beast Saga Janjan Action Figure
Day 669: Takara-Tomy Beast Saga Ogre Burst Action Figure
Day 678: Takara-Tomy Beast Saga Swordbill Action Figure
Day 693: Takara-Tomy Beast Saga Guarl Burst Action Figure
Day 715: Takara-Tomy Beast Saga Guarl Action Figure
Day 824: Takara-Tomy Beast Saga Mantaray Action Figure
Day 828: Takara-Tomy Beast Saga Aljaylo Action Figure
Day 839: Takara-Tomy Beast Saga Ogre Action Figure
Day 846: Takara-Tomy Beast Saga Dakker Action Figure
Day 856: Takara-Tomy Beast Saga Moreek Action Figure
Day 873: Takara-Tomy Beast Saga Wonderriver Action Figure
Day 905: Takara-Tomy Transformers Masterpiece Edition Lambor G-2 Ver.
Day 937: Takara-Tomy Beast Saga Rynas Burst Action Figure
Day 974: Takara-Tomy Beast Saga Super Win Deck Impact Set Action Figure Set
Day 993: Takara-Tomy Beast Saga Kannigal Burst Action Figure
Day 1,127: Takara-Tomy Transformers Sega Genesis Megatron Action Figure
Day 1,207: Takara-Tomy Transformers United Rumble & Frenzy
Day 1,224: Takara-Tomy Transformers Adventure Roadblock
Day 1,242: Takara-Tomy Transformers Go! Go
Day 1,247: Takara-Tomy Transformers Go! Sen
Day 1,259: Takara-Tomy Transformers Go! Geki
Day 1,262: Takara-Tomy Transformers Masterpiece Bumble G-2 Ver.
Day 1,273: Takara-Tomy Transformers Go! Ex
Day 1,284: Takara-Tomy Transformers Go! Shou
Day 1,310: Takara-Tomy Transformers Legends Slipstream
Day 1,327: Takara-Tomy Transformers Unite Warriors Grand Scourge
Day 1,328: Takara-Tomy Transformers Unite Warriors Nightbird Shadow
Day 1,326: Takara-Tomy Beast Saga Buffam Action Figure
Day 1,328: Takara-Tomy Transformers Adventure Override
Day 1,332: Takara-Tomy Beast Saga Bunikis Action Figure
Day 1,339: Takara-Tomy Beast Saga Aljaylo Burst Action Figure
Day 1,357: Takara-Tomy Transformers United Stepper
Day 1,381: Takara-Tomy Beast Saga Eledram Burst Action Figure
Day 1,429: Takara-Tomy Transformers Legends Armada Starscream Super Mode
Day 1,468: Takara-Tomy Transformers Unite Warriors Grand Galvatron
Day 1,471: Takara-Tomy Zoids Masterpiece Shield Liger
Day 1,496: Takara-Tomy Beast Saga Dacker Burst Action Figure
Day 1,627: Takara-Tomy Transformers Legends Convobat
Day 1,670: Takara-Tomy Transformers Legends Leo Prime
Day 1,814: Takara-Tomy Beast Saga Mantaray Burst Action Figure
Day 1,842: Takara-Tomy Transformers Legends Blackarachnia
Day 1,911: Takara-Tomy Beast Saga Wolfen Burst Action Figure
Day 1,964: Takara-Tomy Beast Saga Buffam Burst Action Figure
Day 2,000: Takara-Tomy Zoids Wild ZW-05 Gannontoise Figure Kit
Day 2,006: Takara-Tomy Beast Saga Raioga Burst Action Figure
Day 2,008: Takara-Tomy Zoids Wild ZW-01 Wild Liger Figure Kit
Day 2,013: Takara-Tomy Zoids Wild ZW-03 Kabtor Figure Kit
Day 2,017: Takara-Tomy Zoids Wild ZW-04 Scorpear Figure Kit
Day 2,039: Takara-Tomy Zoids Wild ZW-06 Gabrigator Figure Kit
Day 2,075: Takara-Tomy Zoids Wild ZW-07 Kuwaga Figure Kit
Day 2,191: Takara-Tomy Transformers Generations Selects Deluxe Gulf (Skalor) Action Figure
Day 2,200: Takara-Tomy Transformers Generations Selects Deluxe Turtler (Snaptrap) Action Figure
Day 2,213: Takara-Tomy Beast Saga Kannigal Action Figure
Day 2,273: Takara-Tomy Transformers Generations Selects Voyager Super Megatron Action Figure

See more Zoids, Robostrux, and Techno-Zoids in Figure of the Day:
Day 170: Tomy Zoids Wardick
Day 263: Tomy Zoids Gorgodos Action Figure
Day 364: Tomy Robostrux Brutox Figure Kit
Day 382: Tomy Robostrux Slithor Figure Kit
Day 406: Tomy Zoids Twinhorn Action Figure
Day 484: Tomy Robostrux Brox Figure Kit
Day 486: Tomy Zoids 24 Scale Neptune Figure Kit
Day 1,352: Tomy Robostrux Batlar Figure Kit
Day 1,422: Tomy Zoids Gator Figure Kit
Day 1,471: Takara-Tomy Zoids Masterpiece Shield Liger
Day 2,000: Takara-Tomy Zoids Wild ZW-05 Gannontoise Figure Kit
Day 2,008: Takara-Tomy Zoids Wild ZW-01 Wild Liger Figure Kit
Day 2,013: Takara-Tomy Zoids Wild ZW-03 Kabtor Figure Kit
Day 2,017: Takara-Tomy Zoids Wild ZW-04 Scorpear Figure Kit
Day 2,039: Takara-Tomy Zoids Wild ZW-06 Gabrigator Figure Kit
Day 2,075: Takara-Tomy Zoids Wild ZW-07 Kuwaga Figure Kit