Brutox
Twist-Bolt Construction

Robostrux American Rebranding of Zoids
Item No.: n/a
Manufacturer: Tomy
Includes: 3 vac-metal pilots
Action Feature: Walks with use of battery-powered motor
Retail: unknown
Availability: Fall 1985
Other: Old School

PREVIOUS
RSS
NEXT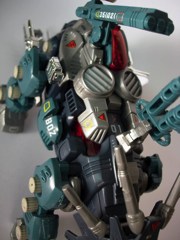 Some things are sacred-- my Robostrux toys probably received better treatment than anything I had as a kid, and I took good care of my stuff. Brutox was the third (and for a couple of decades, final) kit I received in the line, and it was a hum-dinger. The battery-powered Styracosaurus was sold in the USA initially in this blue color, complete with Zenebas logo, but here's the weird thing: the Robostrux line ignored the Helic and Zenebas faction logos. (Think Autobots and Decepticons.) They just randomly reassigned characters to the Red Mutants or Blue Guardians, and Brutox was a Blue Guardian. Because he's blue. In Japan (and much later in the USA), this toy was sold as Red Horn in red and various other colors. (Tweaked versions of the old Dark Horn and Red Horn both bowed in the USA around 2002.)
The modestly sized kit is, to say the least, beautiful. The US release was properly blinged out with vac-metal guns (which Japan did not get), which just makes the damn thing sparkle. The sticker sheet is fundamentally the same as the one used for Japan, but the plastic colors are completely different-- long gone are the red and dark maroon colors, instead American boys got to enjoy silver, a light blue, and a sort of a royal blue color. If you flick a switch on his back near the tail, the battery-powered motor (which last I checked just suddenly stopped working) will propel the beast forward, opening and closing his mouth while his legs heave ahead and the front cannon spins. It was basically a low-level robot dinosaur that friggin' came alive. The little wind-up ones are cool-- and yes we'll be talking about them soon-- but this beast really was a delightful creation.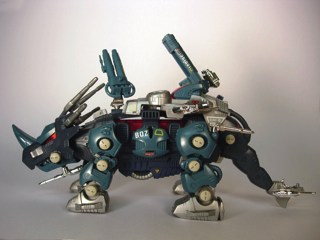 There's a lot of detail on the kit, which basically any able-bodied adult can assemble in under an hour with a hobby knife and a little patience. Kids might assemble it faster. (They're better than us.) The horns on the crest are jointed, as are most of the guns-- you can position them to your liking. The canopies on the head and back open, plus a gunner sits out in the open on the tail. The toy is covered in vents, bolts, hoses, and other sculpted details that you generally didn't get a heck of a lot of from toys of the day. Transformers and Go-Bots of the day were much simpler, as were the earlier Tomy Zoids kits sold in the USA and Japan a few years earlier. This thing is just gorgeous-- most of the Robostrux kits were culled from the middle years of the original Zoids line, where the skeletal robots were replaced by bulkier, meatier armored dinosaurs that just make me smile. I don't deny that my love of this line comes form the fact that I still view it through the eyes of a little kid who couldn't put on labels to save his life, and to this day I can't name a toy line that immediately spoke to me and said "I am spectacular. Now take good care of me" in the same way as these guys.
Other versions: Brutox is prohibitively expensive, as is the bulk of the Robostrux line. If you love blue and chrome, there is no substitution, but what about you cheapskates or people who didn't buy it when they were six? Get the recent Zoids releases-- it's basically the same toy with new colors and different stickers at a fraction of the price. A Tomy or Hasbro release of Red Horn from roughly 10 years ago should set you back $20 or less, while Dark Horn (the obligatory black repaint) is priced similarly. The Hasbro version was particularly cheap, I got mine for ten bucks at a grocery store. (Suckers.)
One of the reason so many toys in the 1980s were special-- if you ask me-- is that most companies preserved their uniqueness. Repaints were somewhat rare outside of a few items from Hasbro, and even then, there weren't all that many. Your average Tomy robot dinosaur kit or Hasbro toy beast who battles for the fun of it rarely got a unique repaint, which is a trend that mostly held until 1990, upon Kenner's acquisition of Batman. Right around that time, ol' pointy ears kicked off the repaints hardcore, changing the industry from having precious few versions of popular characters to being completely consumed by them. Brutox was from a simpler time, and while he was a blue repaint it's not like his Japanese cousin Red Horn was sold in the USA until over 15 years later. Today there are dozens of versions of many characters, from repaints to totally new toys. I miss the old days... even though it meant fewer toys, that may have been for the best.
--Adam Pawlus
Additional Images

See more Tomy toys in Figure of the Day:
Day 170: Tomy Zoids Wardick
Day 263: Tomy Zoids Gorgodos Action Figure
Day 364: Tomy Robostrux Brutox Figure Kit
Day 382: Tomy Robostrux Slithor Figure Kit
Day 406: Tomy Zoids Twinhorn Action Figure
Day 484: Tomy Robostrux Brox Figure Kit
Day 486: Tomy Zoids 24 Scale Neptune Figure Kit
Day 1,352: Tomy Robostrux Batlar Figure Kit
Day 1,422: Tomy Zoids Gator Figure Kit

See more Zoids, Robostrux, and Techno-Zoids in Figure of the Day:
Day 170: Tomy Zoids Wardick
Day 263: Tomy Zoids Gorgodos Action Figure
Day 364: Tomy Robostrux Brutox Figure Kit
Day 382: Tomy Robostrux Slithor Figure Kit
Day 406: Tomy Zoids Twinhorn Action Figure
Day 484: Tomy Robostrux Brox Figure Kit
Day 486: Tomy Zoids 24 Scale Neptune Figure Kit
Day 1,352: Tomy Robostrux Batlar Figure Kit
Day 1,422: Tomy Zoids Gator Figure Kit
Day 1,471: Takara-Tomy Zoids Masterpiece Shield Liger
Day 2,000: Takara-Tomy Zoids Wild ZW-05 Gannontoise Figure Kit
Day 2,008: Takara-Tomy Zoids Wild ZW-01 Wild Liger Figure Kit
Day 2,013: Takara-Tomy Zoids Wild ZW-03 Kabtor Figure Kit
Day 2,017: Takara-Tomy Zoids Wild ZW-04 Scorpear Figure Kit
Day 2,039: Takara-Tomy Zoids Wild ZW-06 Gabrigator Figure Kit
Day 2,075: Takara-Tomy Zoids Wild ZW-07 Kuwaga Figure Kit