Commander Comet
The Man from Venus

Outer Space Men Infinity Edition
Item No.: n/a
Manufacturer: Four Horsemen
Includes: Two-piece helmet, alternate arms, wings, crossbow, staff
Action Feature: n/a
Retail: $50.00 (sold as a set with Electron+, Mystron, and Commander Comet)
Availability: January 2012
Other: Also sold in a $26 bundle with Mystron

PREVIOUS
RSS
NEXT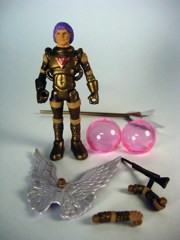 Surprise, thy name is Commander Comet. After three sets of clear prepaints and a round of price increases, combined with a delay of just over a month after the promised short pre-order ship date (originally scheduled for late December 2011, it didn't ship until the end of January 2012), it seemed like we were going to be in for a rough batch of figures. I'm happy to say that despite the longer-than-expected wait and $10-per-set increase, the figure is still worth owning. The figure looks wonderful in person, and while it doesn't hold up to the insane scrutiny of my camera's macro setting, it's gorgeous in person to the human eye in normal lighting. The eyes are damn near perfect, with just the right positioning of the iris that he doesn't look nutty or stoned. He just looks like an awesome action hero, which I would've assumed might be difficult from the purple-haired gold-suited Man from Venus.
As with the previous releases, Commander Comet sports 12 joints and can be separated at each one using the consistently fun Glyos system. You can mix-and-match as you please, which is a nice bonus for your inner-child. Unfortunately, your outer-adult is probably going to be happy with the figure as it is, so the flexibility provided by being able to pop off the wings or the head may not be something a lot of us will enjoy-- the product as-is tends to be pretty amazing. Rather than employ elbow joints, the figure once again includes alternate arms which allow you to swap out straight and bent arms for whatever poses you see fit.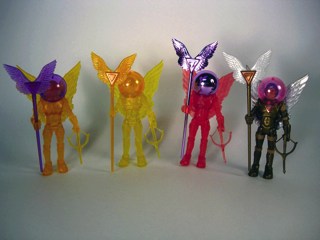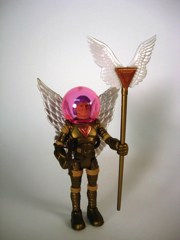 Painted similarly to the original 1968 bendable toy figure, Commander Comet is painted gold with a yellowish brown color on what were once accordion-style joints. The head is a typical white person's flesh tone with atypical purple hair. The figure is rounded out by pearlescent white wings on both his back and his staff, which features a bronze triangle and a gold handle. This is new to the action figure release-- the original 1968 toy only included the crossbow, so you get a little more bang for your buck here. Unlike many of the other Outer Space Men figures, Comet has a quasi-feathery sculpted space suit which is significantly different in texture from the other figures in the line. You can also make out his belly button, for some reason. The pink bubblegum helmet is very close to the original photography, and the metallic and pearly paint just make this figure look more expensive than the 2010 figures. Even though it does cost more, when you get one in your hands, it's not hard to see why you're being charged the extra $2.50. (I can't say the same for the awesome yet teeny Alpha 7, but this series as a whole looks much more expensive than the original quartet.)
Despite the rising costs, the series has more pieces and seemingly more paint than the previous batch so I can't help but like it. I wasn't crazy for the unpainted Commander Comet figures, but this one is absolutely stunning in person. This batch of figures is pretty fantastic, and is significantly cheaper than the original bendable figure from 1968.
Before I go, let me mention the Four Horsemen Art Show featuring Mel Birnkrant in New York starting Friday, which basically coincides nicely with the Toy Collector Media descending on the city for Toy Fair 2012. Barring flight issues, I'll probably be there to poke around and see what custom figures are on display. There will also be a new (and expensive) quartet of repaints of the first four figures, and if I were to take a wild guys I'd wager these guys would be on sale there too. See you there!
--Adam Pawlus
Additional Images

Click here to see more Four Horsemen figures in Figure of the Day.

Click here to see more Outer Space Men figures in Figure of the Day.

Click here to see more Glyos Compatible figures in Figure of the Day.