Sergeant Kup
Series 1 #013

Transformers Prime Deluxe Figure
Item No.: Asst. 37975 No. A0744
Manufacturer: Hasbro
Includes: Snap-on cannons, DVD (bonus on select figures)
Action Feature: Transforms from truck to robot
Retail: $15.49
Availability: September 2012
Other: Green Ironhide

PREVIOUS
RSS
NEXT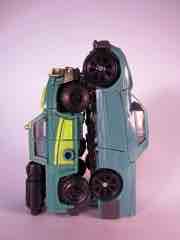 When I saw the early shots of Transformers Prime Ironhide, I liked what I saw because he had a nose and, in general, didn't look anything like a "Prime" character. It turns out Ironhide is most likely going to be exclusive to Japan, so when I first saw Sergeant Kup I did some research and, 24 hours later, ran out to go get it and I was glad I did. Right now, he's my #2 favorite new Transformers mold of 2012. Much like the new Generations toys, Kup is smaller and is closer in size to Fall of Cybertron Optimus Prime. Also, seeing Kup will make you mad it isn't Ironhide. This thing is a great pastiche of various Ironhides from over the years, so getting it in green so close to the Generations Kup from 2011 feels sort of like a downer. Especially since Target jacked up the price of Deluxe figures to $15.49, and the much-larger Kup from 2011 was $12.99. This is a good figure, but you're probably going to be happy you have it while still complaining about the price.
I mean, I went from ignoring Prime toys on the whole to going "this looks neat" to HAVING to buy it to then having to come to YOU, the reader, to let you know just how nifty it is. I basically stick to "classics" toys exclusively now, and this was just too neat to pass up. Why? Simple: he has a good head on his shoulders.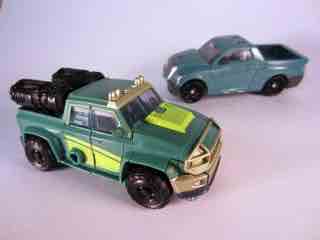 At 4 1/2-inches long, the truck mode is a full inch shorter than Generations Kup... but he has more color, more deco, and generally more going on. So just on looks alone, Prime Kup is actually more interesting to look at. The truck has 2 5mm peg holes, so you can pop in select weapons or Mini-Cons. They may not be a perfect fit, but that's OK because two "drum" blasters are included which fit in nicely. You'll probably recognize that this toy looks a lot like the unused Earth mode of Ironhide from Transformers Animated, which is what drew me to it. The wheels on the truck roll, bot not incredibly well. The metal axles are gone, the snap-in wheels just don't spin as well. As a truck it isn't bad, but for the price I have a feeling more than a few fans are going to be disappointed. Vehicle modes seem to be suffering as of late.
The transformation process is relatively painless, save for a quibble in the hood area. There's a sizable amount of Brute Force you must apply to get the hood open on the car's nose, to the point where you will no doubt ask yourself "Am I going to break this?" There doesn't seem to be a better way, unfortunately, but other than that the transformation is largely fun and clever. Of course, if you accidentally snap the part, it's going to be less fun.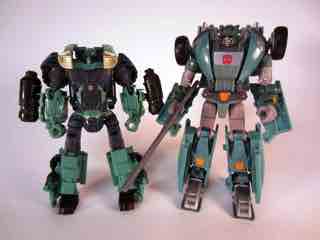 In robot mode, the figure only vaguely looks like it's a Prime toy. The face has a nose and a lot in the way of lines, bringing us a nice bulky robot which stands about 5 1/4-inches tall. (Generations Kup was a hair under 6-inches.) I love the robot on the whole, and while the hood of the truck makes for some odd kibble, there is an alternate transformation (see below) that allows you to throw all that stuff into a very large truck backpack. In his proper configuration, the figure sports roughly 13 points of articulation. the arms are simple, but the legs are actually some of Hasbro's better efforts with lots of mobility in the ankles which don't feel the slightest bit unstable. The detailing isn't too crazy, but there are enough panels and rivets to keep things interesting. There's also no doubt that this figure is a pastiche of every Ironhide ever made, right down to the head. Releasing it as Kup in the US is an odd choice, and were it an original character I'd say it was a fantastic addition. It's even nifty enough to look like it belongs with Generations due to the head design. I love the big bulky fists and cannons too, this figure has tons of personality and the only thing that could make me like Kup more is some sort of ability to give a thumbs-up with his hand. The design begs for it. Of course, if they just released it in red that'd be great too. Japan has this toy in red as Arms Micron Ironhide, but it's significantly more expensive and the bulk of the deco comes from fairly ugly labels.
I dislike going after figures for what they are not (rather than what they are) but it's impossible to look at Kup and not ask "Where's Ironhide?" Still, it's a great design despite the flaws involving the hood of the truck mode being difficult to work with. I don't much care for Prime toys on the whole, particularly at the very expensive price of $15.49 for a deluxe, but I really dig this one. If Hasbro gets it out in the USA as Ironhide, I'll buy it, no questions asked. Heck, I'd even use it as my "Classic" Ironhide. It's just that good. I'm very happy with my "Classic" Kup so I basically just bought this because it just looked so weird with its big three-fingered fists and borrowed-from-Animated form. If you're contemplating making this purchase, do it with my blessing. You're going to like this one.
--Adam Pawlus
Additional Images

Click here to see more Hasbro figures in Figure of the Day.
Click here to see more Transformers figures in Figure of the Day.

Want to buy this figure? Check Transformers availability at our sponsors:
Entertainment Earth