Optimus Prime
Autobot Supreme Commander

Transformers Reveal the Shield Legends-Class Figure
Item No.: Asst. 98433 No. 28572
Manufacturer: Hasbro
Includes: Nothing
Action Feature: Turns into a semi of some sort
Retail: $4.99
Availability: Early 2011
Other: de facto online/closeout/grocery exclusive

PREVIOUS
RSS
NEXT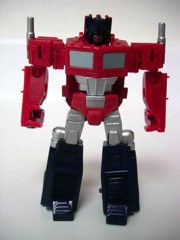 When I first saw this Optimus Prime I took note of his unusual hands-- they seemed sculpted to grip something. Shortly before getting one of my own, I assumed this was because this toy (and others in his assortment) were spiritual forerunners to the Dark of the Moon Cyberverse toy line, but I was wrong. Optimus (as well as Trailcutter, Megatron, and Starscream) do have uniquely sculpted hands which seem as if they should grip something, but they're pretty much entirely incompatible with existing Cyberverse accessories. Ah well. At least he's a cool toy on his own.
This is the first new G1 Optimus Prime toy mold in about four years, and it's one of the smallest ever sold in the USA. Standing a mere 3-inches tall, this little guy has articulated shoulders, elbows, and hips plus a swiveling waist used in transforming the toy into a truck. He's mostly red, with black legs painted blue in spots giving them a much richer look. His fists are red, and molded into a "gripping" position for no obvious reason. Were there not needing to be more such details, I'd say it could be Powermaster Prime-esque but it's really not.
Transformation from robot to car is similar to (and simpler than) the Universe Animated Legends toy. Put the legs together, swing them back, rotate around the torso, fold down the head, tuck in the arms, and you've got a 1984-ish flat nose cab truck to wheel around. In theory, the wheels are pretty stiff after all.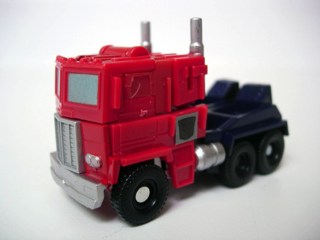 The transformation is fun, but the truck is... well, truck-like. It's not a very fun vehicle mode to play with, largely because of the wheels not rolling particularly well on my sample-- your mileage may vary. Only four of the six wheels can rotate, but it seems many of the toys at this scale have difficulty rolling. It begs the question, why even bother including this feature? It seems like a great opportunity to cut some costs, but hey, at least it's a nice truck. Given the limited availability of this mold so far, I doubt anyone will make a third-party trailer for it. It's possible the deluxe fancy-pants Cyberverse Prime's trailer could be a good fit, but I've not seen one yet.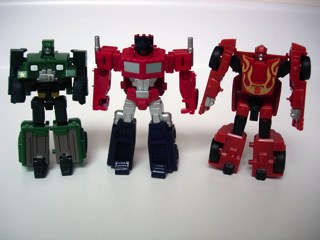 I didn't give much of an opinion on this one here did I? He's a lot of fun, I like him because he's small and adds to a growing legion of G1 Autobots in this scale, which more or less kicked off in 2008. If you like Transformers and don't collect yet, I'd say get this one and pick up Legends (US) and E-Z Collection (Japan) toys as time and your budget permits-- you can get an entire collection in a few small boxes, plus there are quite a few characters spanning G1, Cybertron, all three films, Animated, and... that's about it so far. Prime's well worth the $5-$10 he'll probably cost you, and he's also available in slightly different deco in Japan's E-Z Collection along with other similarly sized figures.
--Adam Pawlus
Additional Images

Click here to see more Hasbro figures in Figure of the Day.
Click here to see more Transformers figures in Figure of the Day.

Want to buy this figure? Check Transformers availability at our sponsors:
Entertainment Earth