Tyrannosaurus Rex
a.k.a. Edie in DINO Brites

D.I.N.O. Mites Figures
Item No.: #12
Manufacturer: Panosh Place
Includes: n/a
Action Feature: n/a
Retail: cheap
Availability: ca. 1987
Other: At the time, my least-favorite one of these

PREVIOUS
RSS
NEXT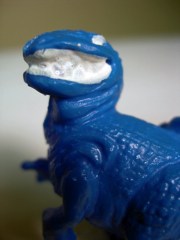 The D.I.N.O. Mites line doesn't have much going on names, but a later issue would dub this guy Eddie. The US packaging of Dino-Mites has him as #12, but he's clearly a Tynrannosaurus Rex. These followed the M.U.S.C.L.E. fad of the late 1980s, taking another popular and tough-to-copyright childhood staple and cramming it into the small plastic toy category. These figures aren't particularly rubbery, they aren't as flexible as their pink wrestling cousins although they were just about as cheap.
While this combined some of my favorite things-- micro scale, glow-in-the-dark elements, and dinosaurs-- I didn't particularly like this figure. I wasn't a fan of the T-Rex as a child, and this one just looked somewhat smug. The big, white grin didn't feel right struck me as odd. Why is his tail twisted back? Why is he so fat? Why does the paint seem slightly sloppy? The world may never know... but the cruelest thing to me was that since these figures were randomly distributed in sets, I ended up getting a duplicate of him. (But thankfully, none others at the time. As a kid, duplicates kind of suck.)
The sculpting is slightly better than some of the others, with ribbed tail sections, very scaley skin, somewhat defined teeth, and the obligatory useless little arms. The whole package is pretty chunky, and as one of several therapods in the line there really wasn't any shortage of meat-eating dinosaur toys to be had on the cheap.
This was not a line that traded in scientific accuracy-- new findings in the 1990s and 2000s would prove several of these figures' poses to be more than a little off, but they had one thing going for them: they were cheap. There are lots of cheap plastic dinosaurs out there, but many of them feel flimsy, made of plastic that's thin, waxy, and prone to feeling like it wouldn't survive a trip to your friends' house in your pocket. These little guys were solid characters that, over 20 years later, are still as brightly-colored as I remember them being and never had issues with warping, molting, becoming oily, or absorbing dirt or paint from other toys stored alongside them. I liked them a lot as a kid, they don't come up for sale much, but I hope to buy more if the prices stay reasonable.
The DINO Mites molds were reused to make DINO Brites-- I assume, unless they were knockoffs-- in 1991. Happiness Express is the name on the box for the US releases, Grand Toys for Canada. They use the same packaging line art to identify the creatures, but the weird thing is they get names instead of numbers. And by "names" I mean like Edie here-- peculiar, boring human names. How droll.
If you're old and like dinosaurs, odds are you already have some sort of poison in dinosaur collecting. Me, I like brightly-colored ugly ones like these and Jurassic Park Chaos Effect best. So for what they are-- durable, arguably perfect little playthings-- what's not to love? If these were worth real money I wouldn't be the slightest bit interested in procuring more, but were some toy company savvy enough to put out a box of five of these at three bucks a whack, I'd buy more.
--Adam Pawlus
Additional Images

See more Panosh Place figures in Figure of the Day:
Day 326: Panosh Place D.I.N.O. Mites Brontosaurus with Caveman Mini Figure
Day 339: Panosh Place D.I.N.O. Mites Tyrannosaurus Rex Mini Figure
Day 396: Panosh Place D.I.N.O. Mites Ichthyosaurus Mini Figure
Day 468: Panosh Place D.I.N.O. Mites Ankylosaurus
Day 538: Panosh Place D.I.N.O. Mites Gastornis

See more D.I.N.O. Mites figures in Figure of the Day:
Day 326: Panosh Place D.I.N.O. Mites Brontosaurus with Caveman Mini Figure
Day 339: Panosh Place D.I.N.O. Mites Tyrannosaurus Rex Mini Figure
Day 396: Panosh Place D.I.N.O. Mites Ichthyosaurus Mini Figure
Day 468: Panosh Place D.I.N.O. Mites Ankylosaurus
Day 538: Panosh Place D.I.N.O. Mites Gastornis