Xodiac
a.k.a. "Glowdiac"

Outer Space Men Cosmic Creators Four Horsemen Edition
Item No.: n/a
Manufacturer: Four Horsemen
Includes: Staff, helmet, gun, arms, more figures
Action Feature: n/a
Retail: $65.00 (sold as a set with Inferno, Metamorpho, and Astro-Nautilus)
Availability: Summer 2012
Other: Brings the total to 8 Xodiacs, 9 if you count weapon variants

PREVIOUS
RSS
NEXT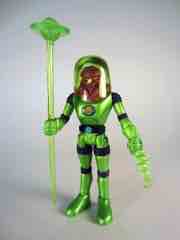 By virtue of having one extra exclusive figure, Xodiac rules the roost as most-repainted Outer Space Man. Oddly, there's still room for more. As "Glowdiac," this metallic green version sports a purple head under his helmet, leaving the door wide open for more colors should anyone have the good sense to do banana yellow at some point. (Well, beyond customs, I saw an awesome yellow custom at Futuretro last February.) Like the others in this set, I appreciate that I can just look at the Four Horsemen Cosmic Creators series and go "Oh, these things are screamingly different." (Not that the Mel Birnkrant ones aren't nice, but nuance doesn't always translate in JPEGs. There's no nuance with neon.)
While by now you've had numerous chances to buy a Xodiac figure, I can't say for sure why you'd want this one. I can tell you that I wanted it because I dig neon stuff and the overall look and feel of the figure is very similar to the metallic shiny candy-like Monster Kolor-painted customs put out by the more talented folks on the internet, and $65 for 4 figures in this unique style is quite the bargain. They're still just mass-produced figures from China and not hand-made works of art, but nobody ever said I collect unique art pieces. I collect this stuff, and love it.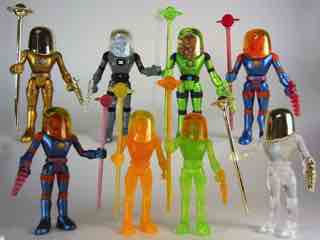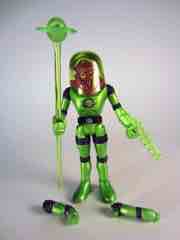 With clear green accessories, we get a little bit of visual trickery. I thought I was looking at a red or orange head under the helmet, but no, it's purple in there. His staff and ray gun are similarly colored, and while they don't look bad I certainly wouldn't mind a color that contrasted more with that beautiful metallic green suit. Like the gold and blue, it just really sings in the right light.
I have no idea what the limited edition size is of these things, but I'd wager in the low hundreds and it hasn't sold out yet. There seems to be a little slowdown on this line, which makes sense as prices increase, variety sort of increases, and I have to assume not too many people are actually looking to collect the entire line. Eight Xodiacs in, and I can't say I'm wild about buying more. Having said that, I like this one bunches, and I'm really glad they made it because it's quite striking and reminds me a lot of some of the uglier, neater figures in the late 1980s and 1990s, despite it being more of a tribute to the 1960s. I can apply my own context. For the asking price, I would deem this set worthwhile, but you might want to get the classic paint jobs first if you can swing it.
--Adam Pawlus
Additional Images

Click here to see more Four Horsemen figures in Figure of the Day.

Click here to see more Outer Space Men figures in Figure of the Day.

Click here to see more Glyos Compatible figures in Figure of the Day.