Ichthyosaurus
a.k.a. Kevin in DINO Brites

D.I.N.O. Mites Figures
Item No.: #27
Manufacturer: Panosh Place
Includes: n/a
Action Feature: n/a
Retail: cheap
Availability: ca. 1987
Other: One of my favorite Dino-Mites

PREVIOUS
RSS
NEXT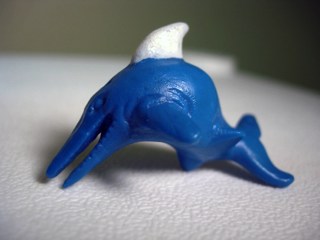 The D.I.N.O. Mites line didn't exactly go out of its way to be authentic. One of the little guys has a caveman, and as of when I write this I just got a big box of these off eBay in varying stages of decay and the designs are just bizarre. I'm beginning to wonder if I skipped a bunch of these on purposes as a kid, because while I love this little Ichthyosaurus today, I also dug it as a kid. A dinosaur that's also like a fish or a dolphin? Cool!
Officially he's only known as #27 (stamped on his tail), and a weird neon rerelease from another manufacturer dubbed him "Kevin." So I'm guessing on his name or species, but it's a nice design. My sample is blue, but it was (in theory) sold in any of at least 5 colors. I just recently got a green one, but yellow, red, and purple should exist. I say "should" because, so far, nobody is cataloguing these things and I haven't yet got a complete set. With 48 styles over 5-- or more, if you count Dino-Brites-- colors, it's one of those funky little mysteries from the 1980s world of toys. Nobody cared enough to make a fan page, so now I'm buying what I can just to find out what exists.
I like this one a lot because the sculpt was actually quite clever. Some of them have difficulty standing, some are built like a brick, and this one was designed so he rests on his mouth, tail, and one of his side fins. He doesn't "stand" as such, but he balances nicely. The figure comes sculpted with teeny tiny teeth in his mouth, a few wrinkles on his body, and the basic, simple form of a dinosaur complete with nicely-sized eyes. The only paint on this figure is a splash of glow-in-the-dark plastic on his dorsal fin, because there's no other way to know it came from the 1980s just to look at it. Panosh Place did a nice job on this line, and as dumb little dinosaur toys they're some of my favorites-- this one specifically is in my top 5. If you can get one cheap, you should, it's just that this line is so gosh darned uncommon that you might not even have a chance to pick them up despite them being effectively worthless. While Dino-Riders gave us all high-quality toys that were so beautiful it's practically a crime to play with them, Panosh went the other way and spent no expense bringing us the cheapest, gaudiest little lizards you could hope for. And I love them all dearly.
--Adam Pawlus
Additional Images

See more Panosh Place figures in Figure of the Day:
Day 326: Panosh Place D.I.N.O. Mites Brontosaurus with Caveman Mini Figure
Day 339: Panosh Place D.I.N.O. Mites Tyrannosaurus Rex Mini Figure
Day 396: Panosh Place D.I.N.O. Mites Ichthyosaurus Mini Figure
Day 468: Panosh Place D.I.N.O. Mites Ankylosaurus
Day 538: Panosh Place D.I.N.O. Mites Gastornis

See more D.I.N.O. Mites figures in Figure of the Day:
Day 326: Panosh Place D.I.N.O. Mites Brontosaurus with Caveman Mini Figure
Day 339: Panosh Place D.I.N.O. Mites Tyrannosaurus Rex Mini Figure
Day 396: Panosh Place D.I.N.O. Mites Ichthyosaurus Mini Figure
Day 468: Panosh Place D.I.N.O. Mites Ankylosaurus
Day 538: Panosh Place D.I.N.O. Mites Gastornis