Electron+
The Man from Pluto

Outer Space Men Infinity Edition
Item No.: n/a
Manufacturer: Four Horsemen
Includes: Two-piece helmet, alternate arms, pistol, staff
Action Feature: n/a
Retail: $50.00 (sold as a set with Alpha 7, Mystron, and Commander Comet)
Availability: January 2012
Other: Also sold in a $26 bundle with Alpha 7

PREVIOUS
RSS
NEXT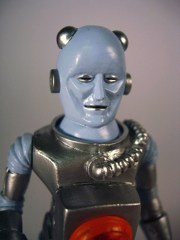 My favorite overall design in this wave of Outer Space Men is probably Electron+. The execution, not so much-- the poor fellow can't sit down to to a chest piece hanging over his leg joints, so he's forced to stand for all eternity. Since his packaging mentions his race is made of energy and can return to that state at will, I'm assuming that means he probably won't be too uncomfortable hanging out on my shelf between now and the time I drop dead at 48, shortly after being featured on Hoarders.
As usual, the figure has 12 joints but his hips are obstructed. The legs can bend backward, but not swing forward. Maybe this is normal for Plutonians. The sculpt is dynamite, with lots of smooth lines and ridges bringing him to life. The paint job is even better, with silver paint applied to the silvery plastic figure, giving it a feeling of increased value. Seriously, paint helps, and the Four Horsemen have made sure several of their releases with Mattel get the decoration they deserve to really make the sculpts shine... or not shine, in the case of many. There's a lot less glare with the paint. This figure is right up there with the quartet from Futuretro this year, he looks shiny and expensive, which is what I want from my $13 action figures.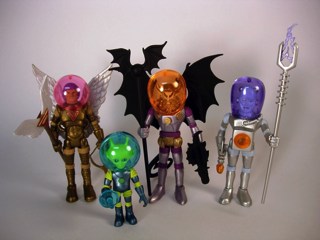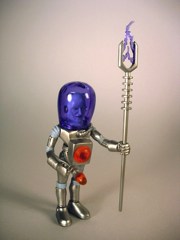 As accessories go, his are pretty great-- a clear purple staff and a clear orange gun painted with silver are fantastic extras for this guy. The purple helmet looks good, but the figure also looks just as good without it-- so you've got options here. The tiny ribbed pistol looks like it fell out of a 1960s department store, with fins and other awesome design elements making it really pop. The electricity staff seems like a portable Tesla Coil, only much smaller and less likely to be used as an encore for Man or Astro-Man?
If you want to play with your figures, this one isn't as good as the first batch-- he's still excellent and totally worth your money, because he looks cool and has the same awesome parts. I mean, even the head has a surprise-- those flat bolts on the side of his head? Those are removable Glyos plugs, you can add in Glyos lightning (when someone makes it) or arms or whatever you choose. This is an excellent figure and one of the best-looking guys in the line, so even though he can't sit I'd still suggest you grab one.
--Adam Pawlus
Additional Images

Click here to see more Four Horsemen figures in Figure of the Day.

Click here to see more Outer Space Men figures in Figure of the Day.

Click here to see more Glyos Compatible figures in Figure of the Day.