Darksteel
Decepticon Traditionalist

Transformers Dark of the Moon Deluxe Figures
Item No.: Asst. 28738 No. 36107
Manufacturer: Hasbro
Includes: Two-piece MechTech weapon
Action Feature: Transforms from car to robot
Retail: $10-$14
Availability: Fall 2011
Other: Repaint of Sideswipe with new head

PREVIOUS
RSS
NEXT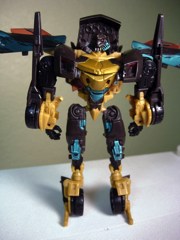 Due to iffy distribution, you may never have seen Darksteel but he did ship-- online stores got him, some big box stores got him, but in particular Kohl's got a lot of him late in 2011. The "movie" character is based on the design of Sideswipe, given Starscream's MechTech weapons, repainted in Nemesis Prime colors, and given Quickstrike's head or at least a decent attempt at creating a reasonable facsimile. Keeping in touch with the more abstract faces-- more greeblies, less mouths-- Darksteel has snake-like features. I mean, the robot has fangs, for crying out loud. They really tried on this one, and given how freaky and weird some of the Decepticons look it's not entirely out of place.
At 5 1/2-inches tall, the robot has a fair amount of articulation-- the toes move, the heels move, and there are multiple hinges in his knees. The only place he really falls flat are his wrists, which swing out but do not rotate. Ordinarily this wouldn't be a problem, but his large weapon-- especially in combined form-- is a little much for him to carry without some extra arm movement. As it is, he's basically overarmed. The two-piece weapon snaps together, remaining fully extended due to a locking mechanism created by some tabs on the smaller of the two weapons. It feels like a great accessory for a much larger figure-- with Darksteel's built-in "blades" on his wrists, he really doesn't even need an extra gun.
I'm not entirely sure how he should be transformed-- the box and instructions show different configurations for his kibble, and Hasbro's own stock photography differs between the cardback photo and its stock photo library shots. Neither seems better, and like a lot of toys from late Beast Wars to the Robots in Disguise lines, I suppose you could twist and turn the panels into any way you want. It's not like most of the boxy robots where there's a clear "right way" and "wrong way" to configure the toy-- this gives you options, and to be honest I really don't like this kind of option when it comes to my toy robots. At least it's a fun process-- so far I've had no pieces pop off during conversion.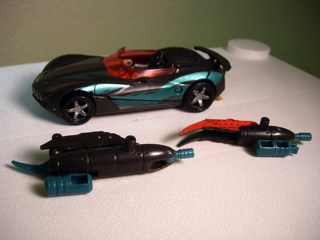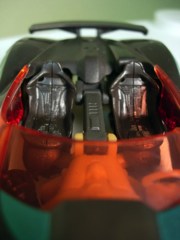 The car mode is a convertible Corvette Stingray, and it looks great. While metallic green splotches and a red windshield aren't practical for people to drive, they make for a great-looking Decepticon Warrior. Speaking of which-- he doesn't have a Decepticon marking on him. Anywhere. Usually I expect something on a door or under the hood, but I'm just not seeing it with this guy.
As someone who doesn't collect the movie guys as a rule, I had to jump on this one because it was a tribute to a popular Beast Wars character plus-- let's face it-- Hasbro's best "movie" toys are the ones it makes up on its own, like Bludgeon and Lockdown from Revenge of the Fallen and oh so many G.I. Joes from 2009. To me, Sideswipe is a red Lamborghini and not a silver Corvette. But Darksteel? He's new, he can be anything-- and he's pretty fun! Even if you're a hardcore classics-or-nothing collector, I'd still suggest giving this guy a look to add to your shelf of Megatron's thugs. Other than an absent Decepticon logo, I'd say he's a fine release if you can get him for a good price-- distribution willing, of course.
--Adam Pawlus
Additional Images

Want to buy this figure? Check Transformers availability at our sponsors:
Entertainment Earth

Click here to see more Hasbro figures in Figure of the Day.

Click here to see more Transformers figures in Figure of the Day.