Perceptor
Nerrrrrrd

Transformers Reveal the Shield Deluxe-Class Toy
Item No.: Asst. 98447 No. 28569
Manufacturer: Hasbro
Includes: n/a
Action Feature: Transforms into halftrack
Retail: $12.99
Availability: January 2011
Other: Looks great, not fun

PREVIOUS
RSS
NEXT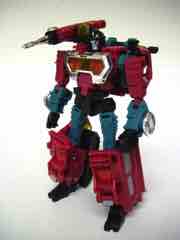 I thought I not only reviewed Perceptor earlier, but shot it in its entirety. Well, it turns out I did some robot shots and forgot to do the vehicle or the review, so let's look at it now! For whatever reason, this figure showed up January 2011 at some big box stores (where I found mine), and then trickled out for the next couple of years at strange places like Borders as they went out of business, TJ Maxx, and elsewhere. He commanded a premium on eBay, but at the same time could be had for seven or eight bucks if you just happened to be in the right place at the right time. The toy itself goes from a truck (and not a microscope, like in the cartoon) to a really awesome-looking robot figure. The transformation process is one of the more irritating, and I was actually really hoping I'd never have to transform him again.
I guess this is one of the toys that made me totally OK with the simplification we saw in Dark of the Moon and some of the 2012 Generations and Prime stuff. If I got Perceptor as a small child, I would assume I was too young for it.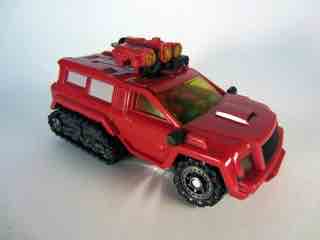 The truck is nice, but nothing special. It's a red craft with some neat lights on the top, with some windows clear orange and others painted silver. It's inconsistent, but it's OK. At 5-inches long it was a decent size when it came out, but today it's almost a giant as Deluxes have been downsized so much. The wheels roll if you transform it right, but it's such a pain in the neck to get everything just right.
As transformation processes go, this may be my least favorite deluxe toy. I remember transforming it when I first go it and thinking "Thank goodness I never have to do this again" but as I had no vehicle pictures, I had to do it again before writing this review. Going from truck to robot is annoying, but the reverse is worse. It really feels like you're forcing and stressing various parts and pieces to the point where I feel like I'm going to break this thing just by looking at it. Since the truck doesn't offer much play value beyond its truck-ness, I think that after this review is done I will never transform it again. I may never play with it again either, despite loving the robot mode.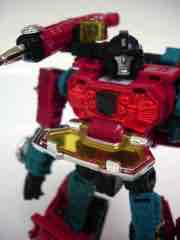 The robot mode should sell you on the figure, because it looks great. It seems like a decent mashup of all the various G1 incarnations of the character, with a great head sculpt, chrome bits and pieces, and tons of articulation in a 5 1/2-inch tall frame. The detailing and colors are spot-on, and there are superfluous sculpted elements which feel like they would be right at home on a microscope. Heck, even the chest folds open to reveal a sticker. The designers did a boffo job putting together a great-looking toy... that wasn't nearly as floppy or fall-aparty as I remembered at first. The problem is that the tab which connects the hood of the car to the figure as a backpack held in tight after not being touched for a few months, but once it got free it won't stay in, just like I remember it back in 2011. So as a toy, it sort of sucks. It looks beautiful on a shelf, though.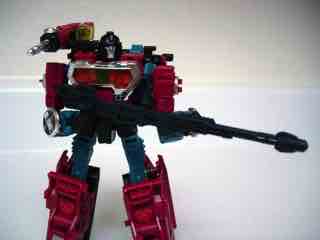 Despite being redesigned as a sniper in the comics lately, the figure has no real weapon other than his shoulder cannon-- which was, of course, originally part of the microscope. They did a bang-up job changing a "prop" toy into a vehicle, and I hope they apply this skill to Soundwave or Megatron as their G1 robot modes could use some killer toys. A fun bit of trivia: the mold was intended to be remolded into Reflector, the Decepticon camera character, but this never happened and a ton of awesome remolds and repaints from 2011 just flat out died on the vine, their fate likely sealed in 2012 as tooling and production costs made producing these existing tools more expensive than Hasbro would probably like.
The Japanese version is similar, but lacks the chrome bits. I suggest going with the American release as long as the price is right, just don't expect to have a lot of fun with it. I put this up there with the Alternators and some of the other overdesigned releases since 2002, it looks nice but the amount of squeaking, creaking, and stressing you'll do to the figure just by changing it from one mode to another is beyond unrewarding. Just enjoy the robot mode on your shelf, and lament the fact that something so perfect is such a bad toy. It's a beautiful toy that will only break your heart.
--Adam Pawlus
Additional Images

Click here to see more Hasbro figures in Figure of the Day.
Click here to see more Transformers figures in Figure of the Day.

Want to buy this figure? Check Transformers availability at our sponsors:
Entertainment Earth