Vortex
Series 01 #006

Transformers Generations Deluxe
Item No.: Asst. 37986 No. A0174
Manufacturer: Hasbro
Includes: Twin Swords
Action Feature: Transforms from Cybertronian Assault Chopper to robot
Retail: $14.99
Availability: September 2012
Other: Forms the Arm (or Leg) of Bruticus

PREVIOUS
RSS
NEXT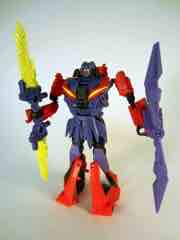 If I have a favorite toy in this subset, it's definitely Vortex. He may not be worth $15, but he's more fun to play with than the rest and feels much more substantial. The bright red and purple makes him look like he could've been a G2 toy, or a Vehicon from Beast Machines, rather than an alternative deco on an existing Fall of Cybertron character. It really is amazing if you think of it, this entire time got 3 complete redecoes in the USA over the course of 5 months, with another coming to Japan, and a retool/redeco coming to the USA in 2013 based on the Wreckers. The figure is pretty great, and eagle-eyed fans will note that the swords are actually colored differently on the package. The photography shows yellow blades with red handles, while the toy has yellow blades with purple handles.
The robot mode is really fun, with a flip-down head that reminds me of some of the Energon-era deluxe Autobots. (Those were some good Autobots! Inferno! Roadblock! Hot Shot! Rodimus! Fun times.) The arms have multiple points of articulation, although I think that's the one area that could have been slightly improved. They're a little weird around the elbows, but they're ultimately workable, movable limbs and they can hold the weapons just fine. They don't look like arms in either of the other modes, as the shell manages to hide them quite nicely. The legs are good, the detail is nice, and there's even a "skirt" of sorts for, uh, no real apparent reason. It's not a significant bit of the vehicle or combined mode, so it's just an extra little flourish on the part of the designers really. When playing with the toy, you'll probably quickly realize it doesn't need two swords, one in robot mode is plenty as the left arm has a spinning blade on it. On my sample it doesn't spin freely, but the G2 and SDCC incarnations of this toy do spin just fine.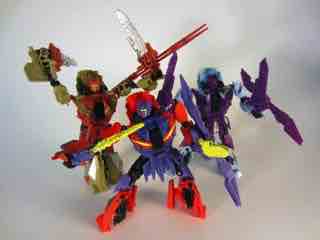 As a futuristic alien helicopter, it's a nice vehicle mode. The blades split apart and are really this toy's main play element. You can plug weapons (like swords) into the landing skids, and then wave it around. It doesn't do much. Pick it up, fly it around, enjoy.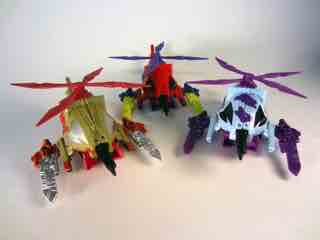 He makes a great arm, as the hand folds out of the cockpit and the thumb is articulated. You can flip it around to make this a right or a left arm, plus this can be configured into a foot if you're so inclined. Because of the bright color scheme, strong design, and the general fun, solid feel, I'd say get this one. If you only get one, get Vortex. And to be honest, if you only get one version of this mold, I gotta say this one looks the best. Pick it up with my blessing!
--Adam Pawlus
Additional Images
Additional Combined and Team Fall of Cybertron Bruticus Images

Click here to see more Hasbro figures in Figure of the Day.
Click here to see more Transformers figures in Figure of the Day.

Want to buy this figure? Check Transformers availability at our sponsors:
Entertainment Earth