Hank Venture
Series 4

Venture Bros. Retro Action Figures
Item No.: ???
Manufacturer: Bif Bang Pow!
Includes: Nifty communicator watch
Action Feature: n/a
Retail: $19.99
Availability: July 2011
Other: Limited to 3,000 pieces

PREVIOUS
RSS
NEXT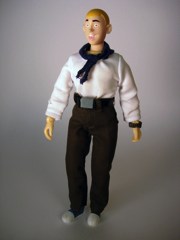 Go Team Venture! Hank Venture came out in the second batch of figures, but as one of the main characters is totally essential. As the only action figure of the character released thus far, I'll just say go ahead and get one. The figure's skin tone is way better than Dean Venture's pale face, which is unfortunately highlighted when you stand them both next to one another.
...as always, I consulted on this line, so do keep that in mind when reading this very objective and in no way self-promoting and also fanboyish review.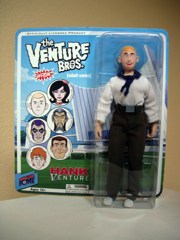 The head sculpt is good, and the outfit is appropriately Mego-ish. Well, mostly-- I like the belt, and the watch communicator is a great feature. The head sculpt looks like a cartoon character, as it should, and his goofy smile is just perfect. His kerchief though? I don't care for it. If you look at the picture you can see it looks a little worn, and that's exactly how it looks as it comes out of the package. If you're a customizer, you might consider trying your hand at seeing what you can do with it. I'm a putz, so I'm just going to leave it.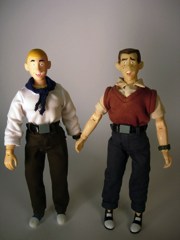 The 8-inch figure line is moving ahead for 2012, so you'll probably want to get him before he sells out. Or not. I like the style but it feels like it could benefit from a second edition with an improved kerchief and maybe some sort of accessory like a weapon or Brock's jacket. (I'm trying to remember if we knew Brock's jacket was a thing when this figure first went into preproduction a couple of years back. I'm pretty sure we didn't.) Anyway. It's good, but there's always room for improvement, except on vintage Battle Beasts because those damn things are perfect.
--Adam Pawlus
Additional Images

See more Bif Bang Pow! action figures in Figure of the Day:
Day 3: Venture Bros. The Monarch Action Figure
Day 192: Venture Bros. Dean Venture Action Figure
Day 289: Venture Bros. Jonas Venture Action Figure
Day 297: Venture Bros. Rusty Venture Action Figure
Day 303: Bif Bang Pow! Venture Bros. Dr. Girlfriend Action Figure
Day 308: Bif Bang Pow! Doctor Who Fourth Doctor Action Figure
Day 313: Bif Bang Pow! Venture Bros. Dr. Orpheus Action Figure
Day 362: Bif Bang Pow! Venture Bros. Hank Venture Action Figure
Day 439: Bif Bang Pow! Venture Bros. Phantom Limb Action Figure
Day 490: Bif Bang Pow! Venture Bros. Bloody Brock Samson Action Figure
Day 499: Bif Bang Pow! Venture Bros. Brock Samson Action Figure
Day 666: Bif Bang Pow! Venture Bros. Dean Venture Action Figure
Day 666: Bif Bang Pow! Venture Bros. Hank Venture Action Figure
Day 699: Bif Bang Pow! Venture Bros. Molotov Action Figure
Day 732: Bif Bang Pow! Venture Bros. Dr. Mrs. The Monarch Action Figure
Day 771: Bif Bang Pow! Venture Bros. Brock Samson Action Figure
Day 867: Bif Bang Pow! Venture Bros. Unpainted Test Shot Monarch Action Figure
Day 970: Bif Bang Pow! The Twilight Zone Henry Bemis Action Figure
Day 1,003: Bif Bang Pow! Venture Bros. Monarch Action Figure
Day 1,027: Bif Bang Pow! The Twilight Zone Kanamit (Work Uniform) Action Figure
Day 1,054: Bif Bang Pow! Star Trek: The Next Generation Lieutenant Worf
Day 1,063: Bif Bang Pow! The Twilight Zone Talky Tina Action Figure
Day 1,388: Bif Bang Pow! Peg Pals Batman Armored
Day 1,928: Bif Bang Pow! DC Comics Pin Mate Wonder Woman
Day 2,134: Bif Bang Pow! The Twilight Zone Gremlin

See more Venture Bros. figures in Figure of the Day:
Day 3: Venture Bros. The Monarch Action Figure
Day 192: Venture Bros. Dean Venture Action Figure
Day 289: Venture Bros. Jonas Venture Action Figure
Day 297: Venture Bros. Rusty Venture Action Figure
Day 303: Bif Bang Pow! Venture Bros. Dr. Girlfriend Action Figure
Day 313: Bif Bang Pow! Venture Bros. Dr. Orpheus Action Figure
Day 362: Bif Bang Pow! Venture Bros. Hank Venture Action Figure
Day 439: Bif Bang Pow! Venture Bros. Phantom Limb Action Figure
Day 490: Bif Bang Pow! Venture Bros. Bloody Brock Samson Action Figure
Day 499: Bif Bang Pow! Venture Bros. Brock Samson Action Figure
Day 666: Bif Bang Pow! Venture Bros. Hank Venture Action Figure
Day 699: Bif Bang Pow! Venture Bros. Molotov Action Figure
Day 732: Bif Bang Pow! Venture Bros. Dr. Mrs. The Monarch Action Figure
Day 771: Bif Bang Pow! Venture Bros. Brock Samson Action Figure
Day 867: Bif Bang Pow! Venture Bros. Unpainted Test Shot Monarch Action Figure
Day 1,003: Bif Bang Pow! Venture Bros. Monarch Action Figure

Want to buy this figure? Check Venture Bros. availability at our sponsors:
Entertainment Earth