The Monarch
Deco, see?

Venture Bros. 3 3/4-inch Scale Action Figure
Item No.: No. 09109
Manufacturer: Bif Bang Pow!
Includes: Nothing
Action Feature: Rotating wings collapse behind figure
Retail: $11.99
Availability: January 2014
Other: Surprisingly Pretty Up Close

PREVIOUS
RSS
NEXT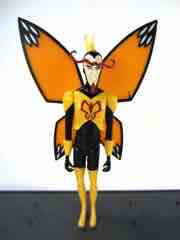 The very first figure I wanted to see on The Venture Bros. - I consulted on the line - was The Monarch. Brock Samson was a little more popular, so he came first - the mighty Monarch is the latest and possibly last new character to be introduced in this scale. It's unfortunate, because this figure - and indeed, this line - were quite good overall. I liked the skinny figures, the nice deco, and the fact that they were compatible with the 1995+ Star Wars action figure stands. With 10 points of articulation, the figure feels very 1990s - it's pretty sturdy, and his various parts don't fall off. This is a good thing.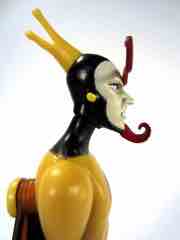 With his wings, the figure isn't likely to do a lot of sitting - but he could, if you wanted him to. The joints are all quite free in their movement and you won't have any real problem getting him to wave, or raise his arms. The combination of thin limbs and gravity will make you want to consider your display stand options, simply because he could use a little extra help depending on how you choose to display him.
Unlike his "test shot" brother, this 3 3/4-inch figure has paint. Black is slathered over his body suit, evenly painted and it looks pretty fantastic. A fleshy color applied to his face is broken up by white eyes and teeth, reddish brown facial hair, and a nice yellow crown. The red "Monarch" symbol is also expertly applied, with hands sculpted to hold an accessory that was simply not to be. But hey - 3 3/4-inch Monarch!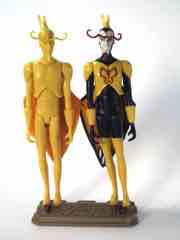 Few - very few - 3 3/4-inch human heads can hold up to the scrutiny of the macro lens on modern digital cameras. The level of fine detail looks better at a few inches away, but when blown up to the size of your screen? It could be better. In person the figure looks quite good and as you can see on the unpainted sculpt, it really does look nice.
Bif Bang Pow! is extending its 3 3/4-inch offerings, and along with Dexter The Venture Bros. kicked off the program. More of the figures are considerably more retro or hybrid in how they come to be, with other cartoon characters like SNL's Ambiguously Gay Duo plus classic TV freak-out The Twilight Zone making up a big part of the run. These early figures were absolutely more ambitious and as a biased person involved with the project, I'd say get them. Entertainment Earth has blown them out cheaply so it's possible you can get a screaming deal on them - I suggest that you do so when the opportunity knocks. Go Team Venture!
--Adam Pawlus
Additional Images

See more Bif Bang Pow! action figures in Figure of the Day:
Day 3: Venture Bros. The Monarch Action Figure
Day 192: Venture Bros. Dean Venture Action Figure
Day 289: Venture Bros. Jonas Venture Action Figure
Day 297: Venture Bros. Rusty Venture Action Figure
Day 303: Bif Bang Pow! Venture Bros. Dr. Girlfriend Action Figure
Day 308: Bif Bang Pow! Doctor Who Fourth Doctor Action Figure
Day 313: Bif Bang Pow! Venture Bros. Dr. Orpheus Action Figure
Day 362: Bif Bang Pow! Venture Bros. Hank Venture Action Figure
Day 439: Bif Bang Pow! Venture Bros. Phantom Limb Action Figure
Day 490: Bif Bang Pow! Venture Bros. Bloody Brock Samson Action Figure
Day 499: Bif Bang Pow! Venture Bros. Brock Samson Action Figure
Day 666: Bif Bang Pow! Venture Bros. Dean Venture Action Figure
Day 666: Bif Bang Pow! Venture Bros. Hank Venture Action Figure
Day 699: Bif Bang Pow! Venture Bros. Molotov Action Figure
Day 732: Bif Bang Pow! Venture Bros. Dr. Mrs. The Monarch Action Figure
Day 771: Bif Bang Pow! Venture Bros. Brock Samson Action Figure
Day 867: Bif Bang Pow! Venture Bros. Unpainted Test Shot Monarch Action Figure
Day 970: Bif Bang Pow! The Twilight Zone Henry Bemis Action Figure
Day 1,003: Bif Bang Pow! Venture Bros. Monarch Action Figure
Day 1,027: Bif Bang Pow! The Twilight Zone Kanamit (Work Uniform) Action Figure
Day 1,054: Bif Bang Pow! Star Trek: The Next Generation Lieutenant Worf
Day 1,063: Bif Bang Pow! The Twilight Zone Talky Tina Action Figure
Day 1,388: Bif Bang Pow! Peg Pals Batman Armored
Day 1,928: Bif Bang Pow! DC Comics Pin Mate Wonder Woman
Day 2,134: Bif Bang Pow! The Twilight Zone Gremlin

See more Venture Bros. figures in Figure of the Day:
Day 3: Venture Bros. The Monarch Action Figure
Day 192: Venture Bros. Dean Venture Action Figure
Day 289: Venture Bros. Jonas Venture Action Figure
Day 297: Venture Bros. Rusty Venture Action Figure
Day 303: Bif Bang Pow! Venture Bros. Dr. Girlfriend Action Figure
Day 313: Bif Bang Pow! Venture Bros. Dr. Orpheus Action Figure
Day 362: Bif Bang Pow! Venture Bros. Hank Venture Action Figure
Day 439: Bif Bang Pow! Venture Bros. Phantom Limb Action Figure
Day 490: Bif Bang Pow! Venture Bros. Bloody Brock Samson Action Figure
Day 499: Bif Bang Pow! Venture Bros. Brock Samson Action Figure
Day 666: Bif Bang Pow! Venture Bros. Hank Venture Action Figure
Day 699: Bif Bang Pow! Venture Bros. Molotov Action Figure
Day 732: Bif Bang Pow! Venture Bros. Dr. Mrs. The Monarch Action Figure
Day 771: Bif Bang Pow! Venture Bros. Brock Samson Action Figure
Day 867: Bif Bang Pow! Venture Bros. Unpainted Test Shot Monarch Action Figure
Day 1,003: Bif Bang Pow! Venture Bros. Monarch Action Figure

Want to buy this figure? Check Venture Bros. availability at our sponsors:
Entertainment Earth