Colonel Steve Austin (Red)
Zica Toys Retro Action Figure

Six Million Dollar Man Action Figure
Item No.: No. 65000
Manufacturer: Zica Toys
Includes: n/a
Action Feature: n/a
Retail: $19.99
Availability: January 2014
Other: Red is the main release, there's a blue one too

PREVIOUS
RSS
NEXT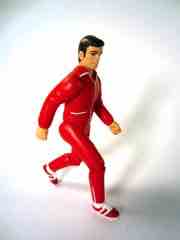 The Colonel Steve Austin (Red) is a really nice figure. Zica Toys attempted to out-Kenner Kenner (and Funko) and basically pulled it off - this feels like it would be on the shelf next to Adventure People and Walrus Man, and the head sculpt is right on the money. Just popping it out of the amazing packaging with the 1978-style price tag box is quite the experience, although it does seem to do slightly better than Kenner's own product from the day.
The face is dang near perfect - the eyes and brows are precise and expressive, while the flesh tone has a smidgen more color than the recent Alien figures. This is the benchmark for all new "Kenner" heads. Knee joints are arguably b.shtmlhemous if you're trying to ape the Kenner Star Wars style but they really work here - I crammed Steve Austin in the Diamond Select Toys DeLorean from Back to the Future, and because of the knees he can fit. Now I hope ReAction Marty McFly has them, when, on paper, I'd probably have argued against them. Also, the figure's packaging is a bit better too - there's plastic reenforcing the punch-out hole on which you hang this figure on the peg. I assume none of these figures will ever hang on retail pegs, but if they do they won't tear off like the originals. Zica really figured out how to improve the 1970s style while keeping it more or less authentic.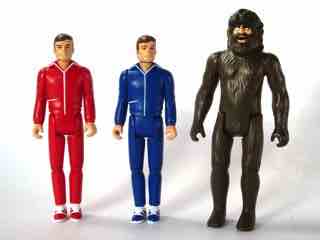 I've seen some fuzzy photos of Kenner's prototype Steve Austin from back in the day, and this is different. Both capture the charm of the era, but this one takes it further with a slightly rotated right arm and slightly thinner walls around the leg chunk of the hip joints. The hands are less claw-like when compared to, say, Walrus Man and Steve can't hold a Stormtrooper gun or some of the other vintage blasters. He looks like he was designed to hold an accessory, though, and really that's what I'm after right now. Keep in mind I'm coming to this as someone who has either never seen an episode of Six Mllion Dollar Man or at least hasn't seen one since 1981 - as far as I know, this is a great figure, despite knowing about the property only from The Simpsons, Freaks and Geeks, and The Venture Bros. I have to assume fans of the show will like this unless they're hard-up for replicating Kenner's original 12-inch figure in the smaller 3 3/4-inch scale. One final surprise, which I didn't even realize at first, Steve has articulated wrist joints - well-hidden and certainly not obvious.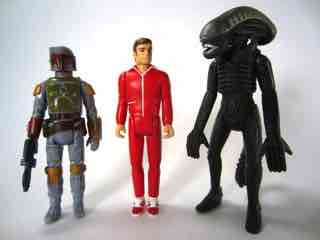 While the cost is significantly higher than Funko's offerings, the appeal is a little more limited and the run is undoubtedly smaller. As a non-fan, I think it's a beaut - I'll probably buy Oscar Goldman and the rest if they ever come out, but it's for my love of Adventure People and old Kenner toys more than anything else. With 9 points of articulation the figure is just a tiny bit better than what I expected and is on par with the Butch & Sundance line of that era - so when you get right down to it the figure is something of an anachronism, but so is the bulk of ReAction. It's not like Kenner would've done 3 3/4-inch figures when Pulp Fiction came out, so I'll live, and I'll dig it.
--Adam Pawlus
Additional Images

See more Zica Toys figures in Figure of the Day:
Day 865: Zica Toys Six Million Dollar Man Colonel Steve Austin (Red) Action Figure
Day 882: Zica Toys Six Million Dollar Man Bionic Bigfoot Action Figure

See more Six Million Dollar Man figures in Figure of the Day:
Day 865: Zica Toys Six Million Dollar Man Colonel Steve Austin (Red) Action Figure
Day 882: Zica Toys Six Million Dollar Man Bionic Bigfoot Action Figure

Want to buy this figure? Check Six Million Dollar Man availability at our sponsors:
Entertainment Earth