The Amazing Spider-Man 2
Build-A-Figure Collection Green Goblin Series

Spider-Man Marvel Legends Infinite Series Action Figures
Item No.: Asst. A6655 No. A6656
Manufacturer: Hasbro
Includes: Alternate hands, Ultimate Green Goblin right arm
Action Feature: n/a
Retail: $19.99
Availability: Late December 2013
Other: #3 of 6

PREVIOUS
RSS
NEXT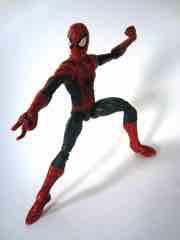 I was pretty stoked to see The Amazing Spider-Man 2 action figure but I passed on it the first time - my error, as the price increase from $15 to $20 took place quickly. While I didn't see the last movie, I do enjoy the character and I generally make a tradition of buying one new Spider-Man figure for each new movie. This one seemed like the clear winner, because the 6-ish-inch figure has over 30 points of articulation. Each shoulder can be moved in 3 places, and the joints are nice and stuff. It feels like a toy, but moves like a more expensive figure. While I'm on a kick for cheaper, smaller, simpler toys I cannot deny that this may be the best Spider-Man figure (without magnets in its feet or that isn't clear blue) I've ever bought.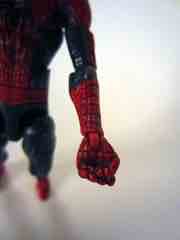 I've been interested in this kind of figure since Toy Biz kicked off Spider-Man Classics predating Marvel Legends by a couple of years. The good news is that the upgrade is really, really nice - the new movie outfit looks more like a comic outfit, and nearly every joint you could want seems to be here. Bend-and-swivel wrists are included with alternate "metal sign" or "web-slinging" meat paws which can be swapped out for balled-up fists.
The only feature that feels missing are some surprisingly tiny joints from the Toy Biz days - articulated toes, or articulated fingers. Neither are present, and while this improves the look of the figure I certainly wouldn't have minded a little more to make this figure really sing. Not that it doesn't - the pearly eyes and deep blue deco make this one shine. The only downer on the paint job is that the plastic rivets are red against a dark blue bodysuit, and they're quite the eyesore. Hasbro has been doing a lot of this lately, but it's a relatively minor quibble over an otherwise superbly fun piece of desk candy.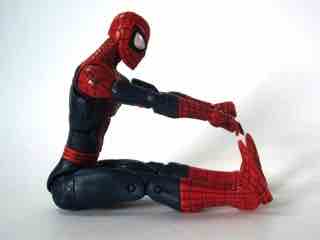 As you no doubt have many, many super-articulated Spider-Man figures in your collection by now odds are you don't need another. I thought the same thing, but when I saw this I knew I had to have it and I'm glad I bought it. I found it difficult to put down while I was watching TV when I found him, and short of tricking him out with magnets or some other surprising action feature I think this is as good as Spider-Man can get for "Legends" for a while. My only real complaint is, as always, the price. I appreciate the added hands and the big Ultimate Green Goblin parts help to add to the package, but the only reason I think I can say this is totally worth it is I buy relatively few Marvel figures - most of which are on sale or clearance, or were 10 years ago and $6 each. In just a few short years the price of a super-articulated movie Spider-Man has more than tripled, and I have no doubt Hasbro will continue to get it as long as collectors praise $60 Revoltechs and $50 Figmas from Japan. This is probably about on par, at a fraction of the price, but it's still quite expensive for an American action figure. Having said that, if you can find a better Spider-Man figure on the shelf, buy it. You can't. So get this one.
--Adam Pawlus
Additional Images


Click here to see more Hasbro figures in Figure of the Day.
See more Spider-Man figures in Figure of the Day:
Day 39: Hasbro Spider-Man Super Poseable Spider-Man Action Figure
Day 40: Hasbro Spider-Man Stealth Ninja Spider-Man
Day 50: Hasbro Spider-Man Toxic Blast Venom
Day 65: Hasbro Spider-Man Dive Bomber Green Goblin
Day 91: Hasbro Spider-Man (Kid Series) Monster Claw Carnage Action Figure
Day 108: Hasbro Marvel Universe Spider-Man Action Figure
Day 137: Toy Biz Spider-Man Animated Super Articulated Spider-Man
Day 290: Hasbro Spider-Man Mighty Muggs J. Jonah Jameson
Day 300: Hasbro Spider-Man Mighty Muggs Venom
Day 311: Hasbro Spider-Man Mighty Muggs Spider-Man
Day 336: Hasbro Spider-Man Mighty Muggs Demogoblin
Day 427: Funko Marvel Universe Pop! Vinyl SDCC Exlusive Spider-Man Vinyl Figure Bobble Head
Day 605: Hasbro Ultimate Spider-Man Night Mission Spider-Man Action Figure
Day 717: Hasbro Ultimate Spider-Man Crime Fightin' Spider-Man Action Figure
Day 862: Hasbro Ultimate Spider-Man Web Strike Spider-Man Action Figure
Day 876: Hasbro Spider-Man Marvel Legends Infinite Series The Amazing Spider-Man 2
Day 877: Hasbro Ultimate Spider-Man Iron Spider Armor Spider-Man
Day 916: Hasbro The Amazing Spider-Man Movie Ultra-Poseable Spider-Man
Day 936: Hasbro The Amazing Spider-Man Night Mission Spider-Man
Day 1,484: Hasbro Captain America Civil War Spider-Man, Captain America, and Iron Man Action Figures
Day 1,501: Hasbro Marvel Legends Series Spider-Man
Day 2,109: Hasbro Playskool Heroes Series 2 Marvel Super Hero Adventures Clear Spider-Man
Day 2,201: Hasbro Spider-Man Bend and Flex Spider-Man Action Figure
Day 2,229: Hasbro Spider-Man Marvel Legends Retro Spider-Man Action Figure
Day 2,342: Hasbro Marvel Legends 375 Spider-Man Action Figure
Day 2,453: Hasbro Marvel Spider-Man Action Figure
Day 2,459: Hasbro Marvel Legends 375 Iceman Action Figure
Day 2,476: Hasbro Marvel Legends 375 Firestar Action Figure
Day 2,491: Hasbro Marvel Legends 375 Venom Action Figure
Day 2,544: Hasbro Marvel Spider-Man Epic Hero Series Spider-Man Action Figure
Day 2,548: Hasbro Marvel Legends 375 Symbiote Spider-Man Action Figure
Day 2,560: Hasbro Marvel Legends 375 Green Goblin Action Figure
Day 2,564: Hasbro Marvel Legends 375 Amazing Fantasy Spider-Man Action Figure
Day 2,572: Hasbro Marvel Spider-Man Epic Hero Series Venom Action Figure
Day 2,592: Hasbro Marvel Legends 375 Spider-Woman Action Figure
Day 2,640: Hasbro Marvel Spider-Man Epic Hero Series Miles Morales Action Figure

Want to buy this figure? Check Spider-Man availability at our sponsors:
Entertainment Earth