Bionic Bigfoot
The Sasquatch Beast

Six Million Dollar Man Action Figure
Item No.: No. 65170
Manufacturer: Zica Toys
Includes: n/a
Action Feature: n/a
Retail: $19.99
Availability: January 2014
Other: Really Really Tall

PREVIOUS
RSS
NEXT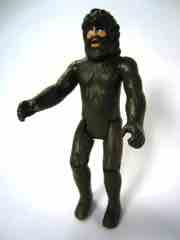 The Bionic Bigfoot was a figure I got to see a little before the general public and my immediate reaction was "I gotta have that." This was before word got out about all the ReAction stuff - I'm trying to remember how long ago it was, but I'm drawing a blank here. It looked like something I would ask my parents for as a kid and not get - and now I can have it! And I got it. It's cool.
The most amazing thing about this figure is that it was well engineered. The figure is much taller than your average 3 3/4-inch guy, and is significantly wider than Chewbacca or other Star Wars figures from the old days. Still, it passes the Landspeeder Test - an arbitrary metric for Vintage awesomeness. You can easily slide Bigfoot in an old Kenner Landspeeder, and I was even able to get him in the main area of the Droids Side Gunner with a little fidgeting. I was all prepared to declare this figure as too big, but no - it's actually pretty much just the right size. Zica nailed it.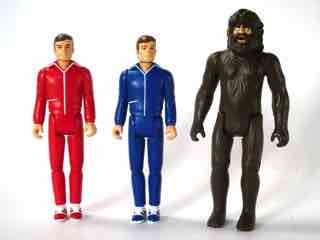 I've never seen the show, but I'm familiar with the toys and checked some stills online. Bionic Bigfoot looks positively ghoulish in still photos, with whited-out eyes and what looks like visible veins on his forehead - but otherwise it's a Wookiee with a strategically shaved face, which Zica has nailed. The arms are wide and muscular, with hands seemingly designed to grip something. What, I don't know, but it gives it that action figure look we all want. While Steve Austin has 7 joints, Bigfoot has 6 - there's no neck joint, just like the old Jawas and Chewbacca figures. I don't know if it was done to keep costs down or for authenticity, although I suppose both of those statements are related. Fur sculpting looks fairly shallow compared to the deeper grooves in Chewbacca and the Ewoks, so in some respects this looks sort of like a prototype for a toy line we never got - but it's still awesome. The open mouth is painted black (which is something Kenner generally cheaped out on, so kudos) and the white eyes are surrounding by some light fleshy paint. I like this - the still pictures look like they have darker skin, but the only way to achieve true authenticity in a Kenner figure is to make a mistake anyway, so if you get a color wrong that's arguably classic Kenner.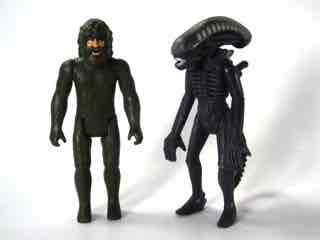 With copyrights on the back of the legs and flat feet, this figure generally looks and feels like a real old vintage figure. Some of those were more hollow while Bionic Bigfoot feels significantly more solid - seriously, he's a heavier guy than his Kenner cohorts. It's my sincere hope that Zica's next license is one with more creatures and monsters than humans - Steve Austin is great and all, but I really like Bigfoot here. I'd love to see more creatures like him, which is why I'm also excited for Funko's ReAction Universal Monsters line. Given the massive quantity of those olde thyme Kenner figures on deck for 2014, we're looking at over 70 (including some repaints) before 2015. That's a ton. I'm glad Bigfoot came out at the head of the game, so I can spend some decent time with him before he may get put on display on a shelf or something. I'm hoping he ends up staying on my desk for a few months.
--Adam Pawlus
Additional Images

See more Zica Toys figures in Figure of the Day:
Day 865: Zica Toys Six Million Dollar Man Colonel Steve Austin (Red) Action Figure
Day 882: Zica Toys Six Million Dollar Man Bionic Bigfoot Action Figure

See more Six Million Dollar Man figures in Figure of the Day:
Day 865: Zica Toys Six Million Dollar Man Colonel Steve Austin (Red) Action Figure
Day 882: Zica Toys Six Million Dollar Man Bionic Bigfoot Action Figure

Want to buy this figure? Check Six Million Dollar Man availability at our sponsors:
Entertainment Earth