Battle Armor Trixie
As Seen in the TV Special

Toy Story That Time Forgot Walmart Exclusive
Item No.: Asst. CDL89 No. CDL93
Manufacturer: Mattel
Includes: Non-removable armor and accessories
Action Feature: n/a
Retail: $8.96
Availability: December 2014
Other: Kristen Schaal Is a Horse!

PREVIOUS
RSS
NEXT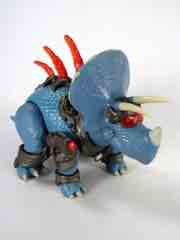 I could probably write several pages about Battle Armor Trixie. As the highest-ranking character in the Toy Story series not known for making you cry, she's sort of the perfect character. Voiced by a fantastic comedian, she's an enthusiastic and accessible toy that seems to come from the same line as Rex. And yet, she's also very rarely made as a toy - some vinyl blind-box figures or toddler "heroes"-style figures, plus a figure in a Disney Store set, but she's never had her very own individually packaged action figure until now. I've been pawing through pegs of Toy Story stuff since 2010 and this is the first one I've seen with movie-like proportions on a shelf. I found her in a giant display of toys at Walmart two nights after Toy Story That Time Forgot aired, and the jam-packed, largely full display had only two Trixies and seemed like it had room for maybe 10 tops. There were close to 30 or more 3-packs, and dozens of single-carded figures. But Trixie, the star of the show? Nope.
I don't know if it's some terrible oversight or the continued bias by toy companies - Mattel in particular - against women in action figure assortments, but there you go. It's sort of a cruel tease after seeing endless pegs of Mr. Pricklepants go unsold to see a dinosaur of all things go unproduced, but that's my bias. I want main characters - at least one - and now that she starred in this special she's about as main character as you can get right now.
Battle Armor Trixie is as much a joy as she is a letdown. On one hand, she's here - the first legit carded action figure of the character! On the other, the armor really does look like goofy snap-on action figure armor. It's made of a softer grey plastic and some clear red, with some sort of night-vision goggles that look like they come off. They don't. None of the armor comes off, despite being mostly separately molded pieces with what looks like little fasteners. It's unfortunate, but given that this figure is likely not meant for older, crankier fans it makes a lot of sense. There are no parts to lose, or to swallow for that matter. You lose the classic quick-change armor we've loved on Batman and others, but you gain a stable figure that's likely to look as good in a thrift store bin of 2018 as it does today.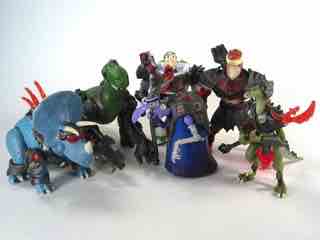 Because Mattel is cruel, Trixie retains the faux articulation point on the jaw and has a grand total of 6 articulated pieces. Each arm can swivel, as can the neck and tail. She's even got foot peg holes which, while completely unnecessary, are totally welcome. You never know if you might want or need them down the road! Her sculpting matches the cartoon nicely with cute small eyes, blue scales galore, and a few boney horns and claws making her look even better than on the cartoon. The Pixar animators, being wonderfully attentive to detail, rubbed some paint off her horns on the big screen. The toy is in better condition than her movie counterpart!
Also of note, there's a tampo of the "Battlesaurs" logo on her chest. The TV special focused largely on a surprisingly well-thought-out 1980s-style action figure line of dinosaur warrior figures with playsets and a big creature that feels like a distant cousin on Masters of the Universe, specifically the Snake Men. Trixie's armor features the faction symbol of fighting dinosaurs, although the special didn't make it clear if who we met were good guys, bad guys, or a mix. From a toy perspective it seems preposterous that any action figure line would include a chest of accessories that happen to fit other toys from other brands, but that's movie magic.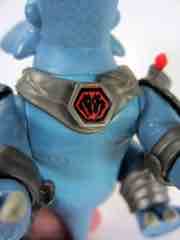 Mattel doesn't really focus on action figural toys outside Imaginext in the USA for kids with any great attention to detail, things come and go quickly and the packaging reflects this. And it's really awful packaging - the character art is blocked by the toy itself, the font is unappealing, and there's a lot of questionable uses of space. The logo for "That Time Forgot" is next to impossible to see, yet there's plenty of room on the cardboard name plate for this. I know it's unfair to beat up on Mattel, but outside Hot Wheels and Barbie it feels like their packaging department isn't being challenged much. As such, I have no problems opening the figure and chucking the cardboard in the trash and/or recycling bin. Oh, and the "As Seen in the TV Special" logo just seems very much like a C+ project from a graphic design college student that will drop out in about two weeks.
If you've been wanting a Trixie figure for years, getting her in a wacky and totally appropriate action figure get-up seems like a good move. I was hoping to get a plain Trixie, but this is still fun to futz with. There are no action bucking or running features, so it's just a simple, good, solid figure that seems pretty durable from my limited time with her hanging out on my desk. It feels durable and it looks right. I can't ask for much more. Other than the removable armor, that is.
--Adam Pawlus
Additional Images

Click here to see more Mattel figures in Figure of the Day.

See more Pixar figures in Figure of the Day:
Day 166: McDonalds Toy Story 2 Hamm Action Figure
Day 207: Funko Disney Pop! Vinyl Mr. Incredible Vinyl Figure
Day 293: Funko Disney Pop! Vinyl Mike Wazowski Vinyl Figure
Day 345: Funko Disney Pop! Vinyl Sulley Vinyl Figure
Day 1,006: Thinkway Toys Wall-E 15-Pc Bag O' Bots Figure Set
Day 1,072: Mattel Toy Story That Time Forgot Battle Armor Trixie Action Figure
Day 1,099: Mattel Toy Story That Time Forgot Battle Armor Rex Action Figure
Day 1,106: Mattel Toy Story That Time Forgot Raptorian Guard Action Figure
Day 1,382: Funko Hikari Vinyl Toy Story Original Buzz Lightyear
Day 1,850: Funko Pop! Disney Coco Ernesto Pop! Vinyl Figure
Day 2,487: Fisher-Price Imaginext Lightyear Hyperspeed Explorer XL-01
Day 2,522: Fisher-Price Imaginext Toy Story 4 Bunny & Buzz Lightyear