Predaking
The "Upsized Cyberverse" Toy

Transformers Prime Beast Hunters Voyager
Item No.: Asst. A1978 No. A6213
Manufacturer: Hasbro
Includes: Projectile, launcher, sword
Action Feature: Transforms from truck to robot
Retail: $22.99 or $10.99
Availability: March 2014
Other: 03 Series #002

PREVIOUS
RSS
NEXT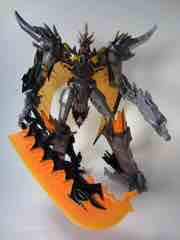 Several incarnations of Predaking were made for Beast Hunters, with this one giving you the most size for your buck. Target stores had an exclusive "Leader class" toy that was sized similarly, but cost close to $60 - this one was simplified a bit. You lost some articulation and electronics, but the resulting toy looks more impressive on a shelf and is considerably larger than the previous $20ish Voyager counterpart which was released early in 2013. While not as much fun as the companion Optimus figure, Predaking has one of the largest swords to grace American Transformers toys while itself being one of the bigger robots. As toys get more expensive and smaller, this giant but simplified toy is quite refreshing. The joints are stiff, the transformation is easy, and it towers above dang near everything else I've picked up in 2014 by several inches.
The dragon mode is huge - obscenely huge. Since Hasbro got this out at the intent of making it a $20 figure, it will no doubt serve as a sort of a benchmark for what fans expect in the future. Seeing this toy come out just before the new movie toys will give fans unfair expectations - none of the new guys are this big or this cheap. From head to tail, the dragon is about 14-inches long with an even wider wingspan. He has limited leg articulation, with 2 joints on each wing and a tail made of the giant sword. You can plug the cannon in the dragon's back, but shooting it may prove tricky. While it's not filled with features or action elements, it's a sizable creature for the price - I doubt it'll displace Transmetals II Megatron or Cybertron Scourge as America's favorite transforming dragon, but it's certainly bigger and less fragile.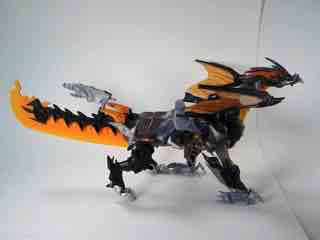 The transformation is strange, but simple - it makes several changes from his previous incarnations. The head folds back, the tail is removed, the back unfolds to the robot legs, and the front legs become the robot arms. There's no rubbery plastic here, which is surprising given the relatively thin grey claw pieces in both modes. I don't want to be hyperbolic, so I'll just say that it's a nice piece of toy engineering rather than a "marvel" or a "miracle" or "the right way to do this kind of thing." Future dinobots will be held to this toy as a standard - and I believe they will leave fans wanting.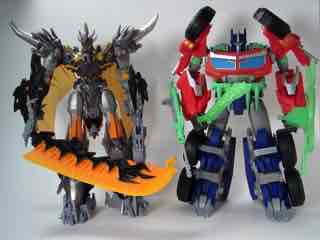 The robot mode is large, similarly sized to Optimal Optimus. The massive wings will no doubt make shelf placement tricky, and the articulation is not bad. The joints are clicky, ratchety affairs that don't seem to have to fight a losing battle with gravity. Due to the figure's massive 7-inch sword, this is essential just so he can carry his weapon in his hand. We rarely see this sort of quality, and in some respects it might be a better toy for collectors than for kids. After all, the loud clicking when you move most of the joints can be a little nerve-wracking. After Metroplex, it seemed that we had a sort of a gold standard set for the big toys. This figure and the matching Optimus both make arguments for possible simple and cheaper toys of unusual size.
Cast in mostly translucent plastic, this orange, black, and grey beast will probably go down in the record books as a forgotten evolutionary misstep. I can't imagine Hasbro will go back to this toy style due to their never-ending tinkering for kid-quality products given what we've seen for the new movie. It's a crying shame, because this is a massive, satisfying toy of a character I frankly wouldn't have bought otherwise - it's my first and so far only Prime Predaking, but the way it was made makes it a winner. I'd be beside myself with glee to see similar, sturdy figures based on the IDW comics - Optimus Prime, Grimlock, whatever - it'd be a worthwhile purchase on my part. Get Predaking if you find him, it's worth it.
--Adam Pawlus
Additional Images

Click here to see more Hasbro figures in Figure of the Day.
Click here to see more Transformers figures in Figure of the Day.

Want to buy this figure? Check Transformers availability at our sponsors:
Entertainment Earth