Redlaw Phanost
Purple Plastic, Silver Accents

Glyos Action Figures
Item No.: n/a
Manufacturer: Onell Design
Includes: Alternate Sarvos and Scar Pheyden heads
Action Feature: n/a
Retail: $10.00
Availability: November 30, 2014
Other: Nifty

PREVIOUS
RSS
NEXT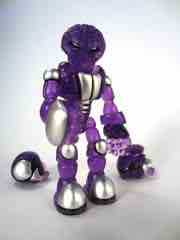 The Redlaw Phanost is easily the star of last month's drop, which is shaping up to be the final release of Onell Design's 2014 product offering. The drops have been sticking around the same size over the last few Decembers but they certainly feel smaller - the reduction of Traveler figures to two and the lack of new molds or builds is hard to ignore, and the influence of Glyos impressario Matt Doughty is felt elsewhere. The Onell Design product offering has largely kept to new deco on existing figures, but with new and pretty great paint masks and precious few molds. The Super Crayboth and an alternate new head for Argen are two of this year's big gems, alongside new heads at the 481 Universe, Maxx Zero in Robo Force, the Banimon tank, the amazing Rise of the Beasts line, and others. The pool has certainly grown significantly, even if the founding line has kept it small and safe with a few good figures. Given the increasing size of the playing field, the less-is-more approach is certainly welcome.
This particular figure is a real gem, with clear purple plastic and utterly gorgeous, evenly-painted silver markings. Up close it's beautiful - the silver paint adds a lot to the figure, and the black panel lines look gorgeous in person. It was $1 more than Commander Morveken Sarvos - which had an extra scarf, and a shoulder tampo, but even with this in mind it was $1 cooler to have the panel lines on Redlaw Phanost. The Onell Design people were wise to mark this one up a bit.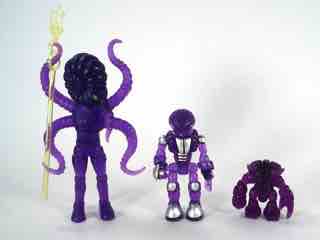 The body mold has been in service for years, but the particular paint mask for the body is relatively new with the special shoulder markings only showing up in March. Phanost also has specially painted knees, which is uncommon, plus silver on the hands, feet, and chest. It's not a lot more paint, but the little additions make a big difference in making this mold worth owning yet again. I think a lot of credit can be given to the decision to use silver, because it almost gives the clear purple "energy" figure a metallic flair in parts. Other toymakers would be well-served to give silver a spin like this on their toys. As you may have seen on figures like Rise of the Beasts' Mail-In Silver Rhino, it really does work nicely.
In addition to the mostly unpainted (save for the eyes) Phanost head, you also get a Sarvos head with a big silver face and a Scar Pheyden head on which the deco is mostly black. You'll note both of the alternate heads also boast a silver neck, with a silver scar and some purple and white over his right eye.
Little changes like these are needed to keep the line fresh in the wake of fewer new molds, and I think they're working fairly well. Redlaw sold out quickly and there was even a swell Redlaw Extra Set with another alternate head and chest. (Sadly, no Gobon Blaster was made in this purple for this drop.) As always the figure has 12 points of articulation and can separate at each one. We continue to see little glimpses of what the future may hold for this line with advancements in deco and increasingly complex kits, but Onell Design seems intent on keeping things pretty sturdy, pretty cheap, and pretty good. Figures like this show that there's a lot of mileage left in some of these old molds, if we're willing to pay a little extra to keep things interesting. I have no regrets here, and I hope we get to see another equally nifty figure in the next drop. I'm particularly hopeful that we'll see some all-new paint masks on the Armorvor for 2015 but for now, rest assured that Redlaw Phanost was indeed a figure you should kick yourself for having skipped.
--Adam Pawlus
Additional Images


Click here to see more Onell Design figures in Figure of the Day.
Click here to see more Glyos Compatible figures in Figure of the Day.