Tankor
Evil Vehicon

Beast Machines Transformers Mega Assortment
Item No.: Asst. n/a No. n/a
Manufacturer: Hasbro
Includes: Projectile
Action Feature: Transforms from Tank to Robot, spinning sawblades, moving eyes, articulated claws, launching rocket
Retail: $14.99
Availability: December 1999
Other: Part of Wave 1

PREVIOUS
RSS
NEXT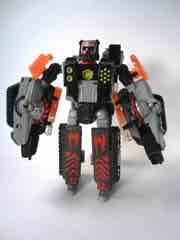 The Transformers have gone many changes over the years, and it's difficult for some to realize that from 1996-1999, vehicles were far and few between - basically absent. WIth Beast Machines, we got Tankor and a series of new Cybertronian alt modes in a new faction called Vehicons. Some were drones, some were Beast Wars characters with new personalities, but none of them were very Earth-y. The Maximals were cyborg creatures, and the Vehicons all look like they came from outer space. There were no humans, and no mad scientists. Tankor and his cohorts all worked for Megatron, who conquered Cybertron while the Maximals spent 26 episodes trying to undo this. While not remembered as fondly today, the series was a real thrill when it debuted and fans online debated the relative merits of the new toys while basically distancing themselves from the series after its first episode. Tankor was the first toy from this line I found, and to this day it's one of my favorites.
The size classes and prices of these toys have changed dramatically since (and during) this era. Tankor is a hulking beast, towering above some recent Mega toys while coming in at a lower price. His simplistic transformation takes seconds, but you still have a sturdy, fun toy with a few cool gimmicks. On paper, it's arguably better than nearly anything on the market today if you can get beyond the fact that it didn't match the TV show animation model one bit. It's crazy fun to play with and the head alone does more than many action figures. His jaw is articulated, wiggling the "ears" on his helmet as the mouth opens and closes. The light-up eye port has a central dot which can move around - there's a similar mechanism in vehicle mode too, giving both the robot and the vehicle a lively "face" as opposed to the usual static and often one-color visage of the 1980s.
What's more, the forearms have spinning sawblades and claw-like hands which open and close on the ends. He has over a dozen meaningful points of articulation and is still fairly stiff years later - he has no problems standing on his own. The mold was repainted only once in the Transformers Universe line a few years later, so it's still quite special to this day. He lacks the 5mm weapon ports that many other toys had, but who cares? This is a spectacular big grey and black robot covered in red and yellow highlights.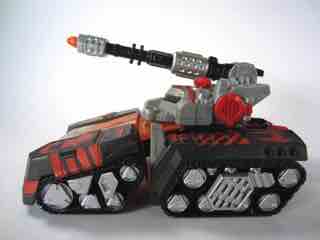 Transformation is a breeze - the only tricky part is the clear painted panels on the arms which need to be folded down carefully. Everything else is easy - the waist spins around and the legs become the bank of the tank. The "backpack" has the turret, and the arms become the front of the vehicle. There's even a "battle mode" where the tank mode can scoop up someone in his claws while in tank mode... it's impressive, but often overlooked.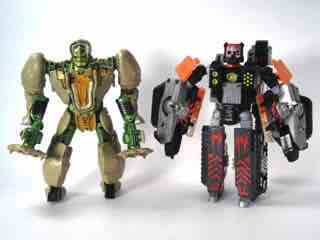 Unlike most vehicle modes these days, the tank itself is a lot of fun. Not only are there rolling wheels, there's a geared gimmick that causes the blades to spin. There's an opening "gas tank" cap which reveals his Vehicon spark crystal. There's a flap that opens to allow light to enter his turret, causing a central eye to light up - which you can rotate to look around by using a knob on the top. There's a lot of toy here, and today it's genuinely spectacular to see all these wonderful features in addition to a nice rocket-firing mechanism. At the time collectors and fans were asking Hasbro to make a Super or Supreme Tankor that was bigger and could do even more... but sadly it never came to be. We did get a very nice mini Tank Drone toy later on, though, which is much more authentic if the show design is your thing. It's not nearly as impressive or fun, though.
This toy was quite popular in its day, but the love for this series is non-existent. You can snag a boxed sample for $10-$20 easily, while unpackaged and complete toys are often under $10. If you have any love for a fun robot toy for its own sake, this is a can't miss purchase. Mine has proven sturdy and has come with me to numerous residences over the last 15 years, so I would say go run out and get one while the getting is good - while the suckers overpay for their G1 toy holy grails in AFA-graded boxes, you can be smart and get really fun ones like this for pennies on the dollar.
--Adam Pawlus
Additional Images

Click here to see more Hasbro figures in Figure of the Day.
Click here to see more Transformers figures in Figure of the Day.

Want to buy this figure? Check Transformers availability at our sponsors:
Entertainment Earth