Rattrap
02 Series #017

Transformers Generations Deluxe
Item No.: Asst. 37986 No. A6347
Manufacturer: Hasbro
Includes: 2-piece blaster, IDW Comic Book
Action Feature: Transforms from rat to robot
Retail: $14.99
Availability: June 2014
Other: 02 Series #017

PREVIOUS
RSS
NEXT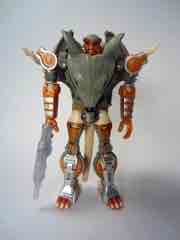 New toys of Beast Wars characters come around every few years, but are usually rereleases with new paint. But not Rattrap - he's a new mold, based largely on the first-season look of the character on the cartoon with some other fun flourishes thrown in for good measure. He's a pretty decent rat, an OK statue, but not a great toy figure - and the articulation leaves something to be desired.
The comic book included with 2014 Rattrap is sort of a mess - just like Tankor's, the story pages are all in the wrong order. Oh well. That's pretty much this entire package in a nutshell, right there.
While .shtmlinator took a design from nearly two decades ago and improved it while being pretty much the same size, Rattrap doesn't seem to have a lot in common with his tiny $5 ancestor. The robot mode is 5-inches tall, with about 13 points of articulation depending on how you feel like counting. There are no ankle or wrist joints, and the hands are a little tight for his included weapon and many other 5mm accessories. They fit, but be careful - the plastic in the arms is sturdy, so snapped thumbs could happen if you're careless. The arms are nicely detailed and feature the smallest Maximal symbols I've ever seen, but the elbows don't quite get a 90-degree bend and as such he feels a little stiff. The left forearm has an opening panel with a removable clear plastic bomb accessory that could probably do double-duty as binoculars. It's a nice bonus, and you can see it hanging out of the bottom a tiny bit.
Detailing is pretty good, but the grey plastic has a strange, light, airy, and waxy feel that feels like a lesser quality. The parts are somewhat difficult to massage in place and this is a situation where a more rubbery plastic might have been better, just for my sake. The form fit of the rat limbs on his back may cause them to pop out during transformation, and my first one had ill-assembled pins in the robot legs so he couldn't even transform into rat mode. This isn't something you can tell until you open it, but you can see the clear brain dome, the nifty face, and the cool silver detailing before you make the purchase here.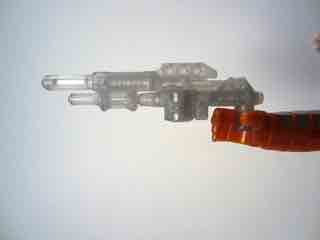 Transformation is a pain in the neck. It's clever in spots, but also annoying - the rat feet fold out of the robot feet, which is clever, but getting the shins to split open and twirl around is annoying. Massaging the arms and various rat panels into rat form requires some patience, whereas the original 1990s toy took about two seconds thanks to a spring-loaded transformation mechanism. I'd say it's one of the more obnoxious deluxe toys, but once you get him in either mode it's not like he'll be flopping around. Joints are nice and tight, and unlike the 2010 Perceptor nothing is going to fall off or unpeg while you play with him.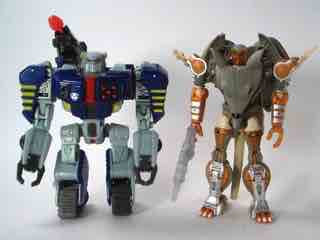 The guns store under the belly in rat mode, plus there's a flexible, bendable rat tail which is either totally awesome or totally gross. I like it. He has a mouth, 4 articulated limbs, and can even stand on his hind legs. There's a little extra flap behind the rat head so if you rotate it down, it covers the gap that would reveal the robo innards. It's a nice touch, but it doesn't take into account you can see all the robot bits on his rat belly if he stands on his own two feet. It's a toy that clearly shows a lot of through, but not all if it works as well as .shtmlinator or Rhinox.
If you're a fan of the show you have already purchased this toy - I would have reviewed it a lot sooner but had to return my first one for a replacement. I like it as a display piece, or as an action figure, but not so much as a transforming toy. I doubt we'll go through life without a redeco of this mold, but I wouldn't want to pay much above regular retail pricing for this figure if I could help it. Well, that's not entirely true - it makes a great display piece regardless, and if you're old enough to be nostalgic for Rattrap that's probably a good enough reason to buy it even at premium prices. The Japanese import version has red rat eyes and a paler, more disturbingly colored robot mode. I'd suggest that you go with whatever is a) cheaper and b) easier to return in your municipality should it be broken.
--Adam Pawlus
Additional Images

Click here to see more Hasbro figures in Figure of the Day.
Click here to see more Transformers figures in Figure of the Day.

Want to buy this figure? Check Transformers availability at our sponsors:
Entertainment Earth