Optimus Prime
The "Upsized Cyberverse" Toy

Transformers Prime Beast Hunters Voyager
Item No.: Asst. A1978 No. A6212
Manufacturer: Hasbro
Includes: Projectile, launcher, sword, shield
Action Feature: Transforms from truck to robot
Retail: $22.99 or $10.99
Availability: March 2014
Other: 03 Series #001

PREVIOUS
RSS
NEXT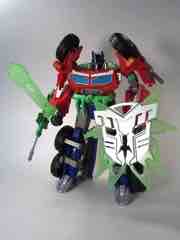 Arguably the poster boy of "unnecessary remakes," this Optimus Prime is a new version of a toy that has had multiple incarnations. The transformation and design are essentially a massively upsized Cyberverse toy, now standing nearly 10-inches tall at the head. He can basically see eye-to-eye with Optimal Optimus, but this is just one more in a chain of this character - there was a very similar toy with a jet pack just last year as well as a $60 massive even-more-tricked-out version. This one was meant to be a simpler toy for the kids - one of about a half dozen toys designed for this purpose, however it looks like only Optimus and Predaking are going to make it to US shelves. I saw these guys at Target once or twice, and then at Ross stores for a mere $10.99. I can't say no to massive robots at that price, so I snagged them. Optimus is as big as the Leader-class Age of Extinction Optimus Prime, which is $45ish.
Packaged in robot mode, the figure is covered in an excess of green which, sadly, does not glow in the dark. The gun has a 5mm peg which can be mounted to his right wrist, while the sword is a new but barely different version of the weapon from the aforementioned Voyager version (and was also included with Platinum G1 Predaking in gold), while the huge shield is new for this release. How huge is it? Roughly the size of a current Deluxe-class toy. The accessories are largely green with some silver or grey, and while the pale green was initially off-putting for the sword I find I like it a lot in person. The shield is weird, with the strange Autobot-esque face on it painted silver. I don't dislike it, but I do appreciate how multiple 5mm pegs allow a figure to hold it in more than one place - it's also used to hold the truck mode together. The gun is a gun, it's nice enough and has a marble shooter mechanism. This is one of the more heavily armed toys, so I do appreciate the fact he can carry all of this stuff, too.
In vehicle mode, he's more or less a truck with some weapons attached to him. The wheels spin freely, and are painted well. His windows are blue, and the claws on the grille are an odd green color that doesn't quite work for me. Other bits and pieces are also green, and the large, chunky parts make this feel a lot more like a toy than many of the other releases. I find this compelling and fun, because things move easily and parts don't pop off. The truck feels more solid than many other toys I've bought, but there is a cheat - the shield acts as a cap on two leg pegs, holding this section together. There are also a few visible gaps which would work a lot better at a smaller size, but it's still sturdy and plenty of fun in this format.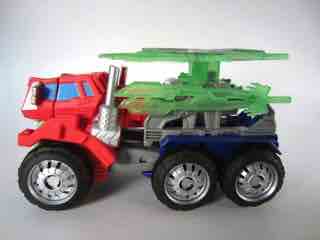 Other than cracking open the torso to flip around the head and arm assembly, the transformation is intuitive. The legs swing back to become the back of the truck, the head folds back, and the chest is the cab. It's nothing too special or complex, but it's fun and easy - and meant to be for smaller kids. It's notable that the most toy-like release is also the largest and most colorful, which I think makes this one a real winner.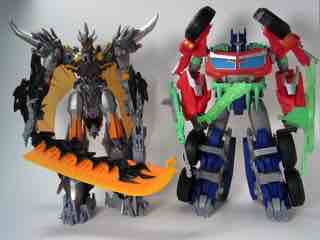 As much as I liked the previous version, this one holds together better - there are no shoulder tab or peg issues, and no weak hip joints. Everything just works - it looks cool and the parts click in place. It's like a better version of G2 Laser Optimus Prime in that sense, minus the cool trailer and electronics. Optimus features roughly 14 moving joints between his arms and legs, with no waist or neck movement of any real value. The new head looks pretty good, but a face plate would have been a nice addition here. He has no real problem holding the shield, but getting the sword in his hand may take some twisting. The hands are not articulated, and the silver Autobot symbol under his face seems like overkill - but it's hard to see, so you'll live.
I generally complain about too many retreads, but in this case I find the update charming. It's bigger, sturdier, more colorful, and easier to change around - too bad it lacks the wings! If you can score this one on clearance, you owe it to yourself to do so - even if you hate it, you'll want it on your desk at work to futz with. It may not be the most collector-friendly version of the character, but given the size you'd be a fool to pass it up on the cheap. (We'll look at Predaking soon too - he's cool, and big, but not as much fun.) I rarely say this, but it's a shame that its final wave status means it likely won't see many or any repaints. A Nemesis Prime, Motormaster, or any of a number of other characters could look really cool using this mold. Toxitron, for example - I'd like to see that as a store exclusive. Who can I call to make that happen?
--Adam Pawlus
Additional Images


Click here to see more Hasbro figures in Figure of the Day.
Click here to see more Transformers figures in Figure of the Day.

Want to buy this figure? Check Transformers availability at our sponsors:
Entertainment Earth