Neo Sincroid Gendrone Legion
Metallic Blue

Glyos Action Figures
Item No.: n/a
Manufacturer: Onell Design
Includes: Extra head - Glyan or Neo Sincroid, plus gun
Action Feature: n/a
Retail: $8.00
Availability: December 12, 2012
Other: Cool blue also used for many other great figures

PREVIOUS
RSS
NEXT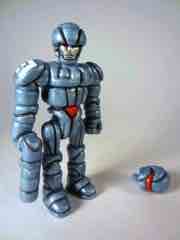 If you love metallic blue, the Neo Sincroid Gendrone Legion is worth tracking down. Onell Design has been high on the blue as of late, and what better figure for today than a blue figure with some white and red? The little guy is pretty much what you're used to, except the marketing is a little different - generally this mold is sold as a Glyan, and as a Neo Sincroid he dons the silver-faced head with red eyes by default. Despite being a mechanoid of some sort, this actually makes him look more human. Or at the very least, Tin Man-esque.
Armed with a gun of some sort, you can take apart the weapon or the figure and swap around parts and pieces. Some people come up with really cool things, and I am not one of them. Mostly I just enjoy the nicely articulated default figure, and the nifty deco. I shot this figure back in 2012 and am only just getting to reviewing it this year, and it has held up nicely. The silver paint looks good and the blue still shines nicely, but he has also spent most of the past year in a closet, in a basement, in the dark. Anything less than perfection would be disappointing, so it's good that he hasn't started discoloring or beginning work as a telemarketer or something.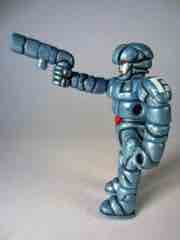 At about 3-inches tall, the figure is loaded with articulation - having swiveling layers of torso may not be helpful, but it lets you flip around various elements to make an army of these guys, or continue to use the same molds while also making each figure look a tiny bit different from the last. The bonus head also helps change up the look. With 25 parts, there's a lot to futz with here but the all-blue coloration makes it a little less impressive than his descendants. The figure can also be augmented by Hub Sets (sold separately) that allow you to bulk up this mold as a Deep Space Glyan, although this one was not sold in such a configuration for some reason.
If you just want a Glyan in blue, no worries - there have been many, there will likely be more. But this one? This is a nice one. Panel lines are rare as of late, so this particular set of colors really pops out nicely. It doesn't show up on eBay often, so be ready in case it does - Glyans aren't too expensive these days but you never know when a bidding war will break out.
--Adam Pawlus
Additional Images


Click here to see more Onell Design figures in Figure of the Day.
Click here to see more Glyos Compatible figures in Figure of the Day.