Sky-Byte
Series 02 #007

Transformers Generations Voyager
Item No.: Asst. A1403 No. A6681
Manufacturer: Hasbro
Includes: Projectile
Action Feature: Transforms from Robot to Shark, spinning missile launcher
Retail: $24.99
Availability: August 2014
Other: Or, prepaint of Cybershark

PREVIOUS
RSS
NEXT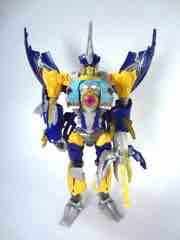 It's not every day that a repaint of a toy becomes more popular than the original toy character, but Sky-Byte crushed it by being goofy and beloved. Arguably far superior to the Beast Wars Transmetals 2 Cybershark toy from late 1998/early 1999, Sky-Byte was part of the endless horde of repainted toys which made up Car Robots/Robots in Disguise following the Beast era. It looked a little more shark-like, and his characterization in the American dub of the TV show gained him some fans. And a high secondary market price. And a new BotCon exclusive toy in 2010. So really, it only makes sense that he would get an all-new mode and appear in IDW's comic books as a nonaligned civilian poet... right?
I bought - more like ran out and bought - the original TransMetals 2 Cybershark back when it first hit, and remember it as one of the first Beast Wars toys with Hasbro (and not Kenner) on the box. It was a big, bulky toy with lots of gimmicks and articulation, plus annoying shell wings made up of shark bits. Overall, it was neat - but it didn't get a lot of action. The BotCon toy was based on the simpler Energon Sharkticon - a fine and simple toy - so I quite liked it. This new Generations model is much larger at 7-inches tall (not counting his head fin) with about 19 joints, depending on how you feel like counting them. Gone is the separate rocket launcher - it's now integrated into his tail/left hand. The tail has two pointed and articulated elements, which gives him a little more personality. Heck, even his shoulders have little fins which can pop out - a nice touch, but ultimately something of a head-scratcher as they don't add much to his look or his functionality.
The redesigned robot is much taller than most other figures, including his in-comic pal Jazz. Voyagers are far and few between this year, so I'd almost rather the toy be shorter - but he ain't bad. There's a lot of sculpted detail with wires, cables, cords, and other greeblies bringing him to life. Reformatted from previous releases, the shark head now rests on his chest and the "spark crystal" - now just a pink circle with a Predacon symbol - is on a cool rotating segment on the nose.
I won't say he's the greatest robot in town, but he's certainly a fun shark bot. The legs seem to move together when you move them at the hips, so be careful - but the knees and ankles also move to give him a chance to go through some cool poses. The joints are tighter than some of his shark ancestors, which is a plus for posing him. The giant shark wings are still here and weird, plus there are shark fins hanging off his waist. The original mold had them as removable weapons, which can fit into his hand. It's a neat change overall, and his mouth is pretty vicious with big, white teeth.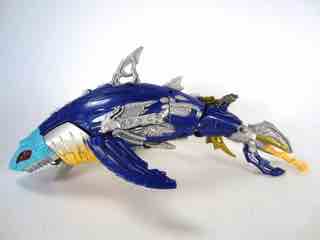 The transformation is a bit of a nuisance, as a lot of panel-massaging is required and everything doesn't quite peg together in a way I consider satisfactory. I might be doing it wrong as I see weird gaps and stuff. I wouldn't call it easy or simple, but you probably won't need to consult the instructions too much for this one. It's pretty easy to move him around.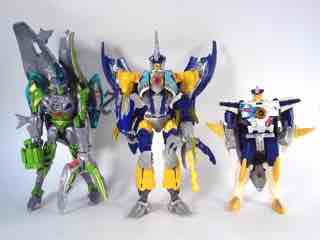 The shark mode is basically a statue. The tail can move a bit, and the rotating tail thing works when you hit the button. It spins, just like a real shark. The fins don't really move at all, and the lower jaw moves - but it can also start moving the legs out, so take care. The little hexagonal port on the bottom of the shark is present to use with display stands which are sadly not sold in the USA yet. (Or at all.) It looks cool with big red eyes, white teeth, and other design flourishes that actually don't look a ton like the original toy or cartoon character. The Japanese version is a lot closer, but still not a perfect fit - think of it as a new toy, or separate character, rather than a real update of the original redone. The inspiration is clearly there, but there are so many difference that a subsequent rerelease could have a bunch of changes made to it to be "cartoon accurate." Or "toy accurate." This is a neat toy that is, by and large, true to the comics and the designs are similar (but not identical) to what you saw in the early issues of Robots in Disguise back in 2012.
While I like many of his features, like articulated hand with moving thumb and fun twirling tail attack, I can't say it's a ton of fun otherwise. Each mode has its merits, but the conversion process is a drag and the joints in the arms could be a little sturdier. The deluxe scale of toys seem to be more fun more consistently, but when is the last time we got a giant shark? Never! So this is worth a few bucks, although it would seem there's a narrowing gap in terms of value between the deluxe and voyager toys. If you think you want a Sky-Byte, go get this toy because it is fun enough to be worth having. However if you're not willing to put up with a little frustration, maybe you should get something else.
--Adam Pawlus
Additional Images

Click here to see more Hasbro figures in Figure of the Day.
Click here to see more Transformers figures in Figure of the Day.

Want to buy this figure? Check Transformers availability at our sponsors:
Entertainment Earth