Gamma X
The Man from the 4th Dimension

Outer Space Men Infinity Edition Figures
Item No.: n/a
Manufacturer: Four Horsemen
Includes: 2-piece armor, 2 blasters
Action Feature: n/a
Retail: $26.00
Availability: On sale February 28, 2014 (plus a couple of months for delivery)
Other: The Only Glowing Infinity Edition Figure

PREVIOUS
RSS
NEXT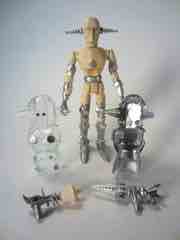 Back in May of 2010, I was blown away when I saw the announcement that not only would I be getting some Outer Space Men figures, but they'd be 3 3/4-inch scale, Glyos compatible, fully-poseable, and made by the Four Horsemen. That first batch was glorious - each figure was well made, freely able to stand or sit and everything just plain worked. Figures could sit in vehicles, the glow-in-the-dark figure glowed quite well, and they were a very reasonable $10 each - despite being super-low-run figures. A few years on, edition sizes of 200 struggled to sell out and by the time we got to Gamma X, it feels we just limped over the finish line to update the classic Mel Birnkrant action figure property. Some were good - Colossus Rex, for example, was an exceptional figure and arguably the apex of what Glyos compatibility has given us - but as the line went on, each year we saw new problems. Figures may tumble off your desk due to weak hip joints, or they couldn't quite sit, or in the case of Gamma X... I've got a lot of complaints.
1. The clear cap of the gun made for his head wasn't glued down (on my sample at least - be careful as it's easily lost.) 2. The $26 price point was for a "deluxe" figure, despite it having a lower piece count than the $10 2010 releases. (Thanks, China?) 3. The glow-in-the-dark paint sucks - and poorly applied in small amounts. Some pieces don't glow at all, and some were half-painted with glow paint. 4. The "mirror effect" of the back half of the armor simply doesn't work - unless you buy the vac metal silver accessory pack for an extra $14. And it does look cool, but the included silver painted armor just isn't as cool. 5. Due to the armor design, the figure cannot sit. (Admittedly not a new flaw, but I still don't like it and I'm on a roll.)
Glyos pegs usually fit like a glove - there's little wobble on this one, though. On Gamma X, both shoulders are somewhat loose and you can move the arms out and in laterally. I have a lot of Glyos figures, and they aren't normally all that loose - SDCC Gamma X (clear colorless) is super-tight, and the White Star one is a smidgen loose in the shoulders just like this painted one. Normally you don't see mold problems this quickly, but maybe I just got "lucky." The figure is also molded in white plastic (presumably cost-cutting), but you'll probably never notice unless you take him apart, or his arm falls off. All non-glow paint was applied evenly, cleanly, and expertly.
The 2010 quartet sat fine, were cheap, and looked cool. Heck, the glowing plastic Metamorpho still glows great four years later - but the brand-new Gamma X barely glows now. The sculpt is good, and the silver paint is just fine. These figures came out of the same factory that does Glyos, Mordles, OMFG, and others which are some of the most stunningly bright glow-in-the-dark figures in the business. So why does this one shine worse than various glowing toys I have that are nearly as old as I am?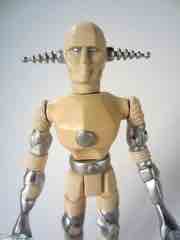 Unlike earlier figures, this one does not have alternate hands or bent arms. There's a swivel just above the elbow that doesn't give him that much extra oomph, like the alternate Cyclops fists. Had they left this feature off, odds are you wouldn't have missed it.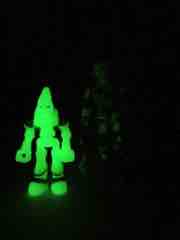 Since Colossus Rex was so good, it's fortunate they paired him with what feels like the weakest unmade 1960s figure in the line. For the price Gamma X fails to deliver heft, his only real mandate was that he glows well. That picture to the left? He's in there. On the right is Gamma X, to the left if Leyden. They came out of the same factory, around the same time, and were exposed to the same light in my photo studio.
I realize I sound ticked off here, but go ahead and check out the reviews of Colossus Rex or Jack Asteroid or the all-new girl alien figures. Those aren't bad. How Gamma X costs twice as much as those smaller figures, I have no idea. Since this line kicked off I met tons of new people in the Glyos toy world, dove into indie toys, and have even made some dioramas, mass produced, through my day job to house them. The line itself was a gem, and really changed how I looked at what a figure for collectors could be. This particular figure could've been better, and this series could have shipped out a little faster. The Horsemen started promising faster shipping just before the Infinity Power Lords went up for grabs, so here's hoping for a brighter future for these indie toys.
--Adam Pawlus
Additional Images

Click here to see more Four Horsemen figures in Figure of the Day.

Click here to see more Outer Space Men figures in Figure of the Day.

Click here to see more Glyos Compatible figures in Figure of the Day.