Jack Asteroid
The Man from Earth

Outer Space Men Alpha Phase San Diego Comic-Con Exclusives
Item No.: n/a
Manufacturer: Four Horsemen
Includes: Removable 3-piece helmet, magnet jetpack/Anti-Gravity Generator, Atomic Disintegrator, alternate arms
Action Feature: n/a
Retail: $60.00 (sold as a set with Gamma X and Terra Firma)
Availability: July 19, 2013
Other: The First Glyos-Compatible Jack Asteroid

PREVIOUS
RSS
NEXT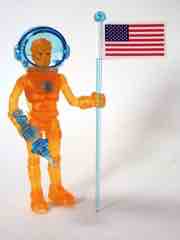 This ability for a classic figure line to grow is both exciting and terrifying. So many action figure lines are revived without the original cast seeing plastic, new entrants are sometimes seen as unwelcome pests - but not Jack Asteroid. Not only did he debut after we saw evidence of the original 13 Outer Space Men were hitting plastic, but the design was a clever twist on existing figures - the body is Metamorpho, from 2010. The helmet, backpack, and weapons are recycled from the Terra Firma design, which debuted in early 2012. The only completely new element is his human head, one of very few mass-produced people noggins in the Glyos-compatible toy world (so far.)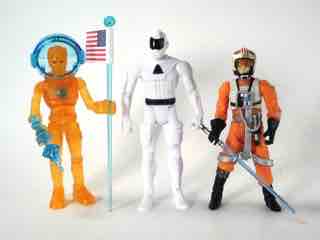 Without his 3-piece blue helmet, Jack stands about 3 3/4-inches tall. Articulation is on par with most other figures in the line, with 13 points of articulation. You're not going to get a ton of action out of the rotating shin section, but it's nice to have the option if you were so inclined. The parts are completely swappable with most Glyos figures, although with the introduction of some larger figures (Colossus Rex, Weaponeers of Monka, Cyclops) as well as the smaller Glyos plugs (Alpha 7, Gemini, Power Lords) it's not a perfect swap. Most figures from The Outer Space Men can be swapped with the rest easily, though, so that should be good for you tinkerers, kitbashers, and customizers.
The hairstyle on Jack looks rather modern, as opposed to the 1960s chic of Terra Firma and indeed the figure line as a whole. The face is not all that different from the likes of Commander Comet, with a strong chin and piercing black eyes. The only other color on the figure comes from blue ABS plastic parts, including an "Earth" symbol on his chest which will be painted on the final release. The three-piece helmet fits over the lip on his neck easily, and the flip-up visor is a nice touch. An American flag is exactly as Terra Firma's - somewhat sloppy, cut poorly, and it doesn't even stick well to itself. You may need to repair it over time as the adhesive is weak. The figure's jet pack attaches nicely, and the blue Atomic Disintegrator has no problems fitting in his hands. My only complaint about accessory quality is that flag sticker. Interaction is largely excellent, although a male/male plug goes between the Anti-Gravity Generator backpack and the figure's back - and that can get stuck sometimes. It's nice to have the option to select where the part goes, though, I just wish it didn't get stuck.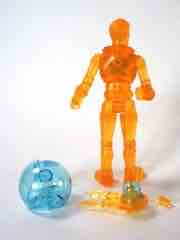 While humans were not part of the original 1960s toy line (that role was filled by Mattel's Major Matt Mason) they're a welcome addition to the 21st-century update. These figures are rather low-run, meaning in the grand scheme of things there won't be many to go around. Of course, that might not matter as the core original collector group for this line are approaching retirement, meaning the real audience for this series is the avant-garde toy dork like you or me. I've often joked (or "joked") that I think that the majority of the Four Horsemen's The Outer Space Men figures are going to people who write toy reviews and run toy blogs - proportionally speaking, I would assume these figures have the highest number of dates with a camera or a critic of some sort. It's probably the right audience for them - it's a great figure for the kind of collector that has hundreds of toys and is in the market for something unique. (And in the unlikely chance you're a younger collector who can't fathom having hundreds of figures, you will when you get older. We were all that young and naive once.) I wrote this review long before the painted Jack Asteroid came out, but I still love this clear orange dude and am glad I have it. I wish we got another round of clear guys, sorta, but in another respect I'm also happy to have more money in my pocket for Power Lords.
--Adam Pawlus
Additional Images
Additional Outer Space Men 2013 Alpha Phase SDCC Exclusive Images
| | |
| --- | --- |
| | |
| | |
| | Note: at SDCC 2013, the figures were packaged and distributed in the swapped boxes - so Gamma X, Jack Asteroid and Terra Firma came in a box with the characters Ohprometam, Colossus Rex, and Horroscope pictured on the front and vice-versa. |

Click here to see more Four Horsemen figures in Figure of the Day.

Click here to see more Outer Space Men figures in Figure of the Day.

Click here to see more Glyos Compatible figures in Figure of the Day.