Alpha 7
The Man from Mars

Outer Space Men Action Figure Xpress San Diego Comic-Con Exclusives
Item No.: n/a
Manufacturer: Four Horsemen
Includes: Alternate arms, ray gun, 2-piece helmet, backpack, 7 more figures
Action Feature: n/a
Retail: $115.00 (sold as a set with Astro-Nautilus, Inferno, Metamorpho, Xodiac, Mystron, Commander Comet, and Electron+)
Availability: July 2013
Other: The Sparsely Decorated White Plastic One

PREVIOUS
RSS
NEXT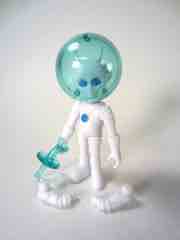 I like White Star Alpha 7, despite it being part of an incomplete "White Star" master set (so far anyway). And the fact that it's overpriced. And that I really have no good way to display it. It's just a fun little figure - sometimes these things are interesting for no good reason, particularly since I have an aversion to white figures due to yellowing over time. (Glyos have been good so far, though.) This Martian is decidedly not of the red planet, which I find mildly disappointing - I was always hoping for a red one - but the white one ain't bad. The solid opaque color adds a little to the figure in terms of making it feel old, particularly as space toys of old were largely unadorned with such extravagances as "paint..." or articulation, but who's counting.
The original Alpha 7 debuted the mini Glyos peg, which has so far also been used on Ggrapptikk's staff plus Gemini's hands and feet. It's here for the Alpha 7's hands and feet, while his nifty backpack has a normal peg. Unlike the some other figures with backpacks - specifically Jack Asteroid and Terra Firma - the Martian backpack is a single piece. There's no peg to get stuck or get in the way, so in that sense I think it was a great design decision. Alpha's hips are a v-crotch, swinging out awkwardly. With small figures sometimes leg articulation can get in the way, and in this case I'm not super keen on this style of joint just because the movement is sort of awkward. For customization and part swapping purposes it's handy, but other than that I could do without it. It's not like he's going to be doing a world of sitting, each of these lower-run figures will likely be doomed to remain in package or on a shelf anyway.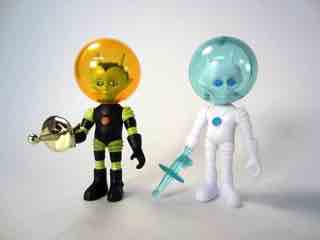 The light deco helps us get a good look at the sculpt, which had previously been obscured by translucent plastic or paint. Sure, paint looks awesome, but seeing the bare sculpt is nice too. There's a tiny hint of a belly on his space suit, and his underbite gives him just a little hint of added personality. Big blue eyes peer from inside the clear blue space helmet, and a blue dot on his chest adds some much-needed color. He's only about 2 1/2-inches tall counting the full helmet, but with 9 points of articulation he has more movement than most other competing figures of this size. Sadly, he's also more expensive. Such is life.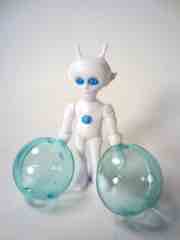 At a run of 200 sets, they took a while to sell out - they were also priced a little higher than the earlier releases, but were by no means the most expensive figures to come from this line. This set was blown out for a reduced price, eventually, and as such you can probably score these on eBay for at or under the original issue price. As I really liked the first few figure molds, I'd say it's worth your while - but if you have the standard painted versions, maybe you won't need the whole batch.
--Adam Pawlus
Additional Images
Additional Outer Space Men 2013 White Star SDCC Exclusive Images

Click here to see more Four Horsemen figures in Figure of the Day.

Click here to see more Outer Space Men figures in Figure of the Day.

Click here to see more Glyos Compatible figures in Figure of the Day.