Acid Storm with Venin
Series 02 #009

Transformers Generations Legends
Item No.: Asst. A1421 No. A6685
Manufacturer: Hasbro
Includes: Venin, 2 cannons
Action Feature: Transforms from Fighter Jet to Robot
Retail: $9.99
Availability: August 2014
Other: Starscream in Green, whatta dream

PREVIOUS
RSS
NEXT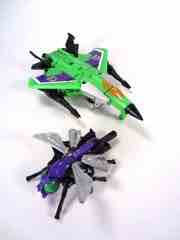 I was more than a little surprised with Acid Storm with Venin mostly because it deviated from the usual pattern of Starscreams turning into Thundercrackers and Skywarps - I think it was a smart move on Hasbro's part, though. There's still demand for the others, and we're even getting Thundercracker next year. The character is by no means essential, but it's really bright green and hey - why not, right? I'm kind of surprised we got him over Sunstorm, but here we are. It's decent.
The transformation is basically the same as always and identical to the still-available Starscream. The sculpting is also identical, and the 3mm/5mm hybrid cannons are a wonderful accessory and a great design feat. They work with Cyberverse and with most standard toys, giving the figure a slight edge on armaments and making him just a bit more valuable as spare parts. A similar (if not identical) color layout gives Acid Storm the same stripes and general patterns as his brother, with a few exceptions - where Starscream is molded red, Acid Storm is painted silver, for example. Starscream's guns are red plastic, painted grey - Acid Storm's are black through and through. Otherwise it looks like a pretty straightforward recolor with green replacing grey, black replacing red and blue, and so on. Thundercracker seems to have an identical layout, so I give Hasbro props for being smart and making the most out of their paint masks rather than mixing it up.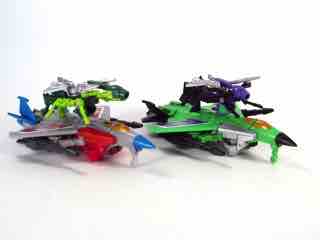 The fighter jet mode is still pretty blah - the nose has landing gear, and there's a 5mm port on the back for Venin. It's all very green and purple, which I like, but it's not a feature per se. It's just the color. I like the look better than Deluxe and Masterpiece versions, though.
Venin is a newly recolored .shtmlinator, taking the name of deluxe Insecticon Venom. Other than the wings and some green, they really look nothing alike. The black and purple .shtmlinator is a triple-changer, giving you a robot, a gun, and a bug. I like the robot and was modes, but the gun is a little funky thanks in part to the rubbery plastic. While you can work around this, it's not like Acid Storm is hurting for weapons - just enjoy his cannons, and leave Venin to one of his normal modes. The peg on the stinger fits fine in Acid Storm's hands or 5mm hole on the jet, though, so this figure rates highly in being compatible with itself. While that may sound ridiculous, I've got a few figures that don't - Eclipse doesn't play nice with Gears, for example.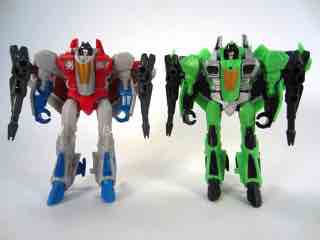 I got mine online, and I'm glad I have it. I wish Hasbro applied this color to the larger 2008 Acid Storm, but they didn't so here we are. It's a smaller figure and also your last chance to get the little bug mold most likely - Thundercracker won't have a small plastic pal who's fun to be with. For ten bucks, I feel that you'll get your money's worth. Maybe even $20 - the transformation is satisfying and nothing here seems too tight or annoying. Get it if you can!
--Adam Pawlus
Additional Images

Click here to see more Hasbro figures in Figure of the Day.
Click here to see more Transformers figures in Figure of the Day.

Want to buy this figure? Check Transformers availability at our sponsors:
Entertainment Earth