Optimus Prime
Smash and Change!

Transformers Age of Extinction Flip and Change
Item No.: Asst. A6143 No. A6144
Manufacturer: Hasbro
Includes: Sword
Action Feature: Transforms from truck to robot in 3 seconds
Retail: $19.99
Availability: May 2014
Other: Same size as Leader-class robot, less than half the price

PREVIOUS
RSS
NEXT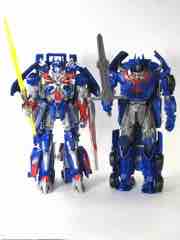 There's a never-ending struggle within Hasbro in movie years - do you just make one line and hope everybody likes it, or do you diversify? Anyone looking for a new Optimus Prime toy in May of 2014 could choose between no fewer than a dozen when you factor in all the exclusives. This "Smash and Change!" version is huge - roughly 10-inches tall, exactly the same height as Leader Optimus Prime but it comes in at about a third the price with less deco and articulation. With a tiny bit more work, this smash and change release would probably be a superior replacement to the annoying, fiddly panels of the $45 toy - it changes just by pushing his feet down. It's wonderfully fun.
Packaged in robot mode, Hasbro has deemed this figure so simple that it doesn't need a manual. There's just a diagram on the box. With a couple of ties, you can release this figure from its box and have it transformed - easily - in under a minute. For kids I assume this is the greatest thing ever, while adults whine about the "shellformer".shtmlect of the toy. Considering it has bend-and-swivel elbows, it's better than some toys - but basically a statue by the standards of adult fans.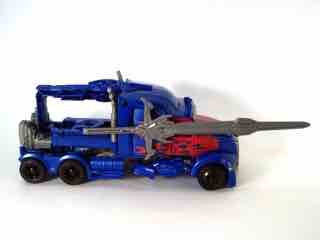 If you are unable to convert this toy, I question your dexterity and fine motor skills. The robot has a big handle on the back - grab it, put Optimus' arms down, and push down until it "clicks." The arms, shoulder armor, and head tuck in to the body and you've got a truck with nicely rolling wheels. They're not super spinny, but I've seen worse and for a toy it rolls on the floor about as nicely as I might hope. The red paint applied to the metallic blue plastic is bright and evenly applied, the flames actually looks better than the Leader class toy A tiny bit of silver and grey break up the sea of blue on truck mode but it's obvious that this is a cheaper toy for younger fans. I still think it's cool.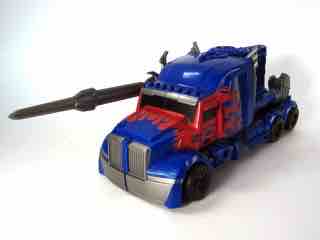 If Hasbro included jointed shoulders, a jointed neck, and eyes painted any color but silver I think this would be a suitable replacement for the Leader toy. It's a stiff guy, but I could see it quickly replacing some of the other price points because it actually is really fun. I doubt kids will clamor for the "baby" version, just remembering how my peers were during the first generation of these toys, but hey - what do I know? Maybe they'll be happy with whatever shows up. The engineering is good and it's fun to play with, but collectors seem to want only the best version available - which this probably isn't. His sword hilt is too big for 5mm hands, and the 5mm peg on the side plugs in the side of the truck mode - so it's like a jousting thing. There are other cosmetic holes on the toy which resemble a 5mm socket, but they're a little too big to actually fit this or other weapons. Otherwise? I dig it. It's a nice one.
--Adam Pawlus
Sample courtesy Hasbro.
Additional Images


Click here to see more Hasbro figures in Figure of the Day.
Click here to see more Transformers figures in Figure of the Day.

Want to buy this figure? Check Transformers availability at our sponsors:
Entertainment Earth