Gamma X
The Man from the 4th Dimension

Outer Space Men Beta Phase New York Comic Con Exclusives
Item No.: n/a
Manufacturer: Four Horsemen
Includes: 2-piece armor, 2 ray guns
Action Feature: Swappable hands
Retail: $16.00 or $35.00 (sold as a set with Jack Asteroid and Terra Firma)
Availability: October 10, 2013 (NYCC) and October 16, 2013 (Online)
Other: White!

PREVIOUS
RSS
NEXT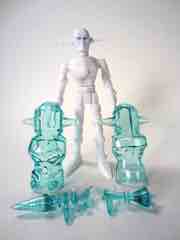 I had some problems with another version of this character, but White Star Gamma X works slightly better for me than the clear colorless $31 version and the fully-painted $26 version for one reason: met expectations. The clear one costs twice as much as this one - why? I have no idea. But this one has about the same amount of paint applications, and at half the price actually looks pretty great. The parts more or less all fit in place and while there aren't any options for customization like alternate elbows or fists, it was also $16.00.
Gamma X in white more or less works because it's easier to see the sculpted detail, which is excellent as always, and he has no problems standing up. Pop open the baggie, put on his gear, and he's ready to hang out on a shelf for months if not years. He can't sit thanks to his armor, and his sizable shoes prevent him from sitting in a hypothetical vehicle, anyway. The blue accessories are something of a disappointment, because the Alpha Phase figure also had blue gear - we weren't really covering new ground here, and it's not like swapping them between Gamma figures would result in a significant change. One the bright side the blue frames the body nicely and helps draw attention to the unique "ears" and gives the thing a cool energy vibe, but it's not terribly exciting in and of itself - Gamma X is one of the molds that really, genuinely could have been a lot of fun in various other colors, glow or clear plastic especially.
With his armor on, he's pretty solid - the device in his "helmet" fits nicely, the armor snaps together well, the hand holds the weapon just fine, but the arms are a tad on the loose side - the clear release didn't have this problem, but the Infinity version has it worse. This figure, and indeed this line, do a great job of showing the conversion of any toy line over time. Most action figure lines start as fun, kid-friendly affairs where collectors get on board over time... slowly changing them around a bit. In this case, we had a line where things like swapping parts easily and customizing your own creations was a central focus back in 2010, while in 2011 we started seeing proprietary connectors (see Alpha 7) and by the end, it really has become a collectors-only affair. With the low runs you can still enjoy the pretense that a kid might enjoy swapping parts and pieces around, but let's face it, unless you're a parent and you force these on your kids they will never experience the pleasures of the Glyos system.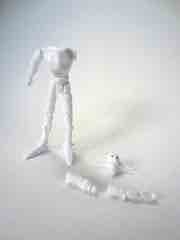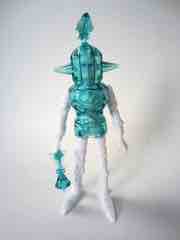 At the time the figure made a lot of sense from a "the line is winding down" perspective as it was assumed that each and every mold might see a "White Star" release - three figures have, to date, not been given the white look so even a complete set feels incomplete. This particular subline feels better as some sort of home or office decor, if you've got a white motif or are shooting for Apple products in the mid to late 2000s, this would be a good set of figures to have on hand to decorate. It's a great way to get a look at the sculpting o the figure without the distractions of paint, but once you get past that it's just another white prepaint. It's nice, the blue is good, but it feels sort of devoid of personality once you take a step back.
--Adam Pawlus
Additional Images

Click here to see more Four Horsemen figures in Figure of the Day.

Click here to see more Outer Space Men figures in Figure of the Day.

Click here to see more Glyos Compatible figures in Figure of the Day.