Spider-Man
South America, Asia, Food and Drug

Marvel Value Action Figure
Item No.: Asst. E7837 No. E7854
Manufacturer: Hasbro
Includes: n/a
Action Feature: n/a
Retail: $2-$4
Availability: Fall 2019?
Other: Surprisingly little paint

PREVIOUS
RSS
NEXT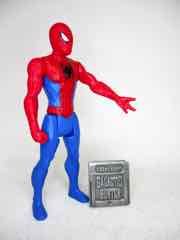 I could not resist the sheer weird ugliness that was this Spider-Man from Hasbro. Its construction shows actual innovation, and clever cheapening out. The figure has only 5 joints and stands about 3 3/4-inches tall, with unpainted and slightly off-model limbs. The toy is packaged in a clear bag with some graphics covering the lower legs, no doubt preventing people from seeing the fact that the feet are blue rather than red.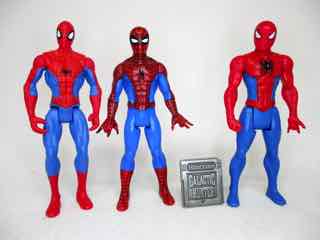 While the eyes are painted, as is the black spider, everything else is molded in color. Everything you see in red is molded red - everything in blue is molded blue. There's a big red spider on the back that's a plastic piece. I assume this means it's the perfect toy for kids - so many old toys have scratched-up boots or chipped hands, and since this one lacks any sort of paint that won't be an issue. Sure, the plastic will dent, but it will still look pretty good if and when you stumble on him in a thrift store bin down the road. Hasbro did some of this dual-color injection molding with its excellent Kenner-style Ahsoka Tano in 2022 and has more frequently started to mold hair elements in colors in its $20-$25 collector figures. I think it's the best way to go. Playmobil also uses this technique extensively in things like dinosaur horns and claws, so kids who bash these toys around won't have worn-looking figures as quickly. It also has the added benefit of not requiring Hasbro's labor force to whip out as many (or any) paint masks.
While the figure does look something like a bootleg thanks to the all-blue legs and all-red arms, it has a perfectly painted black spider logo on his chest and that molded red one on the back. It's also worth noting that his eyes were exquisitely centered on flat raised elements on the head, with a white blob and a black outline looking stellar. It'd look better with a thicker black outline, but I assume these guys not looking quite perfect is the point of Hasbro's "value" toy program. These value toys assure the world that kids can get an official and cheap Bumblebee or Optimus or Spider-Man, but they never look quite as good as the toys that cost $15 or more.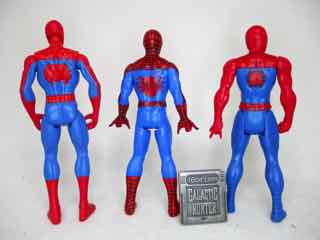 The reason I wanted to buy this whole wave of figures is that I wanted old-style figures, and it delivered. This looks like something out of Mego's Pocket Super Heroes line, but better in most respects. Spidey is perfect to hang out with your Kenner Mini-Rigs or Fisher-Price Adventure People vehicles, thanks to the lack of paint to scuff and his skinny build. He really looks like something I could have had as a kid in the 1980s, whereas the Marvel Legends 375 Spider-Man Action Figure [FOTD #2,342] - while excellent - looks way better than anything Kenner ever sold during the Reagan and Bush era. Cheap bagged Spider-Man has no accessories, which works out since his hands are a fist and a "thwip."
If you found this figure in Asia or South America for the intended $2-$4ish asking price, I would say it's an excellent toy. The minimalist packaging is cheap to produce and ship from Vietnam while protecting Peter Parker, and its off-model nature makes it more interesting than the parade of increasingly specific and near-perfect $30 figures. Marvel Legends Japanese Spider-Man was a brilliant idea in a gorgeous package, but there's something to be said for this "lowest bidder"-edition web-slinger. This is the one you'd toss at a kid or stuff in a stocking because it's cheap, and it's a pity that 3 3/4-inch action figures as toys have fallen out of vogue at Hasbro as they seem to be doing well enough at Spin Master or Mattel. These guys seem to be exiting the US market, so grab one if you see it. Hasbro - I dare you to make a $4 bagged 3 3/4-inch Darth Vader with little/no paint and 2-5 joints.
--Adam Pawlus
Additional Images

Click here to see more Hasbro figures in Figure of the Day.
Click here to see more Marvel figures in Figure of the Day.
See more Spider-Man figures in Figure of the Day:
Day 39: Hasbro Spider-Man Super Poseable Spider-Man Action Figure
Day 40: Hasbro Spider-Man Stealth Ninja Spider-Man
Day 50: Hasbro Spider-Man Toxic Blast Venom
Day 65: Hasbro Spider-Man Dive Bomber Green Goblin
Day 91: Hasbro Spider-Man (Kid Series) Monster Claw Carnage Action Figure
Day 108: Hasbro Marvel Universe Spider-Man Action Figure
Day 137: Toy Biz Spider-Man Animated Super Articulated Spider-Man
Day 290: Hasbro Spider-Man Mighty Muggs J. Jonah Jameson
Day 300: Hasbro Spider-Man Mighty Muggs Venom
Day 311: Hasbro Spider-Man Mighty Muggs Spider-Man
Day 336: Hasbro Spider-Man Mighty Muggs Demogoblin
Day 427: Funko Marvel Universe Pop! Vinyl SDCC Exlusive Spider-Man Vinyl Figure Bobble Head
Day 605: Hasbro Ultimate Spider-Man Night Mission Spider-Man Action Figure
Day 717: Hasbro Ultimate Spider-Man Crime Fightin' Spider-Man Action Figure
Day 862: Hasbro Ultimate Spider-Man Web Strike Spider-Man Action Figure
Day 876: Hasbro Spider-Man Marvel Legends Infinite Series The Amazing Spider-Man 2
Day 877: Hasbro Ultimate Spider-Man Iron Spider Armor Spider-Man
Day 916: Hasbro The Amazing Spider-Man Movie Ultra-Poseable Spider-Man
Day 936: Hasbro The Amazing Spider-Man Night Mission Spider-Man
Day 1,484: Hasbro Captain America Civil War Spider-Man, Captain America, and Iron Man Action Figures
Day 1,501: Hasbro Marvel Legends Series Spider-Man
Day 2,109: Hasbro Playskool Heroes Series 2 Marvel Super Hero Adventures Clear Spider-Man
Day 2,201: Hasbro Spider-Man Bend and Flex Spider-Man Action Figure
Day 2,229: Hasbro Spider-Man Marvel Legends Retro Spider-Man Action Figure
Day 2,342: Hasbro Marvel Legends 375 Spider-Man Action Figure
Day 2,453: Hasbro Marvel Spider-Man Action Figure
Day 2,459: Hasbro Marvel Legends 375 Iceman Action Figure
Day 2,476: Hasbro Marvel Legends 375 Firestar Action Figure
Day 2,491: Hasbro Marvel Legends 375 Venom Action Figure
Day 2,544: Hasbro Marvel Spider-Man Epic Hero Series Spider-Man Action Figure
Day 2,548: Hasbro Marvel Legends 375 Symbiote Spider-Man Action Figure
Day 2,560: Hasbro Marvel Legends 375 Green Goblin Action Figure
Day 2,564: Hasbro Marvel Legends 375 Amazing Fantasy Spider-Man Action Figure
Day 2,572: Hasbro Marvel Spider-Man Epic Hero Series Venom Action Figure
Day 2,592: Hasbro Marvel Legends 375 Spider-Woman Action Figure
Day 2,640: Hasbro Marvel Spider-Man Epic Hero Series Miles Morales Action Figure